Banner Image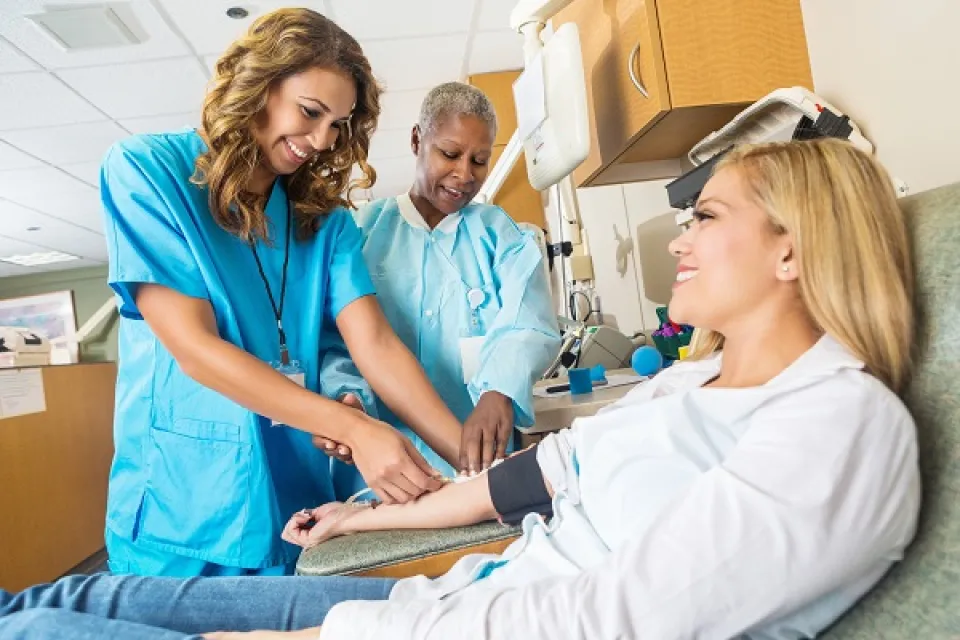 Nurses make up the majority of the healthcare workforce, but there simply aren't enough to meet the nation's growing demand for health services.
An aging baby boomer population coupled with increased access to healthcare has contributed to a spike in the demand for medical care, and a nationwide nursing shortage. In fact, the U.S Bureau of Labor Statistics predicts nearly 1.1 million new registered nurses (RNs) will be needed by 2022.
Nurse educators are in even greater demand. According to a recent report, U.S. nursing schools turned away 64,067 qualified applicants from nursing programs in 2016 due to an insufficient number of nursing faculty. Many nursing faculty are predicted to retire in the coming years, increasing opportunities for today's nursing professionals to move into advanced roles in education. Discover the average salary for a nurse educator in your state.
Nurse educators remain critical players in assuring that the next generation of nurses is prepared for a diverse, ever-changing healthcare environment. As more students seek entry to nursing programs, it is crucial that colleges and universities hire qualified faculty to educate members of the future RN workforce.
What is a nurse educator?
Nurse educators are prepared at the master's or doctoral level and may work in leadership or educational roles in both academic and healthcare settings. As academic educators, they teach and work with nursing students. They may also design, implement and revise academic and continuing education programs for nursing students and practicing nurses.
Nurse educators also play an important role in the hospital system, providing clinical education to nursing staff and other healthcare professionals. As experienced nursing professionals, nurse educators can identify opportunities to improve processes and mitigate risks to the patient, nurse and hospital.
Why are nurse educators important?
Nurse educators are instrumental in shaping the future of healthcare. They not only help nursing students develop the technical skills that they need to be successful in their careers, they help practicing nurses enhance their skills, knowledge and expertise.
Healthcare organizations rely on nurse educators to provide professional development training that improves the practice of their nursing staff and leads to better patient outcomes. Many nurse educators teach part-time while working in a clinical setting. This gives them the opportunity to maintain a high degree of clinical competence while sharing their expertise with novice nurses.
At a minimum, nurse educators who work in academic settings must hold a master's degree. Nurse educators who work in clinical settings must hold the minimum of a baccalaureate degree in nursing, but many healthcare institutions are now seeking nurses who have completed a nurse educator program for these areas.
What kind of jobs can I get?
Jobs you can get with an MSN in nursing education include a wide variety of different titles including nurse instructor, clinical nurse specialist, nurse teacher and many more. For some positions, you may be required to hold a DNP or Ph.D. However, in most cases holding an master's degree in nursing education will qualify you for many different types of clinical or academic roles as a nurse educator.
Nurse educator skills include excellent communication and critical thinking skills, a solid clinical background and a commitment to lifelong learning. Strong leadership skills also remain key, as the healthcare environment continues to change and demand more innovative thinking. Most of all, nurse educators need to enjoy teaching and sharing their knowledge with others.
---
* Bureau of Labor Statistics (BLS), U.S. Department of Labor, Occupational Outlook Handbook 2021. BLS estimates do not represent entry-level wages and/or salaries. Multiple factors, including prior experience, age, geography market in which you want to work and degree field, will affect career outcomes and earnings. Herzing neither represents that its graduates will earn the average salaries calculated by BLS for a particular job nor guarantees that graduation from its program will result in a job, promotion, salary increase or other career growth.
Classes Start October 30th
Learn More Today