Banner Image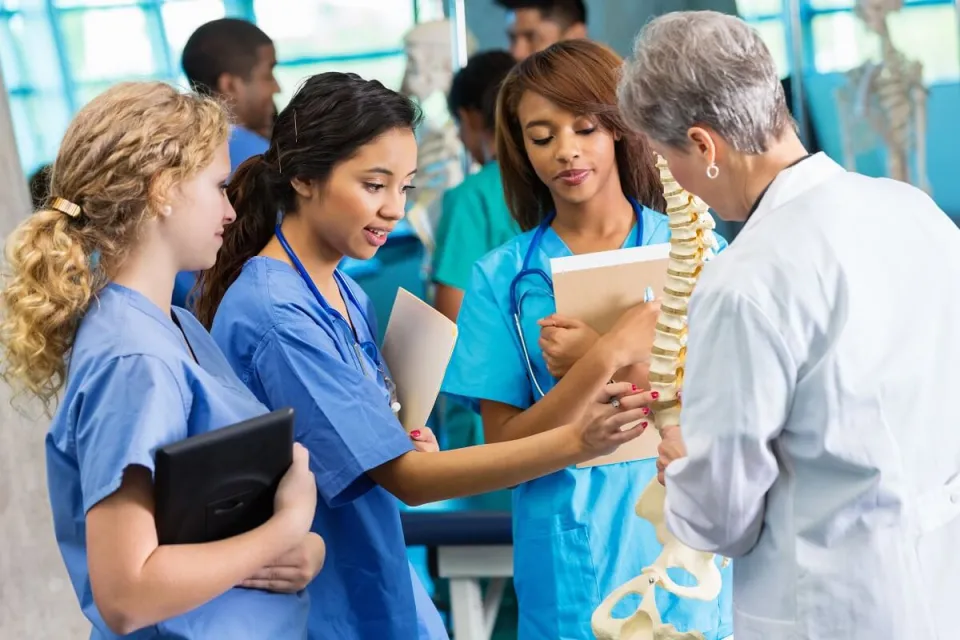 According to the Bureau of Labor Statistics (BLS), the average salary for a nurse educator is $84,180 per year. Salaries can vary based on location, education, and experience.
State
Annual average
Annual median
Alabama
$81,530
$76,040
Alaska
$85,780
$85,270
Arizona
$79,780
$65,460
Arkansas
$60,890
$60,280
California
$104,150
$105,320
Colorado
$78,480
$78,900
Connecticut
$99,850
$90,990
Delaware
$85,790
$78,650
District of Columbia
$101,680
$100,300
Florida
$80,160
$77,130
Georgia
$67,230
$63,190
Hawaii
$70,500
$76,810
Idaho
$73,320
$64,380
Illinois
$76,620
$78,390
Indiana
$87,740
$78,290
Iowa
$76,030
$73,340
Kansas
$70,770
$68,160
Kentucky
$73,980
$66,920
Louisiana
$81,430
$75,610
Maine
$73,680
$74,410
Maryland
$80,990
$77,850
Massachusetts
$106,690
$95,250
Michigan
$77,020
$76,740
Minnesota
$77,040
$76,460
Mississippi
$68,380
$63,620
Missouri
$70,770
$64,310
Montana
$81,940
$79,650
Nebraska
$73,270
$64,490
Nevada
$105,610
$102,690
New Hampshire
$81,070
$79,320
New Jersey
$95,010
$96,210
New Mexico
$73,800
$76,410
New York
$100,200
$92,320
North Carolina
$71,700
$66,200
North Dakota
$74,050
$71,980
Ohio
$82,840
$79,050
Oklahoma
$63,640
$63,550
Oregon
$93,270
$90,690
Pennsylvania
$88,960
$81,760
Rhode Island
$87,940
$79,450
South Carolina
$77,590
$77,280
South Dakota
$66,860
$64,490
Tennessee
$78,850
$71,600
Texas
$81,270
$77,550
Utah
$83,090
$79,390
Virginia
$80,780
$76,900
Washington
$81,940
$76,770
West Virginia
$75,200
$76,080
Wisconsin
$81,930
$79,570
Wyoming
$63,550
$61,100
Puerto Rico
$38,590
$37,020
Nurse educator job outlook
The overall employment of nurse educators is expected to grow 18% from 2022-2032, much faster than other occupations according to the BLS. The projected increase in nurse educator jobs is believed to be due in part to an aging population that is living longer and thus has a greater need for nursing care.
What do nurse educators do?
Nurse educators teach and train students in nursing school to help them prepare to become nurses. They are often instructors for clinical professionals who need continuing education or training. Oftentimes, they are responsible for developing academic curriculum, such as lectures and lab or clinical work.
Nurse educators may hold a variety of positions with varied titles such as professor, director, or faculty member. As an instructor, they design educational programs and curriculum to help ensure courses meet the state accreditation requirements, overseeing lab and clinical work, and providing feedback as students interact with patients. Read more about what a nurse educator does and what's it's like to be a nurse instructor.
How can I become a nurse educator?
To become a nurse educator, you will need an active, unrestricted RN license and a master degree in nursing education. This may take approximately 2-5 years, depending on where you are in your nursing education or career, the number of credits you can transfer (if you are actively pursuing your undergraduate degree or are preparing for an advanced nursing degree), and whether you choose an in-person or online full or part-time schedule.
Herzing University offers multiple online nursing education programs for current nurses:
Finding help paying for school
You can earn up to 85% in loan forgiveness through the NFLP. Commit to a career as a nursing instructor and you can potentially save immensely on cost as part of the National Faculty Loan Program (NFLP). You'll need to find a full-time position within 12 months after graduation. The longer you remain employed full-time, the more you can save—up to 85% over 4 years.1
Take the first step.
As a nurse educator, you can help prepare the next generation of nurses and enjoy a rewarding career and high pay. Due to the high demand for nurse educators, now is a great time to start on the path to becoming a nurse educator!
1. In exchange for post-graduation employment as nurse faculty meeting specific criteria, the program authorizes the cancellation of up to 85% of any such loan (plus interest thereon).
---
* Bureau of Labor Statistics (BLS), U.S. Department of Labor, Occupational Outlook Handbook 2022. BLS estimates do not represent entry-level wages and/or salaries. Multiple factors, including prior experience, age, geography market in which you want to work and degree field, will affect career outcomes and earnings. Herzing neither represents that its graduates will earn the average salaries calculated by BLS for a particular job nor guarantees that graduation from its program will result in a job, promotion, salary increase or other career growth.
Classes Start January 8th
Learn More Today