Banner Image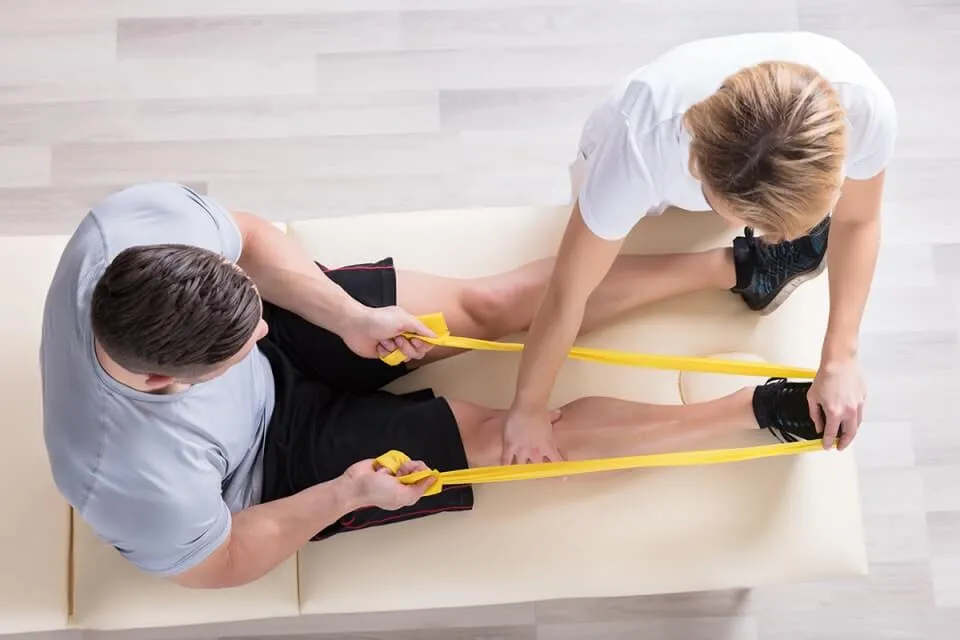 Physical Therapist Assistants (PTAs) work with patients of all ages, from newborns to the elderly, who have injuries or health-related conditions that limit their ability to move and perform daily activities. The PTA works under the supervision and direction of the physical therapist (PT) to implement a treatment plan that will help those individuals regain their strength and live healthier, fuller lives.
As the large baby boomer generation ages, the need for physical therapy services is expanding rapidly. The Bureau of Labor Statistics predicts that employment for PTAs will grow by 35 percent through 2030, adding more than 33,000 new jobs. Due to faster-than-average employment growth, U.S. News and World Report ranked PTA as the #3 Best Healthcare Support Job of 2023 (see how much physical therapist assistants make on average).
There has never been a better time to begin your PTA career.
What does a PTA do?
A PTA's specific responsibilities can vary depending on where he or she works. The vast majority of PTAs work in hospitals or privately owned physical therapy practices, but others can work in home health, schools and rehabilitation centers. Across the board, the PTA plays a central role in patient care and treatment.
Here are some duties you're likely to encounter as a PTA:
1. Work directly with patients on therapy
Once a patient is evaluated by the licensed physical therapist and a treatment plan is assigned, the PTA will work directly with patients on therapeutic exercises designed to help them regain full mobility, strengthen their muscles and improve coordination.
A PTA can also administer various physical modalities, such as soft tissue massage, electrical muscle stimulation and ultrasounds, to help relieve pain, improve circulation and decrease swelling in the muscles.
For individuals who need more intensive rehabilitation, PTAs can provide training for using assistive devices, such as crutches, canes, or prosthetics.
2. Observe patient progress 
Throughout the course of treatment, PTAs periodically reassess a patient's progress so they can modify the plan of care as needed. The PTA should also share this information with the PT in case adjustments need to be made. Through observation and communication with other team members, PTAs ensure that their patients receive personalized care.
"As a PTA, the most rewarding part of our job is being able to make a difference for our patients," says PTA program chair Tamara Felegy. "When you see patients reach their goals, that's a great feeling. You know that you've helped set them on the path to recovery so that they will be able to live their lives to the fullest."
3. Preparing medical reports
Documentation and reporting is a large part of a PTA's job. In order to design and maintain a comprehensive treatment plan, PTAs need to keep a record of all factors influencing a patient's progress and recovery. This could include a patient's physical health, as well as his or her mental health. A PTA might need to continually encourage patients to take an active role in their own recovery.
Recording a patient's progress also helps the PTA know which aspects of the treatment are working, which will help determine the best path forward.
4. Prevention and education
"An important aspect of physical therapy is being able to effectively teach each patient or family member how they can help care for themselves or their loved one," says Kim DeChant, physical therapist assistant mentor.
Once patients start to make progress, a PTA might work with them on additional exercises that can help them prevent an injury from returning, and maintain a healthier and more active lifestyle in the future. The goal of physical therapy is to help individuals regain control and autonomy in their lives, and education is important to ensure that they stay healthy and pain-free.
5. Community involvement
PTAs are not only an important member of the healthcare team, but they're also an asset to their community, helping people lead healthier and more productive lives. With experience, PTAs can go on to teach in an academic PTA program, or lead community fitness and risk reduction activity programs.
What's the difference between PTA and OTA?
There are a few important differences to consider, including the types of movement you deal with, types of patients, tasks to complete and skills needed to succeed. Discover the main differences between PTA vs. OTA.
How can I become a PTA?
To become a PTA, you'll need to earn an associate degree from a physical therapist assistant program. Herzing University's PTA program can be completed in as little as 20 months and is designed to provide you with the foundational knowledge and skills you'll need to pursue entry-level roles in the field. Learn more about our PTA program and get a jumpstart on your career today!
---
* Bureau of Labor Statistics (BLS), U.S. Department of Labor, Occupational Outlook Handbook 2022. BLS estimates do not represent entry-level wages and/or salaries. Multiple factors, including prior experience, age, geography market in which you want to work and degree field, will affect career outcomes and earnings. Herzing neither represents that its graduates will earn the average salaries calculated by BLS for a particular job nor guarantees that graduation from its program will result in a job, promotion, salary increase or other career growth.
Classes Start October 30th
Learn More Today