Choose your career path
Social workers and mental health counselors help people improve their mental, emotional, and overall well-being. There are similarities between the two professions: Both social workers and mental health counselors treat people of all ages, including children, adults and seniors, as well as people with disabilities, mental illness or addiction.
While there are similarities, there are also some important differences between social workers and mental health counselors. Let's look at five key points of comparison between social workers and mental health counselors.
Banner Image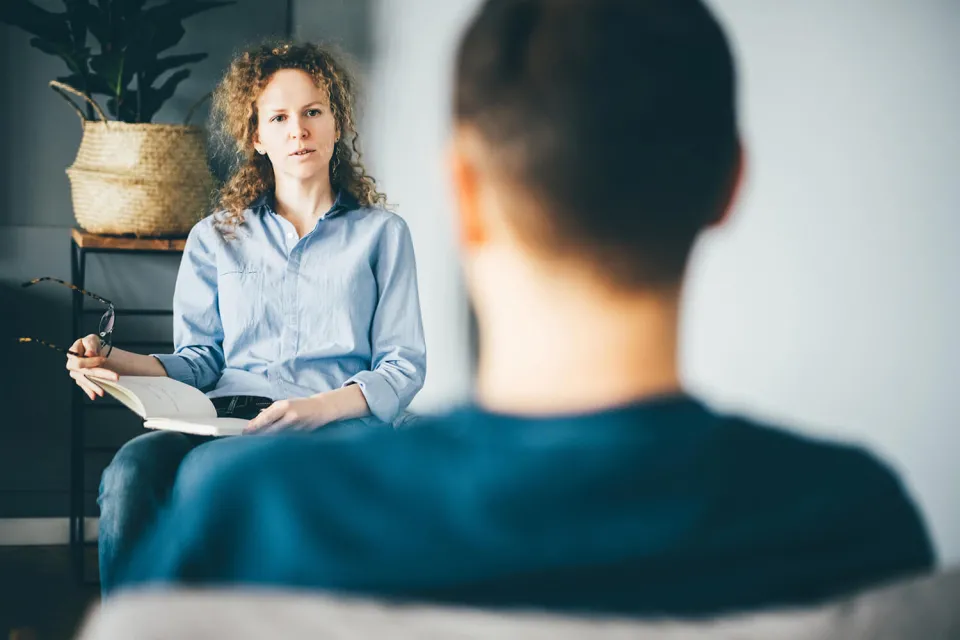 A quick breakdown of relevant acronyms
In this article we'll discuss the general differences between licensed social workers and licensed mental health counselors. There are many types of licenses and naming conventions in both areas. Here's a quick breakdown for those unfamiliar with many commonly used acronyms:
CMHC, CCMHC: These stand for Certified Mental Health Counselor and Certified Clinical Mental Health Counselor, respectively.
CSW, LCSW. Clinical Social Worker, Licensed Clinical Social Worker.
LPCC: Licensed Professional Clinical Counselor.
MFT, LMFT: Marriage and Family Therapist, Licensed Marriage and Family Therapist.
MHC, LMHC: Mental Health Counselor, Licensed Mental Health Counselor.
MSW: This stands for the Master of Social Work degree. (You may see LMSW used, meaning Licensed Master Social Worker.)
This is not a complete list. Relevant certifications and designations will vary by subject area and state requirements. For the purposes of this article, we're focusing on Licensed Clinical Social Workers (LSCW) and Licensed Mental Health Counselors (LMHC).
1. Job duties and responsibilities
Social workers help individuals and communities improve their overall well-being through counseling, education, advocacy, and support. Social workers provide help in a variety of areas, including mental health, substance abuse, or family conflicts.1
They also assist people with their socio-economic needs, such as unemployment, lack of housing or poverty.
A social worker's main duties include meeting with clients, listening to their concerns and developing plans to help them address the challenges. Social workers conduct assessments, develop treatment and intervention plans, provide counseling, crisis intervention, education, advocacy, and more. LSCWs may also diagnose mental health conditions and provide therapy.
Based on their clients' needs, social workers may provide counseling and education, advocate on their behalf to community organizations, or help guide clients through legal or healthcare systems.
Mental health counselors work with patients—including individuals and families—to navigate mental health challenges, overcome dependencies, and make life changes. Mental health counselors encourage clients to discuss challenges and their related feelings. They guide clients in developing skills and strategies to work through these issues, and change behaviors as needed.
When a mental health counselor first meets with a patient, they evaluate the client's mental condition and discuss the client's goals. They collect information through talking, observations, surveys, and tests. The counselor then creates a treatment plan. This may include talk therapy, behavior modification, goal setting and the development of healthy coping mechanisms.
Mental health counselors work in a variety of settings including hospitals and clinics, inpatient and outpatient treatment centers, correctional facilities, or private practice.
2. Skills needed
Certain skills are important for both social workers and mental health counselors in order to help people improve their wellbeing. These include a variety of interpersonal skills, such as:
Empathy. The ability to understand what someone is going through and sympathize with how they feel.
Communication skills. This includes active listening.
Organization. Both social workers and mental health counselors work with a number of clients, all with different needs, so being organized is a valuable skill.
Patience. It often takes people time to open up about difficult, painful, or complex issues. Being patient with clients can help build trust.
Problem solving. Each person's needs or challenges are unique, and both social workers and mental health counselors benefit from having strong problem-solving skills to help identify possible action plans.
Additional skills for social workers
Advocacy. Social workers have an ethical responsibility to challenge injustice, advocating on behalf of individuals, families and communities that are often underserved by government or social services. Social workers can benefit from strong interpersonal skills because they often work closely with local, state, and federal groups to develop programs.
Cultural competence. Social workers work with clients of all socioeconomic, ethnic, and racial backgrounds. By having a sincere sense of cultural awareness and respect for different cultures and customs, social workers can best support their clients' unique needs.
3. Salary
Potential pay in both fields depends on a variety of factors including education level, professional experience, and the state of employment.
The Bureau of Labor Statistics provides average annual and hourly estimates for the following related job categories:*
4. Education requirements
It is not possible to become a social worker or mental health counselor or clinician without the proper schooling. To become a social worker, you will need a bachelor's degree in social work, or a master's degree in social work from a CSWE accredited program. Some people choose to get a bachelor's degree in social work, while others choose to get an undergraduate degree in a related field, such as counseling or psychology, and then pursue a master's degree in social work (MSW). 
Once you have your MSW, you may choose to pursue licensure to become a Licensed Clinical Social Worker (LCSW). Licensure varies by state, but typically includes having a set amount of supervised work experience hours and passing a national and/or state exam.
To become a mental health counselor, you will need a bachelor's degree and a master's degree. Typical degrees may include counseling, psychology, sociology, or other behavioral science major. To work as a licensed mental health counselor, you will need a master's degree in clinical mental health counseling, supervised clinical work experience hours, and pass any certification exam requirements in the state in which you wish to practice. 
5. Specialization
While there are many different types of social workers, there are three key specializations:
Mental health
Medical social work
Children, families, and aging services
Mental health social workers often work with clients dealing with mental health struggles such as depression or anxiety, or substance abuse issues. The social worker uses their knowledge of mental health assessment and intervention to determine treatment plans tailored to individuals. They typically work in public and private mental health facilities, hospitals, clinics, or addiction treatment centers. Many LCSWs have their own private practice where they see clients and provide individual, family, and group therapy.
Medical social workers (also known as healthcare social workers), work with patients dealing with physical illnesses or medical emergencies. Medical social workers help patients and their loved ones understand their condition and direct them to resources that can help them emotionally, financially and socially. They typically work in hospitals and community health clinics, working closely with the patient's healthcare team. They provide crisis intervention, grief and loss support, aftercare support plans, community referrals and diligent follow up.
Child and family social workers advocate for vulnerable children, families, and elderly clients in need of assistance. They may offer parents resources and support for caring for their children and assist children who are dealing with life stressors. These social workers also support the unique needs of the senior population, including community resources, housing, and navigating the medical system. They provide emergency assistance, safety and home visits, safety planning, interventions for abuse and neglect, trauma interventions, case management and supportive services.
Why choose social work?
Social work is a demanding yet rewarding profession. It is a way to help individuals and communities navigate life's challenges through support, counseling, advocacy and education. Social workers' roles and responsibilities vary depending on the type of clients they work with, where they work, and their specialization. The job can offer a lot of flexibility in terms of hours and focus. It is also a very rewarding career; social workers positively impact the lives of many people and create change on individual, community and governmental levels.
As a social worker, you'll be able to help people improve their lives and make a difference in communities where it is most needed. If you're ready to prepare for a rewarding career helping individuals, families and communities, Herzing's online Master of Social Work (MSW) program may be a great fit. Learn more about our program today!
1. Individuals considering the Master of Social Work program should be aware that state certification/ licensure requirements and eligibility to apply for certification/licensure vary from state to state. While certification/licensure is not a requirement for certain types of jobs, in some states, it may be required for any positions titled 'Social Worker' and to refer to yourself as a Social Worker in professional settings.
---
* Bureau of Labor Statistics (BLS), U.S. Department of Labor, Occupational Outlook Handbook 2021. BLS estimates do not represent entry-level wages and/or salaries. Multiple factors, including prior experience, age, geography market in which you want to work and degree field, will affect career outcomes and earnings. Herzing neither represents that its graduates will earn the average salaries calculated by BLS for a particular job nor guarantees that graduation from its program will result in a job, promotion, salary increase or other career growth.
Classes Start October 30th
Learn More Today