Launch a career in medical billing with an associate degree
100% online classes you can take right at home
Typical program length: 20 months
Transfer up to 45 approved credits
Become prepared for the Certified Billing & Coding Specialist (CBSC) certification exam upon graduation
Discover bachelor's degree pathways to further your allied health college education
Earn a degree in less than 2 years online with Herzing
Make your impact in the delivery of healthcare as a medical biller. Medical billing and insurance represents an excellent career pathway for students seeking to make a difference in healthcare, but not necessarily in a patient-facing role.
The Herzing University Associate of Science in Medical Billing and Insurance is built to help you learn the fundamentals of the processes of insurance and billing processes, while building a strong foundation for continued study and further career advancement.
Return to school in Herzing's online remote learning environment and earn the education needed to qualify for entry-level jobs in medical billing and insurance.
Learn online in Herzing's Everywhere Classroom: on your schedule, at your pace
Complete general education courses, and foundational medical billing topics such as patient privacy, revenue cycle management, administrative skills, ethics and professionalism, and insurance claims, processing and adjudication
Strong support from experienced, accessible faculty with small class sizes (14:1 student/faculty ratio)
Discover bachelor's degree pathways in allied health, including health information management—an excellent next step to continue your education in health information & technology
With Herzing University the next big step in your career IS possible.
Classes Start October 5th
Learn More Today
Curriculum
Medical Billing and Insurance associate degree courses & curriculum details
This program combines foundational medical billing and insurance courses with the general education classes needed for an associate degree, which will give you greater career flexibility and advancement opportunities.
Build strong fundamentals in medical billing and insurance procedures and position yourself best for continued education in a bachelor's degree program (such as health information management).
All classes are delivered online with a required internship or research project.
| Program | Months* | Credits |
| --- | --- | --- |
| Associate and Associate of Applied Science in Medical Billing and Insurance | 20 | 61 |
*Average number of months for students to complete program
Program availability varies by location
Required Courses
All courses, 25.00 semester credit hours, are required.
HC 101 - Medical Terminology 1.00
This course introduces common medical terms through the analysis of word components. Emphasis will be placed on the structure of terms-Greek and Latin roots, prefixes, and suffixes. A medical vocabulary will be developed through the study of the anatomical structures, physiological functions, diagnostic and therapeutic procedures, and pathologies of the body systems. Terminology will be practiced through the use of common abbreviations, spelling, pronunciation and definitions.
HC 210 - Medical Billing Procedures for Managers 3.00
This course is designed to provide students with an understanding of the management of billing and insurance reimbursement operations in a medical office setting. The most frequently employed billing procedures and insurance forms are reviewed. It also acquaints students with accounts receivable processes most often used in traditional business offices including medical offices. The various reimbursement methodologies will be emphasized with medical compliance strategies being stressed.
MO 160 - Pathophysiology and Pharmacology 3.00
This course provides instruction in the study of human diseases with focus on the symptoms, signs, causes, and diagnosis of disease. Additionally, students will learn about pharmacology, drug abbreviations, drug categories, diagnostic equipment including lab values, and pharmacological treatment related to human diseases.  This course has a lab component. 
MO 180 - Administrative Skills for the Medical Office 3.00
This course introduces the student to administrative and operational procedures and policies pertaining to the medical office. Students will learn about various medical office software including patient registration, appointments, office financial management, and electronic health records.  Students will learn about the different types of healthcare systems, diversity among coworkers/patients, licensure, accreditation and patient privacy (HIPAA).
MO 185 - Ethics and Professionalism 1.00
This course is designed to introduce the student to important ethics as it pertains to the healthcare profession which includes controversial health care issues. The student will be introduced to patient confidentiality and information security as identified and enforced through HIPAA regulations. Additionally, the student will learn about the importance of professionalism in the workplace.
MO 205 - Insurance Claims, Processing and Adjudication 3.00
In this course, the student will understand the basic types of medical insurance programs available in today's healthcare environment. It acquaints students with billing formats, using universal claim forms, and it provides the skills necessary to master basic aspects of medical insurance billing and adjudication. Current reimbursement methodologies and compliance will also be covered.
MC 110 - Introduction to Billing and Coding 3.00
This course will introduce students to health insurance and medical billing practices.  Students will understand the health insurance industry, legal and regulatory issues, and differences in reimbursement methodologies. The student will learn principles of medical billing related to proper claim form preparation, claim submission, payment processing and follow-up.
MC 120 - Patient Privacy 3.00
This course will introduce students to the foundational principles of patient privacy and security of personal health information.  Students will understand the confidential and sensitive nature of medical information and how to protect it.  The course will emphasize the Health Insurance Portability and Accountability Act (HIPAA) privacy and security rules, patient rights and reporting requirements.  
MC 200 - Revenue Cycle 3.00
In this course, the student will gain an advanced understanding of the revenue cycle.  The revenue cycling involves handling critical patient data for billing purposes.  Students will understand the responsibility of ensuring confidentiality while maintaining accurate patient records to further quality patient healthcare services. In this class they will gain a full understanding of the entire cycle from patient admission, through to discharge, and ending with final receipts paid. The sensitive nature of this topic demands ethical, accurate collection of healthcare information.  Students will further review the importance of revenue follow up and methodology for capturing revenue past due.
MC 209 - Certification Review 2.00
Program Review is a course in which the student will prepare for certification examinations. The Certified Coding Associate (CCA) or Certified Billing and Coding Specialist (CBCS) are nationally recognized credential that enables employers to have confidence in a potential employee's ability. This course aids the student in combining their didactic training with a variety of review methodologies.
Open Elective Courses
A minimum of 6.00 semester credit hours of open health focused electives is required.
Required Anatomy and Physiology with Lab
♢8.00 semester credit hours are required. (6.00 of these semester credit hours will satisfy general education science requirements)
SC 146 - Anatomy and Physiology I 4.00
The first anatomy and physiology course in a two-term sequence will provide students with information and practical experience regarding anatomical and physiological concepts related to the integumentary system, skeletal system, muscular system, nervous system, and special senses.  Biochemistry, cellular biology, and histology will be integrated into each system.
SC 246 - Anatomy and Physiology II 4.00
The second anatomy and physiology course in a two-term sequence will provide students with information and practical experience regarding anatomical and physiological concepts as related to the endocrine system, cardiovascular system, lymphatic system, respiratory system, digestive system, urinary system, and the male and female reproductive systems.  Biochemistry, cell biology, and histology will be integrated into each body system.
Required Internship or Research Project
4.00 semester credit hours are required.
MC 291 - Insurance Billing and Coding Case Study Research Project 4.00
This course prepares students for challenges in the workplace by improving their critical thinking and problem-solving skills using research as a problem-solving tool. Students will examine real-world business problems while analyzing, developing, and implementing workplace solutions to build relationships that support the organization's strategic goals. In addition to building a foundation and developing competencies, students will develop important skills in ethical and values considerations, technology, and business communication.
or
MC 294 - Insurance Billing and Coding Internship 4.00
During the internship phase of training, the student will experience various aspects of working in the insurance billing and coding field. The internship will provide the student with the opportunity to experience and participate in the duties of a medical biller and/or coder in a working environment. Experienced insurance billing and/or coding personnel provide the instruction.
* Enrollment in a student readiness training is required two terms prior to internship course.  Successful completion of training is required prior to internship course enrollment.
General Education Requirements
Students enrolled in this associate degree must complete a minimum of 24.00 semester credit hours in general education distributed among the following disciplines. Refer to the General Education section of the catalog for specific information about courses within each discipline. 9.00 Semester Credit Hours in Communications 3.00 Semester Credit Hours in Humanities (must include 3 semester credit hours of cultural diversity) 3.00 Semester Credit Hours in Mathematics 6.00 Semester Credit Hours in Science ♢ 3.00 Semester Credit Hours in Social and Behavioral Sciences ♢Science Semester Credit Hours are satisfied through Anatomy and Physiology requirement listed above.
What about medical coding?
You may be considering pursuing a job as a medical billing and coding specialist. With enough education and experience you can potentially excel wearing both hats.
However, healthcare revenue cycle management takes both medical billing and medical coding—and the jobs aren't the same.
There are separate career opportunities down both tracks, especially in regard to entry-level positions in larger institutions.
If you consider yourself more introverted (and not as enthusiastic about working with patients!) you may be interested in enrolling in a medical coding associate degree program.
Certifications
What certifications will I be eligible for?
Graduate with a degree in medical billing and insurance from Herzing University and you'll be prepared to take the Certified Billing and Coding Specialist (CBCS) exam from the National Healthcareer Association (NHA).
Herzing University's curriculum includes a course dedicated to help you prep for the exam. The class includes didactic training and a variety of review methodologies.
After graduation from our medical billing degree program you will be eligible to take the CBCS exam and become certified.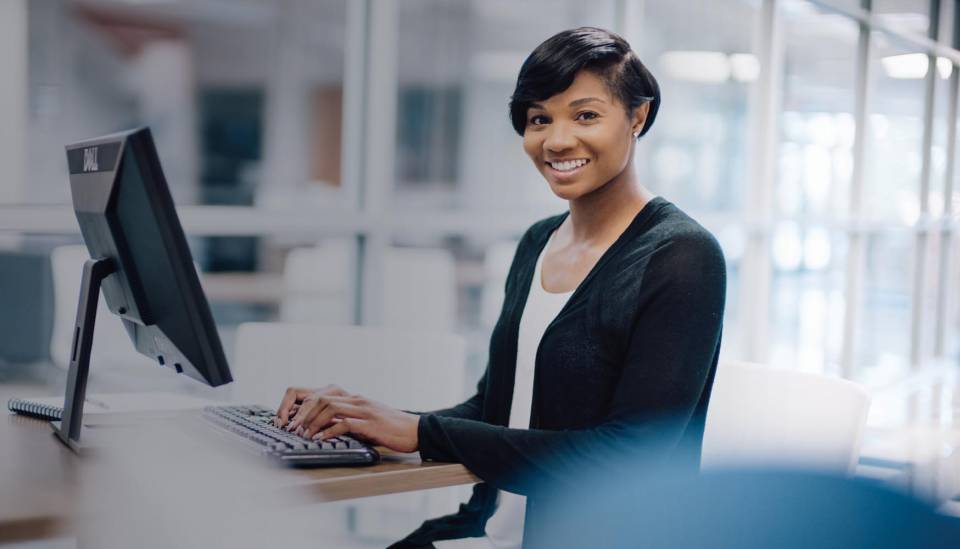 Requirements
Medical billing associate degree program enrollment prerequisites
Enrollment requirements for the Herzing University Medical Billing and Insurance degree program include:
Hold a high school diploma, GED or equivalent
Achieve the minimum score on one of several options for entrance testing, including the Wonderlic, ACT or SAT.
Meet with a Herzing admissions advisor
Fill out an enrollment application
If you have any further questions, please contact us and we'll fill in all the blanks.
What can I do with an associate degree in medical billing?
An associate degree in medical billing and insurance can help you qualify for many types of roles in healthcare institutions including hospitals, clinics, private practices or physician's offices. Possibilities include::
Medical Biller
Medical Billing Specialist
Medical Records Clerk
Insurance Specialist
Medical Insurance Representative
Medical Billing and Insurance Associate
How can I advance my career? With Herzing University there are many potential career pathways after earning your associate degree. Transfer credit into bachelor's degree options in allied health, including health information management, healthcare administration and health sciences.
According to the Bureau of Labor Statistics, employment of billing and posting clerks is expected to rise 10% from 2018-2028, faster than the 5% average across all U.S. occupations.
Now is an excellent time to start earning the undergraduate education you need to join the growing field of healthcare information.
FAQ
Frequently Asked Questions
Medical billers are an important part of the healthcare revenue cycle management process. Medical billers work with medical coders to ensure that providers are paid appropriately for medical services rendered. Billers are responsible for:
Sending information to the appropriate patients, insurance companies, doctors and medical facilities
Processing insurance claims for billing and pursuing payment
Following claims to ensure reimbursement is occurring
Yes!
The Herzing University medical billing program features 100% online coursework with an optional internship or search project.
You can find an estimate for our medical billing program by using the Herzing University Tuition Wizard.
Our goal is to provide you with an affordable, career-focused education. We have many options for financial aid, including grants, scholarships, loans or student employment.
Herzing University offers several undergraduate healthcare degree and diploma options that you may earn online, in addition to medical coding and billing:
Each program is positioned uniquely to build a foundation for you to pursue the type of job in healthcare you're looking for—whether it's directly caring for patients, focusing on day-to-day administrative tasks or leading the way in a managerial role.
With enough experience in the field, many medical billers may find jobs with the option to work from home. However, it can be difficult to find entry-level work-from-home positions. Expect to work your way towards qualifying for these competitive positions after graduating with a degree or diploma.
As a medical insurance billing specialist, you can typically expect a 40-hour work week in an office environment such as a healthcare facility or agency setting. Full-time Medical Insurance Billing Specialists may receive a comprehensive benefit package that includes health insurance, paid vacation, and a retirement savings plan such as profit-sharing or 401(k). Some employers have part-time opportunities available as well.
Your first step is to get educated. Enrolling in Herzing's medical billing program will put you on track to graduate with the education you need in 8-20 months.
We are your lifelong learning partner—ready to help you take the first big step towards your new career in healthcare.
While software can automate certain tasks in a medical biller's day-to-day workflow, there is still need for the human element in the medical billing process, including case-by-case decision making and interpersonal communication.
According to 2019 data from the Bureau of Labor Statistics (BLS), employment for billing and posting clerks is expected to increase 10% from 2018-2028, higher than the average across all U.S. occupations.
Requirements will vary by employer. However, earning certification to become a Certified Billing and Coding Specialist (CBCS) can help you earn an edge over the competition and get the job you really want.
According to 2019 data from the Bureau of Labor Statistics (BLS), billing and posting clerks (including medical billers) earn an average salary of $40,620 per year ($19.53 per hour).*
Associate and Associate of Applied Science in Medical Billing and Insurance Degree Programs
Showing 1 programs for the Online campus
The goal of this program is to provide the student with a thorough understanding of the content of anatomy, physiology, disease processes, and medical terminology. This program will provide the student with the knowledge and understanding of the insurance and billing processes and procedures. The student will gain an understanding of the importance of patient privacy while applying the principles of professional and ethical conduct. The program will prepare the student for an entry-level position as a medical biller in a hospital, clinic, physician's office, or other healthcare facility.
Ready to get started?
Contact us to request more information
Accreditation
Accreditation & Disclosures
View Herzing University Accreditation and Approvals
* Bureau of Labor Statistics (BLS), U.S. Department of Labor, Occupational Outlook Handbook. Multiple factors, including prior experience, age, geography and degree field, affect career outcomes. Herzing does not guarantee a job, promotion, salary increase or other career growth. BLS estimates do not represent entry-level wages and/or salary.