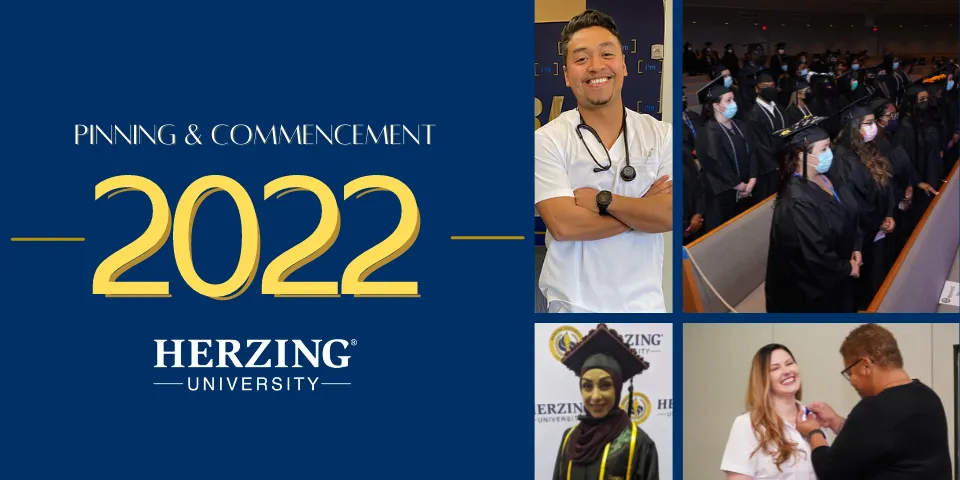 On behalf of the Herzing University faculty, staff, students and alumni, congratulations to the Graduating Classes of 2021 and 2022! We are proud of our graduating students and all that you have accomplished to arrive at this moment.
We are happy to announce that our campuses will be hosting in-person commencement ceremonies for our graduates! Guests and graduates not able to make the ceremony can watch it live-streamed on Facebook Live the day of the ceremony.  We are looking forward to sharing your special day with you!
Commencement and Pinning
Winter 2022-23 Ceremonies
Atlanta Campus: at the Georgia World Congress Center
Pinning at the on-campus Nursing Department Meeting: 11:00 AM ET Wednesday, January 11
Commencement: 12:00 PM ET Friday, January 13
New Orleans Campus: at the Marriott Lakeway
Pinning: 6:30 PM CT Thursday, January 19
Minneapolis Campus: at the Marriott West
Pinning: 7:00 PM CT Thursday, January 19
Birmingham Campus: at the Vestavia Hills Civic Center
Pinning: 2:00 PM CT Friday, January 27
Akron Campus: at the John S. Knight Center 
Commencement: 10:00 AM ET Saturday, January 28
Pinning: To follow the commencement ceremony
Wisconsin (Brookfield, Kenosha and Madison) and Online Division In-Person: at the Miller High Life Theatre
Pinning: 12:00 PM CT Saturday, January 28
Commencement: 2:00 PM CT Saturday, January 28
Florida (Orlando and Tampa Campuses): at Faith Assembly
Pinning: 11:00 AM ET Friday, February 3
Commencement: 2:30 PM ET Friday, February 3
To watch on Facebook Live, you don't need a Facebook account to watch the ceremonies. While on the site during the event, do not click on any links in the comments directing users to view the ceremony! Scammers will sometimes post misleading links to steal payment information and Herzing University never charges to view commencement ceremonies. The streaming will start after a few minutes of introductory messages.
COVID Precautions
While COVID has transitioned in severity, it remains a part of our everyday lives. Specific communication about your unique commencement ceremony will be sent to you before the event, but general safety precautions include:
Encourage participants to be vaccinated and boosted, and if not to wear a face-covering
Acceptable and encouraged to wear a face-covering based on personal preference throughout the event 
Hand sanitizer and other sanitation tools are available
Work with venues that have high cleaning and sanitation standards
Larger venues whenever possible to accommodate spacing at ceremonies
Make use of outdoor spaces as best as possible
We continue to follow all federal, state and local health/safety requirements and guidelines
Please reach out to your campus' career development coach if you have any questions.
*Be sure to regularly check your email for the latest commencement and pinning ceremony news and updates!*
Celebrating Virtually
Attendance for in-person ceremonies is voluntary — graduates and guests who do not feel comfortable attending an in-person ceremony or are not able to attend due to restrictions can still watch the live stream. We want to make sure that you can celebrate your accomplishments safely and comfortably.
Watch on Facebook with Family and Friends
Your graduation ceremony will be shared on Facebook Live so you can invite all your family and friends, including those who can't attend in person! Before the ceremony, make sure you:
Share the link to your campus Facebook page with your friends and family so that they can watch the ceremony from their homes. You can also share the Facebook Live ceremony link with your friends and family, which will open the ceremony directly. 
Start a personalized Facebook watch party! When you start a watch party, you can view any public video on Facebook in real-time with a group of your friends. Check out this link for more information about setting up a Facebook watch party.
Have your family and friends give you a shout-out in the comments during the ceremony!
*You do not need a Facebook account to watch the ceremony. The ceremony is accessible to the public.*
Social Media:
Don't be shy —­ we want to hear from you! 
Besides attending your ceremony, you can do a lot more to celebrate, and we want to see what creative ideas you come up with! You can share your unique experiences with the Herzing community in a variety of different ways:
Share your Herzing moments on social media. If you have an image or a story that you want to share about your Herzing experience, DM us on Facebook. In your message, include your name, the degree you earned, and whatever image, memory, or caption you want to use. We may share your images on our social media accounts.
Show us how you are celebrating! Whether you are in person at graduation or celebrating at home, we want to see your pictures from your special day!
You can also tag us in your posts or use our hashtag #HUPossible or #HerzingGrad on your social media accounts.
Snap, save and share your pictures during the ceremony and post to our celebratory grad post that will be shared right before graduation kicks off (check out our page before graduation begins; you'll see what we're talking about!)
Do you have some fun ways you're going to celebrate? Share your tips and plans with us on social media or DM us on Facebook!
Personalized Pictures:
Photo Frames for Students: We've created some special digital frames for graduation. Update your profile picture using the Herzing graduation frames on Facebook. Check out our Herzing Facebook frames here!
Photo Frames for Family and Friends: Of course, you will want to share your excitement with your family and friends! They can show their pride and support for you by updating their profile picture with a Herzing grad frame. Check out these Herzing family Facebook frames here.
Graduation and Pinning Programs
Take a moment to click and view the program for your graduation or pinning ceremony:
Akron Campus
Atlanta Campus
Birmingham Campus
Minneapolis Campus
New Orleans
Orlando Campus
Tampa Campus
Wisconsin Campuses
Tips and Tools for Celebrating at Home:
Just because you can't have a big celebration doesn't mean that the party stops!
A graduation program will be shared with you closer to the ceremony day. Printed programs along with diploma covers will also be available for students who would like one. Students are encouraged to print and share their programs with family and friends.
Here are some other tips and tools to help you make your graduation at home a personalized and fun experience!
It has been our greatest pleasure to serve our students who make an incredible impact in our communities! On behalf of everyone at Herzing, congratulations class of 2021 and 2022! You are possible!