Banner Image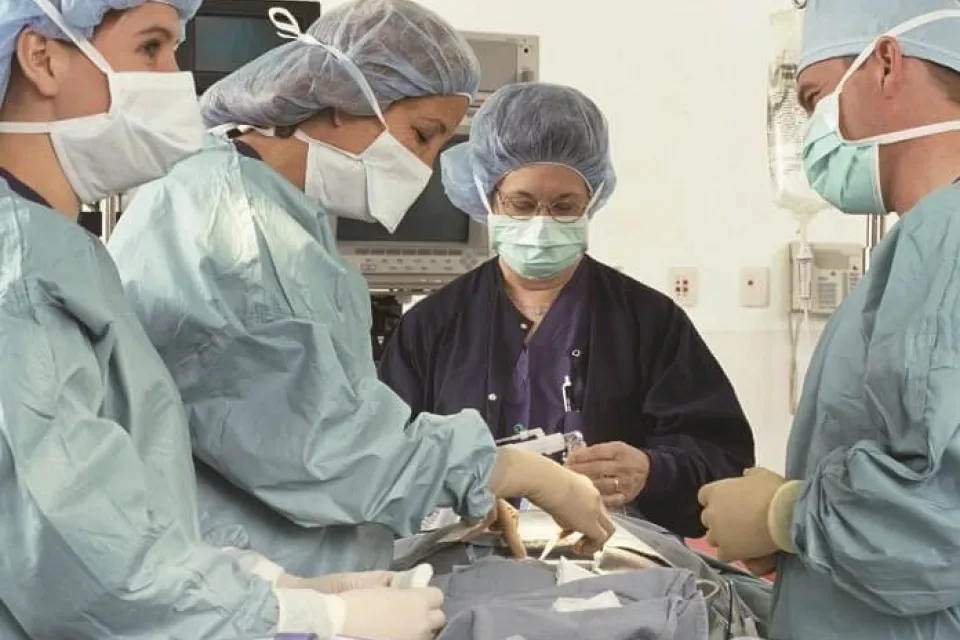 Among the different types of registered nurses, nurse anesthetists (CRNAs) are among of the highest paid on average.
According to the Bureau of Labor Statistics, nurse anesthetists earn an average salary of $205,770 per year ($98.93 per hour). The estimate will vary depending on where you work and the state where you are employed. The demand in your geographical area can heavily influence the average pay.
 
Average salary
Median salary
State
Per hour
Per year
Per hour
Per year
Alabama
$91.92
$191,200
$85.29
$177,400
Arizona
$86.41
$179,730
$94.88
$197,360
California
$118.52
$246,510
$113.04
$235,120
Colorado
$89.36
$185,860
$88.69
$184,460
Connecticut
$115.66
$240,580
$104.69
$217,760
Delaware
$95.23
$198,070
$107.90
$224,430
Florida
$83.84
$174,390
$79.70
$165,770
Georgia
$91.73
$190,800
$86.03
$178,950
Idaho
$87.07
$181,110
$85.60
$178,040
Illinois
$114.64
$238,440
$110.77
$230,410
Indiana
$105.78
$220,020
$97.38
$202,550
Iowa
$101.45
$211,010
$100.07
$208,140
Kansas
$81.45
$169,410
$80.09
$166,590
Louisiana
$86.12
$179,140
$88.36
$183,780
Maine
$103.33
$214,930
$99.82
$207,620
Maryland
$87.84
$182,710
$97.26
$202,310
Massachusetts
$98.41
$204,690
$103.00
$214,240
Michigan
$96.00
$199,690
$94.15
$195,840
Minnesota
$106.99
$222,540
$106.92
$222,400
Mississippi
$88.65
$184,390
$86.76
$180,450
Missouri
$98.65
$205,190
$87.09
$181,140
Montana
$97.81
$203,430
$104.28
$216,910
Nebraska
$108.46
$225,590
$103.92
$216,150
New Hampshire
$103.83
$215,970
$102.27
$212,710
New Jersey
$111.84
$232,630
$100.16
$208,330
New Mexico
$103.48
$215,240
$99.67
$207,310
New York
$114.77
$238,710
$108.82
$226,340
North Carolina
$103.24
$214,740
$99.40
$206,750
Ohio
$95.01
$197,630
$85.82
$178,500
Oklahoma
$80.99
$168,470
$86.49
$179,900
Oregon
$99.00
$205,920
$104.98
$218,370
Pennsylvania
$97.89
$203,620
$91.59
$190,510
South Carolina
$94.15
$195,840
$92.35
$192,080
South Dakota
$107.31
$223,200
$95.18
$197,970
Tennessee
$83.74
$174,170
$85.26
$177,340
Texas
$100.45
$208,940
$107.01
$222,580
Vermont
$109.96
$228,710
$98.63
$205,150
Virginia
$103.62
$215,530
$87.35
$181,690
Washington
$107.03
$222,610
$103.27
$214,800
West Virginia
$110.30
$229,430
$103.06
$214,360
Wisconsin
$110.71
$230,270
$108.94
$226,580
Wyoming
$98.69
$205,270
$110.78
$230,420
Puerto Rico
$30.56
$63,570
$30.06
$62,530

All data provided by the U.S. Bureau of Labor Statistics. Data unavailable for Arkansas, Kentucky, and North Dakota.
Job outlook for CRNAs
The job outlook for certified nurse anesthetists is very good; employment for nurse anesthetists is expected to grow by 9% from 2022-2032, according to the Bureau of Labor Statistics.
What you need to know about a career as a CRNA
If you are considering this acclaimed and lucrative career option, there are a few things you will need to know.
What does a certified nurse anesthetist do?
A nurse anesthetist is an in-demand type of advanced practice registered nurse (APRN). Certified registered nurse anesthetists (CRNAs) play an important role in a variety of medical procedures. They help ensure the safe administration of anesthesia and work closely with surgeons, anesthesiologists, and other healthcare professionals. In addition to administering anesthesia during surgical, therapeutic, diagnostic, and obstetric procedures, CRNAs perform epidurals and nerve blocks, providing patient care before, during, and after anesthesia and more.
Where do nurse anesthetists work?
CRNAs often work in a variety of settings, including medical and surgical hospitals, outpatient clinics, physicians' offices, and military facilities. They can often be found in operating rooms, where they provide anesthesia for emergency surgery or scheduled outpatient procedures. CRNAs may also be found in maternity wards, where they provide epidurals during childbirth.
What is the difference between a nurse anesthetist and an anesthesiologist?
The biggest difference between CRNAs and anesthesiologists is CRNAs receive nursing education, while anesthesiologists are physicians who receive medical education. An anesthesiologist must earn a bachelor's degree, complete medical school, and complete a residency in anesthesiology.
What educational requirements you need to become a CRNA?
A certified nurse anesthetist must have five key requirements: a Bachelor of Science in Nursing degree, a registered nurse licensure for your state, two or more years of critical care nursing experience, and a master's degree in nurse anesthesia. You will also need to pass the National Certification Examination (NCE).
How can I become a CRNA?
Here are the steps to become a certified registered nurse anesthetist:
You'll need to gain experience in an acute care setting, such as an ICU or the emergency room of a hospital or ambulatory center. Two or more years of experience is typical and will help you develop practical skills and gain experience in urgent care situations. Then you much complete an accredited nurse anesthetist master's degree program. This typically takes between 24 and 36 months. Herzing University does not currently offer an MSN program for CRNAs; you can find a program near you by searching this list.
The last step is to pass the National Certification Examination (NCE). This computer exam typically takes three hours, and students must answer between 100 and 170 questions. Once you've successfully passed, you can start looking for a job and begin your rewarding career as a certified nurse anesthetist.
Become possible with Herzing University
If you're considering advancing your career in nursing and looking ahead to becoming a CRNA, Herzing University can help you take the first step and earn your bachelor's degree in nursing. We offer several different options (check campus availability near you):
Our mission is to empower you to reach your career goals. Take the leap with Herzing University and start pursuing your dream job.
---
* Bureau of Labor Statistics (BLS), U.S. Department of Labor, Occupational Outlook Handbook 2022. BLS estimates do not represent entry-level wages and/or salaries. Multiple factors, including prior experience, age, geography market in which you want to work and degree field, will affect career outcomes and earnings. Herzing neither represents that its graduates will earn the average salaries calculated by BLS for a particular job nor guarantees that graduation from its program will result in a job, promotion, salary increase or other career growth.
Classes Start January 8th
Learn More Today