Banner Image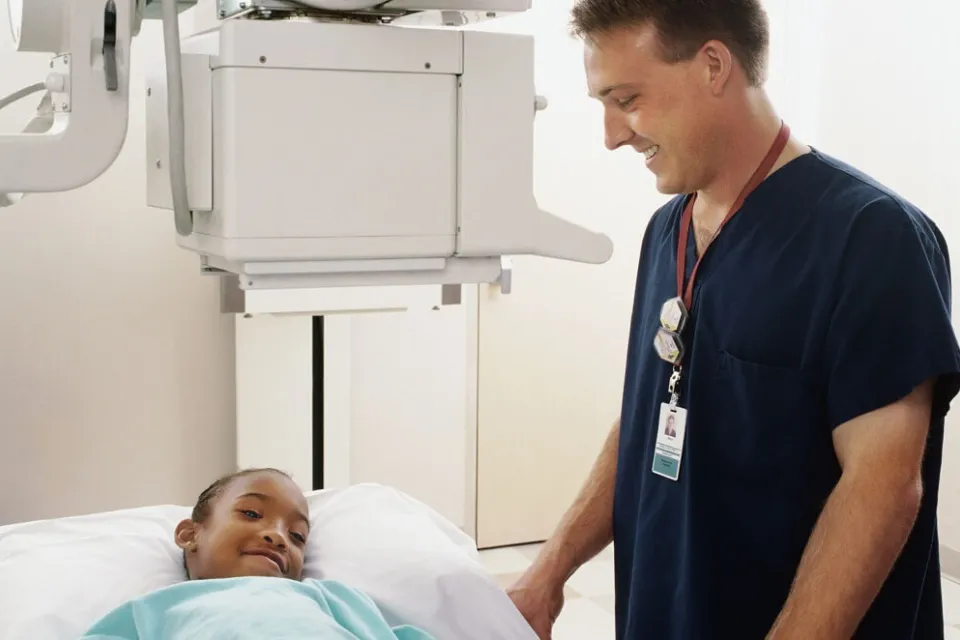 Parents aren't the only people who play a key role in a child's life when their health and well-being are at stake. Pediatric nurses possess the specialized knowledge and skills to help care for children from the time they are infants, through childhood and into adolescence. They also play an important role in educating concerned parents and providing them with valuable information they need to raise healthy kids.
The requirements to become a pediatric nurse may be broken down into 7 steps:
1. Understand the specialized role of a pediatric nurse
Pediatric nursing is a specialization requiring an ability to connect with kids in a language and demeanor that comforts them (and their parents). If you have a natural rapport with children and a desire to play an important role in their wellbeing and healthy development, becoming a pediatric nurse might provide the gratifying, meaningful career you're looking for.
The role of a pediatric nurse can be quite different from other types of nurses. For example, most RNs are adept at administering immunizations or inserting IV lines. However, with a pediatric patient, you might also need to use the art of distraction or a gentle voice with a variety of approaches to care. In addition, you'll spend time educating parents on the importance of immunizations, nutrition and exercise to promote and support healthy child development.
Every day as a pediatric nurse may bring new challenges and opportunities to make a positive difference in the lives of others. According to the Institute of Pediatric Nursing, in a 2014 study 92% of pediatric nurses said they encourage others to join them in the career because it's rewarding to have the opportunity to change the life of a child.
Where do pediatric nurses work?
As you might imagine, wherever there are babies, kids and teenagers there'll always be a market for pediatric nurses who have been specially trained to tend to childhood injuries and illness Once you identify pediatric nursing as your calling in life and earn the necessary credentials to become one, you'll be able to grow your career in a city, suburban or rural environment and a wide range of facilities. For example, an Institute for Pediatric Nursing survey of Certified Pediatric Nurses revealed that:
30.3% of them are employed at free-standing children's hospitals.
28.3% work at children's hospitals associated with a major medical center.
11.7% are employed at outpatient care facilities.
9.9% are employed at community hospitals.
4.8% work at amajor medical center.
2.4% work in school setting.
With the right education and training in pediatric nursing, you'll have a wide range of environments where your knowledge and skills are in demand.
What will your workdays be like as a pediatric nurse?
Your workday as a pediatric nurse will largely depend on the type of facility where you get hired. If you're employed at a doctor's office, hospital or clinic, your duties and responsibilities may be similar to those of any registered nurse, except the care you provide will be administered to younger patients. The job description can include:
Work with pediatricians, nurses and other healthcare professionals to develop care plans for babies, toddlers, kids and teens.
Calm and reassure worried parents and teach them how to best care for their children.
Connect and effectively communicate with your youthful patients to help take the fear factor off their illnesses, injuries and treatments.
You may also choose to take a job as a school nurse, in which case your day to day activities will likely include promoting preventive healthcare for students, faculty and members of the community.
How much can you make as a pediatric nurse?
If you've already started crunching the numbers on a career in nursing, you're probably encouraged by the average annual wage for registered nurses being $80,010 in 2020, according to the Bureau of Labor Statistics (BLS).*
Earn more experience as a registered nurse and you'll have a better chance of increasing your value to employers and position yourself to grow your salary.
What is the current jobs outlook for pediatric nurses?
For pediatric nurses, the future appears bright. The BLS is predicting 7% growth in employment from 2019-2029 for registered nurses.* That's much faster than the average for all occupations (4%), but the BLS also notes that registered nurses with a Bachelor of Science degree in nursing (BSN) will have better job prospects than those without one, and employers may also prefer candidates who have certification in a specialty area, such as pediatric nursing.
2. Earn your nursing degree
To become a pediatric nurse, you are usually required to be an RN or APRN with either an associate or bachelor's degree. Regardless of where you currently find yourself in nursing, Herzing University offers pathways to help you earn the degree you want and become a registered nurse:
* Program availability varies by campus. Click through to each program for further detail.
How long it takes to earn your degree and become a pediatric nurse depends on many factors, including your current education, potential transfer credits and level of schooling you seek.
At Herzing you'll be immersed into hands-on training designed to prepare you for life as a nurse in your clinicals as well as your future career. You'll practice responding to a variety of different clinical situations – from broken bones to more complex conditions like seizures or diabetic shock.
3. Pass Your NCLEX Exam
Every RN in the United States is required to take (and pass) the National Council Licensing Examination, commonly referred to as NCLEX-RN. It's a comprehensive exam that's only open to students who have already completed a nursing program like those offered at Herzing. The test focuses on your knowledge of four specific areas of nursing, including:
Safe, effective care environments
Health promotion and maintenance
Psychosocial integrity and how to cope with the stresses of being a nurse
Physiological integrity and your ability to deliver proper nursing care
Studying for and passing your NCLEX doesn't need to be an overwhelmingly stressful experience. In fact, as a future pediatric nurse, you'll be wise to keep your eyes on the prize and follow the advice of RNs who have already walked in your clogs and share their tips for success.
After passing the NCLEX-RN,  you will need to meet the board of nursing requirements in your state to be able to practice as a registered nurse.
Then you will be able to search for your first job as an RN. If you have your sights set on a career as a pediatric nurse, seek a position in a healthcare clinic or hospital which cares for children and younger patients.
You may not find the perfect position starting out and that's okay – just keep your eyes peeled for a great opportunity and be ready to jump on it!
5. Earn clinical experience working in a pediatric facility
To become certified as a pediatric nurse, you'll need to work in a facility where you can practice your specialty and gain experience caring for kids. The primary pediatric clinical hours requirement is 1800 hours before you can become certified—view full certification eligibility requirements from the Pediatric Nursing Certification Board (PNCB).
Various roles and responsibilities qualify for pediatric nursing experience, including direct patient care and indirect patient care such as teaching, administration, clinical research or consultation in pediatric nursing.
6. Pass the CPN Certification Exam
The Pediatric Nursing Certification Board (PNCB) is the leader in certification for nursing professionals who provide care for children and adolescents. Established in 1975, the organization strives for optimal outcomes in pediatric health by promoting integrity, quality, innovation, advocacy and respect for pediatric nurses committed to their specialty.
The PNCB exam consists of 175 multiple-choice questions, and you'll have three hours to complete it. Once you have passed the exam, you'll join more than 25,000 RNs who actively hold PNCB's Certified Pediatric Nurse (CPN) credential.
7. Begin your career as a certified pediatric nurse!
Making a difference in the life of a child isn't something just any nurse can do. Becoming a pediatric nurse takes compassion, empathy and a level head to handle emergency situations calmly and professionally.
If pediatric nursing is tugging at your heartstrings (and your professional aspirations), the best place to start is with a world-class nursing education.
Herzing University is your lifelong learning partner and exists to help empower you to reach your career goals in nursing.
Consider our family nurse practitioner program for the future if you're thinking ahead to a career as a pediatric nurse practitioner. Becoming a family nurse practitioner can help you advance your career and select a position in pediatrics.
Explore our many nursing programs, take the leap and change your life for the better!
---
* Bureau of Labor Statistics (BLS), U.S. Department of Labor, Occupational Outlook Handbook 2020. BLS estimates do not represent entry-level wages and/or salaries. Multiple factors, including prior experience, age, geography market in which you want to work and degree field, will affect career outcomes and earnings. Herzing neither represents that its graduates will earn the average salaries calculated by BLS for a particular job nor guarantees that graduation from its program will result in a job, promotion, salary increase or other career growth.
Classes Start August 9th
Learn More Today