Banner Image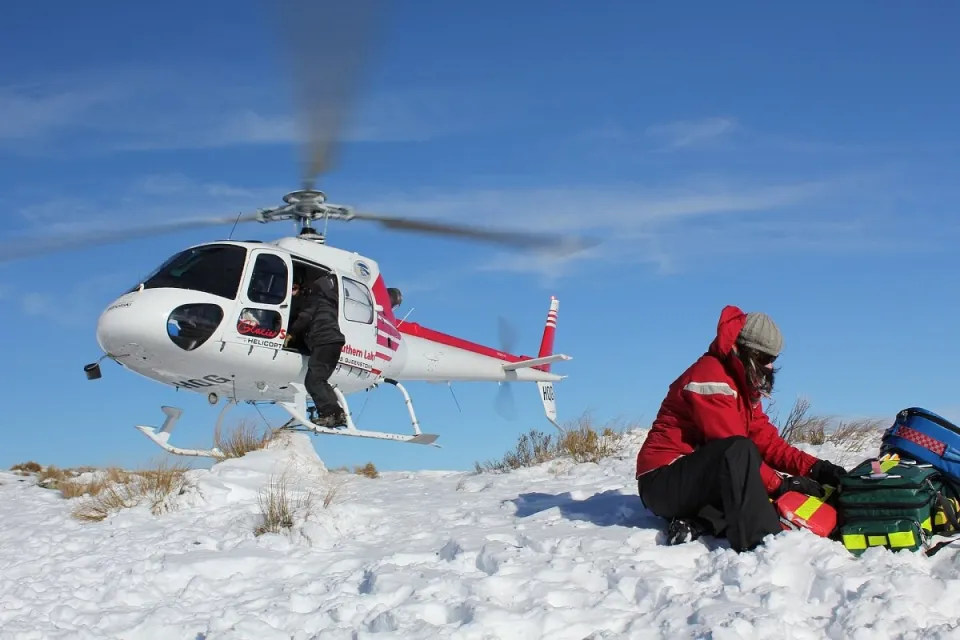 Flight nurses are RNs who are specially trained to provide medical care to critical patients as they transport them via helicopter or aircraft to a hospital or medical center that is best equipped to care for their specialized needs. A flight nurse, also known as a transport nurse, works as part of a team that may include flight physicians, medics, and other medical providers. Flight nurses work in both civilian and military environments.
If you enjoy nursing and helping others, work well under pressure, and can work closely with others in a dynamic environment, a career as a flight nurse may be a great fit. These steps can help you start on your path to an exciting new career:
1. Know the role: what does a flight nurse do?
Flight nurses treat critically injured or ill patients in an unstable environment. Often, a flight nurse's patients have undergone severe trauma that requires fast transport from an accident scene to a medical facility, or quick transport from one medical center to another.
During transport, flight nurses stabilize patients as much as possible, administer emergency care, and prepare patients for treatment. Basic duties include starting IVs, providing medication, and performing advanced resuscitation techniques, such as CPR.
If a patient needs a life-saving treatment that is not available at the original facility, he or she may be transported to a larger medical center. In these situations, flight nurses work with the medical team at the receiving facility. The nurse may help prepare the patient for treatment, as well as prepare case notes and patient files.
Day-to-day duties of a flight nurse also include daily aircraft and equipment checks, cleaning on-call rooms, checking expiration dates of medication, and ensuring the aircraft is ready for patients.
2. Earn a nursing degree
In order to practice as a flight nurse you will first need to earn a degree in nursing. You may qualify for the National Council Licensure Examination for Registered Nurses (NCLEX-RN) by earning an Associate of Science in Nursing (ASN, or ADN) or a Bachelor's of Science in Nursing (BSN).
Herzing University offers a variety of pathways to nursing for interested students:
Associate degree in nursing program. Earn your Associate of Science in Nursing (ASN) to get in the field fastest.
Bachelor's degree in nursing program. Enroll in a 3-year program to earn a Bachelor of Science in Nursing (BSN), available both online and on-campus. We also offer an online RN to BSN bridge program for current associate degree RNs looking to earn their BSN faster, and a second degree nursing program for applicants with a BS in another field looking to transition into nursing.
Master's degree in nursing program. Non-nursing bachelor's degree holders may also be eligible for our Direct Entry MSN online program, in which you can earn a master's degree in as few as 20 months.
Bridge options for healthcare professionals. Licensed Practical Nurses (LPN), paramedics, military medics, Respiratory Therapists (RT), and Cardiovascular Technologists (CVT) may be eligible for ASN or BSN pathways, which can be completed in less time than traditional ASN/BSN programs.
Program availability varies by campus.
3. Pass the NCLEX-RN exam and become an RN
In order to officially become a registered nurse you will need to sit for and pass the NCLEX-RN exam. This is a standardized test that state regulatory boards use to determine if students are ready to become licensed nurses.
Once you pass the exam and meet the board of nursing requirements in your state, you're ready to start applying for jobs.
4. Gain hands-on nursing experience
Employers may be seeking applicants with a few years of experience in the ICU or ER. Working in these areas or a trauma unit can help provide aspiring flight nurses the knowledge needed to triage patients and manage a fast-changing flow of patients with a variety of care needs. Familiarity with basic aspects of navigation and flight can also prove helpful.
Certification is not currently required for flight nurses, but it can help increase your earning potential and help you stay competitive in the job market. You can demonstrate your competence in flight nursing by becoming a certified flight registered nurse (CFRN) from the Board of Certification for Emergency Nursing (BCEN).
Currently, you do not need a master's degree to become a flight nurse; however, it can help improve your salary and earning potential.
How much can a flight nurse make?
According to the Bureau of Labor Statistics, the average annual wage for RNs is $89,010 per year ($42.80 per hour).* National averages do not typically reflect entry-level positions.  Flight nurse salaries vary based on many factors including your experience, your employer, geographic area of work, and level of education.
5. Prepare to launch your career as a flight nurse
As a flight nurse, you have a unique opportunity to comfort those in distress and make a dramatic impact on their life and care. If you enjoy the medical field, work well under extreme pressure, and enjoy an adrenaline rush, a flight nurse may be a great career. Learn more by talking with one of Herzing's advisors about our nursing programs today.
---
* Bureau of Labor Statistics (BLS), U.S. Department of Labor, Occupational Outlook Handbook 2021. BLS estimates do not represent entry-level wages and/or salaries. Multiple factors, including prior experience, age, geography market in which you want to work and degree field, will affect career outcomes and earnings. Herzing neither represents that its graduates will earn the average salaries calculated by BLS for a particular job nor guarantees that graduation from its program will result in a job, promotion, salary increase or other career growth.
Classes Start October 30th
Learn More Today
ADN nurses: take the next step
Advancing your education is key to discovering the career path of your choosing.
You can go from RN to BSN online in as little as 1 year and potentially open many doors to future career possibilities, including potential new specialty pathways of your choosing.
Learn more about our RN to BSN program: