Banner Image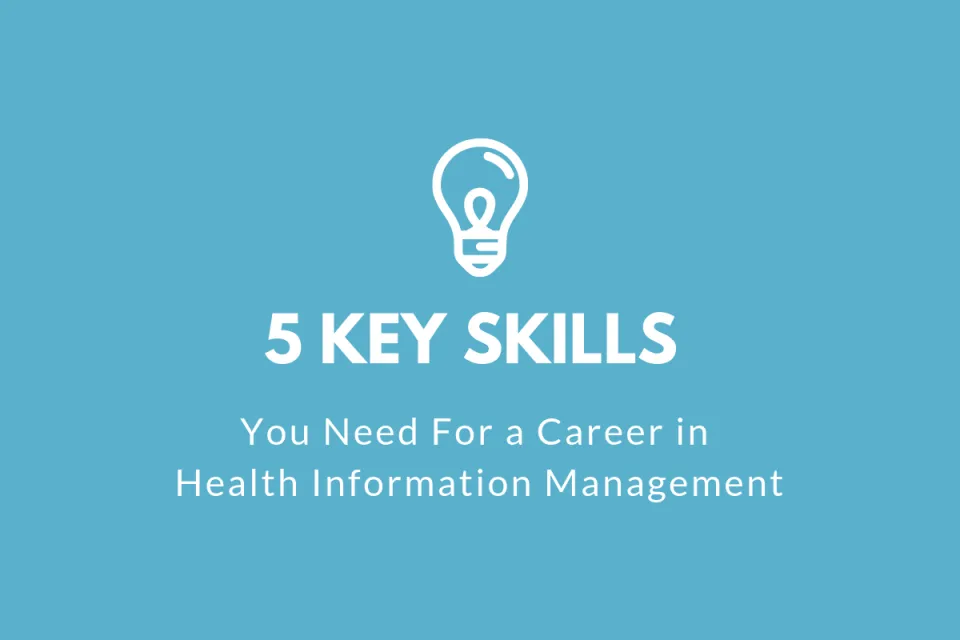 Healthcare providers are transitioning from written patient records to electronic healthcare records (EHRs) and incorporating new technologies that make it easier to manage patient data. As a result, there is a growing need for information professionals who can digitize, organize and analyze important patient information.
The Bureau of Labor Statistics (BLS) projects 17% employment growth for health information technicians from 2022-2032, and that's only a fraction of all the possible career paths in the growing field of health information management (HIM).
Given the Bureau of Labor Statistics' projected growth in the healthcare industry and the increasing need for data-driven decision making, the career outlook for health information management professionals is very positive. If you're interested in technology and want to make a difference in healthcare, a career in HIM could be the right path for you.
What can I do with a HIM degree?
There are many unique types of health information management jobs you may pursue. HIM professionals work in a variety of settings including hospitals, clinics, consulting firms, government agencies, health insurance companies and software vendors. Entry-level HIM positions might include:
Health Information Technician
Medical Records Clerk
Clinical Data Analyst or Specialist
Information Access/Disclosure Specialist
Quality Improvement Specialist
Abstractor
With experience, HIM professionals can advance to leadership and management roles such as:
HIM Project Manager
HIM Consultant
Medical and Health Services Manager
What skills do I need for a HIM career?
1. Analytical skills
Successful HIM professionals have an analytical mindset and enjoy solving problems. For example, a health information technician must have strong analytical skills in order to determine the appropriate coding structure for a medical procedure, or the best way to share patient data with another healthcare provider. At the management level, a HIM Director needs to be able to evaluate current systems and processes and decide where improvements or changes need to be made.
2. Attention to detail
Attention to detail is important when coding medical records and sharing patient information with other providers. HIM professionals need to be extremely careful to ensure that patient information is cataloged correctly and transferred and stored securely. An error in a patient's medical record could be costly for the patient, and a breach in patient data security could be detrimental to a healthcare organization's reputation.
3. Communication and teamwork
HIM professionals interact with people across various healthcare settings and disciplines, such as physicians, insurance companies and patients. They need to have strong interpersonal skills to ensure that patients understand medical procedures and associated costs, and that the appropriate contacts have access to a patient's medical history and information. They might also be involved in overseeing HIM processes, training other members of the staff and communicating with hospital leaders on needed changes.
4. Technical skills and certification
HIM professionals are using advanced technology to perform most HIM-related functions. They must have wide-ranging expertise, from understanding HIPAA laws that protect patient privacy to leveraging computer systems that collect and store patient data, in order to do their jobs effectively.
Many professionals also choose to pursue additional HIM certifications, including recognition as a Registered Health Information Administrator (RHIA) or Registered Health Information Technician (RHIT). RHIAs often hold leadership positions, such as HIM director or managers, while RHITs often hold technical jobs and specialize in managing medical records. The RHIT certification is ideal for those who are just beginning their HIM career.
5. Leadership skills
Hospitals and other healthcare facilities are focused on integrating new technologies to deliver high-quality, yet efficient care, and are relying on managers to drive these changes. According to the Bureau of Labor Statistics, the need for healthcare managers has increased, with job growth estimated at 17 percent in the next decade.
HIM professionals must have strong leadership, problem-solving and critical thinking skills. A bachelor's degree in health information management can help individuals expand their leadership and management capabilities and prepare for career advancement. Learn more about how much you can make with a health information management degree, featuring a breakdown of some of the most common jobs and their average salaries.
At Herzing University, you can start in the bachelor's program right away and work to graduate in just three years, or begin in Herzing's associate degree program and seamlessly transfer coursework and skills into the bachelor's degree program after graduation.
Students in Herzing's bachelor's degree program can also get a jump start on earning an MBA in Healthcare Management. Qualifying students could take up to 12 graduate credits as an undergraduate student, thereby saving time and money on both degrees.
Start your path to a HIM degree at Herzing today!
---
* Bureau of Labor Statistics (BLS), U.S. Department of Labor, Occupational Outlook Handbook 2022. BLS estimates do not represent entry-level wages and/or salaries. Multiple factors, including prior experience, age, geography market in which you want to work and degree field, will affect career outcomes and earnings. Herzing neither represents that its graduates will earn the average salaries calculated by BLS for a particular job nor guarantees that graduation from its program will result in a job, promotion, salary increase or other career growth.
Classes Start January 8th
Learn More Today