Definition: Health information management is the collection analysis, storage and protection of the quality of patient health information. This information can be either paper-based, a combination of paper and digital (hybrid) or as is more often the case, a fully electronic health record (EHR).
HIM professionals are using advanced technology as they perform most HIM-related functions. The HIM professional must have a wide range of knowledge, including HIPAA laws that protect patient privacy, data analysis and how to harness computer systems that collect data.
The role of a Health Information Management (HIM) professional is more important than you may initially think. They are essential to making sure your healthcare experience – from your doctor's appointment or hospital visit through your insurance claim – goes smoothly.
Banner Image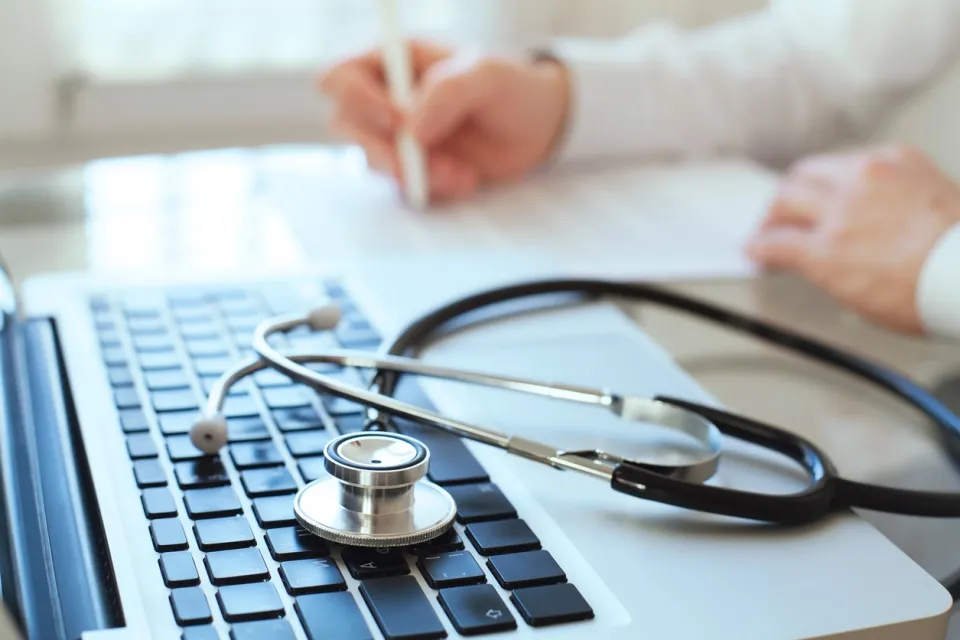 Patient care is not for me!
If working in the healthcare field is appealing to you, but you do not necessarily want to provide hands-on patient care, check out HIM.
While HIM professionals might interact with physicians, patients and insurance companies, their focus will be on ensuring that health information collected in the course of patient care is appropriately maintained according to set standards, legal requirements and policies and procedures of the healthcare organization.
A career in health information management - what it takes to excel
There are several important skills needed for a career in health information management, including analytical skills, attention to detail, clear communication, problem solving, critical thinking, technological and leadership skills.
Because of their skillset and increased need in the industry, HIM professionals are a valuable asset to healthcare organizations.
Healthcare jobs are in demand
According to the U.S. Department of Labor, healthcare is a rapidly growing job sector.
In fact, employment in the healthcare industry is projected to grow substantially from 2022-2032, faster than the average for all occupations.
Healthcare offers many different job opportunities and it is never boring or stationary – it is continuously evolving.
The proliferation of technology in healthcare makes HIM an exciting career choice.
Read all about common jobs in health information management; a handful of the fastest growing careers in HIM.
How much can you make with a degree in HIM?
According to the Bureau of Labor Statistics, health information technologists earn an average salary of $61,410 per year ($29.53 per hour).*
If you gain experience and earn a job at the managerial level, you can potentially earn higher pay. Medical and health service managers earn an average salary of $119,840 per year ($57.61 per hour).
Get more detail on the average salary for jobs in health information management.
Where do HIM professionals work?
HIM offers a choice of many career paths – from technical work to overseeing an entire HIM department – in a variety of settings. HIM professionals are employed by hospitals, physician offices, surgery centers, long-term care facilities, consulting firms, government agencies and even insurance companies. With an HIM degree, employment opportunities can include data analysis, HIPAA privacy, medical coding, compliance, clinical documentation as well as HIM management.
Medical billing and coding can be the first step on the HIM career path. Learn more about the basic difference between health information management and billing and coding.
In fact, HIM professionals can obtain professional credentials such as Registered Health Information Administrators (RHIA), who often hold leadership positions such as HIM directors or managers and Registered Health Information Technicians (RHIT), who often hold technical jobs and specialize in medical coding, cancer/disease registry and supervisory positions.
Also, the American Health Information Management Association (AHIMA) offers specialty credentials in data analysis, documentation improvement, medical coding and privacy.
How can I prepare for a career in HIM?
The HIM degree programs at Herzing University provide students with a comprehensive understanding of the management of medical information. For example, every HIM-related program offers students access to state-of-the-art virtual labs and a variety of health information management systems actually used in healthcare organizations.
We offer two HIM programs:
Most Herzing students will fulfill a capstone project in partnership with their internship at a healthcare organization to put into practice what they've learned. It will be supervised by a current RHIT- or RHIA-certified employee. More now than ever, HIM professionals are vital to delivering quality patient care. Given the importance of health information managers and the job outlook in coming years, earning your degree in health information management is a good career choice.
This article was written with contributions from Stephanie Scott, who has more than 25 years of experience in healthcare and HIM related roles. Her bachelor's degree is in Health Information Management and her Master's of Science degree is in Health Informatics. For many years she has been teaching for Herzing as either full-time faculty or adjunct staff for both HIM and Medical Coding programs.
---
* Bureau of Labor Statistics (BLS), U.S. Department of Labor, Occupational Outlook Handbook 2022. BLS estimates do not represent entry-level wages and/or salaries. Multiple factors, including prior experience, age, geography market in which you want to work and degree field, will affect career outcomes and earnings. Herzing neither represents that its graduates will earn the average salaries calculated by BLS for a particular job nor guarantees that graduation from its program will result in a job, promotion, salary increase or other career growth.
Classes Start October 30th
Learn More Today