Banner Image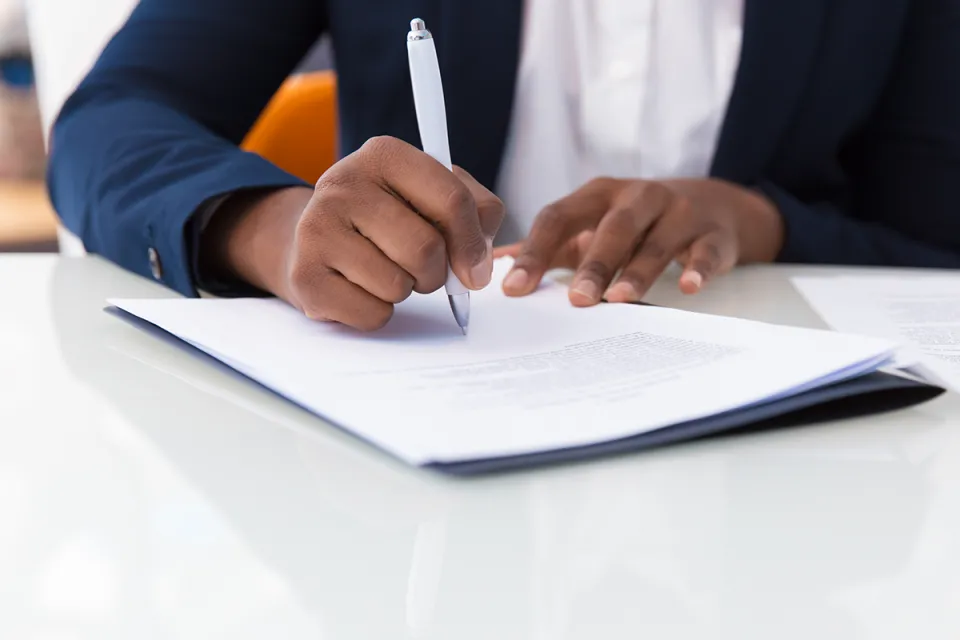 Becoming a paralegal is a great way to begin a career in the legal field. Paralegals assist lawyers in the creation of legal documents, conduct research on laws and regulations, assist in court cases and more. Some paralegals choose to specialize in a particular area of law, such as criminal law or real estate, and some even go on to law school to become lawyers.
Here are six steps you can follow to begin your career as a paralegal or legal assistant:
1. Learn more about career options
In addition to understanding what a paralegal does, you might wonder how much paralegals make, where they can work, and what the employment prospects look like. The Bureau of Labor Statistics (BLS) is an ideal place to start your research.
BLS has a positive employment outlook for paralegals and legal assistants:
2019 Average Pay: $56,610 per year*
Number of Jobs in 2019: 337,800
Job Growth for 2019-29: 10% (Much faster growth than average)*
Because of strong employment growth, paralegals rank #8 on U.S. News & World Report's List of Best Social Services Jobs for 2023. To get a better understanding of what it's like to work as a paralegal, you can also conduct a quick local job search. A good resource is Glassdoor, which is one of the world's largest job sites. Browse open positions to get a feel for the typical duties of a paralegal, read employee reviews, and learn more about the types of companies you would like to work for as paralegal.
Discover how much a legal assistant/paralegal can make on average across all 50 US states.
2. Research educational requirements
According to the BLS, most paralegals or legal assistants have an associate degree or certificate in paralegal studies. A bachelor's degree in legal studies is not required by all employers, but it might help you gain an edge over the competition for entry-level roles. Earning your bachelor's degree can also help you position yourself for career advancement down the road. Take some time to consider which degree path is the right fit for you. If you are looking to earn your degree and start working as soon as possible, you might opt for an associate degree program. If you want to go to law school someday, you should start by earning your bachelor's degree, as this is a prerequisite for graduate law programs.
3. Enroll in a degree program
Once you determine which degree you want to earn, look for a university that meets your needs and educational goals. Find a program that is flexible and will provide you with real-world experience and training.
Herzing University offers several programs to help you get started as a paralegal or legal assistant, including on-campus paralegal programs in Atlanta and New Orleans (Associate of Science in Paralegal/Legal Assisting), and an online paralegal program (Associate of Science in Legal Studies).
4. Earn professional experience
Pursuing relevant internships is an excellent way to earn professional experience while you are working on your degree, and it will also benefit your job search as you get closer to graduation. Most internships are part-time and can be flexible with your work and school schedule. Even if you find work in a legal setting that isn't specifically a paralegal or legal assisting role, you can still include that as legal office experience on your resume!
Career Services can help you figure out the steps you need to take to find an internship and begin your job search. Herzing students and graduates also have access to an online job board where they can browse open positions and connect with local employers.
5. Network whenever possible
A huge part of job-hunting many people overlook is networking. While it may sound like something only experienced professionals can do, you'd be surprised at how much you can use networking to your advantage as a student.
Attend career fairs at your school, reach out to local legal firms to set up informational interviews, and ask your professors for their advice on getting started in the field. It's also important to have a LinkedIn profile where you can connect with other industry professionals. Establishing a strong professional network is extremely important for your career growth and advancement, and it never hurts to start early.
6. Choose a specialty
As you gain experience and talk to others in the legal field, you'll start to develop a sense of your career interests. Paralegals can specialize in different sectors and fields, so think about where you want to work and the type of work you want to do. There are three major sectors paralegals and legal assistants work in:
Private Sector: In this sector, you will be working for companies, most likely large or mid-sized, and law firms. You can expect to work on employee benefit plans, shareholder agreements, financial reporting, labor regulations and more.
Public Sector: In the public sector, you tend to work for government agencies. Often, this means working for organizations or individuals that offer legal services to those who cannot afford it. You will work on research, help prepare court documents, assist with data compilation and more.
Freelance: Depending on the state you are in, it may be possible to become a freelance paralegal and offer your assistance to lawyers, law firms or legal departments. As a freelancer, you can determine which jobs and specialties you want to focus on, allowing you to gain a diverse mix of experiences. You will bounce from company-to-company as contracts run out, however, so keep this in mind.
---
* Bureau of Labor Statistics (BLS), U.S. Department of Labor, Occupational Outlook Handbook 2022. BLS estimates do not represent entry-level wages and/or salaries. Multiple factors, including prior experience, age, geography market in which you want to work and degree field, will affect career outcomes and earnings. Herzing neither represents that its graduates will earn the average salaries calculated by BLS for a particular job nor guarantees that graduation from its program will result in a job, promotion, salary increase or other career growth.
Classes Start October 30th
Learn More Today