Banner Image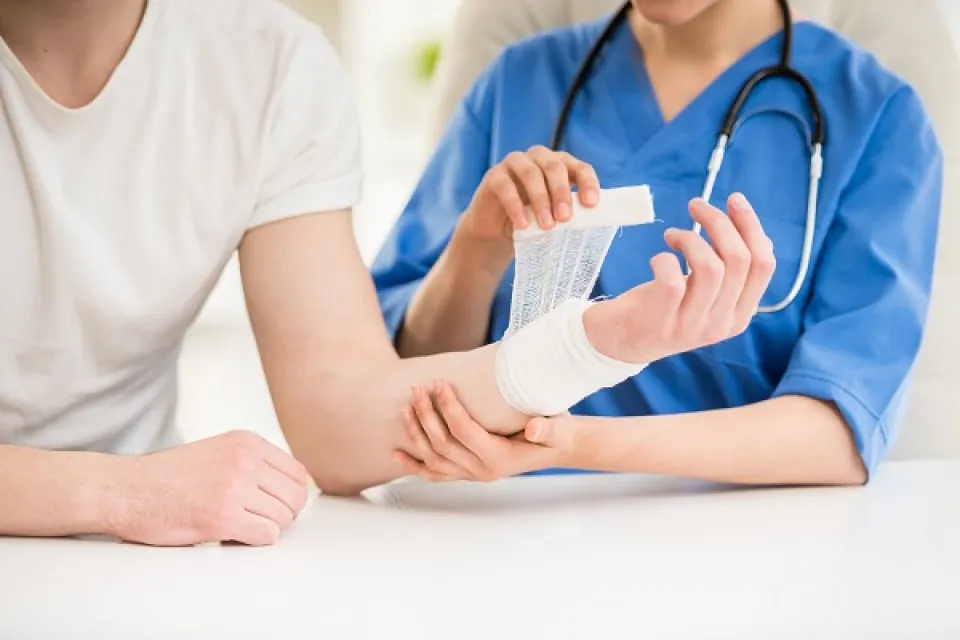 As the baby boomer population continues to age, and more and more people require extended medical care, nationwide demand for specialized nurses is at an all-time high. Hospitals and patient care facilities are not only in need of trained medical professionals, they specifically need those that are experts in treating chronic age-related wounds and skin care issues.
A WOC nurse facilitates optimal care for patients dealing with complex wounds, ostomies or incontinence issues. WOC nurses are an important and valued member of the healthcare team and make a tremendous difference in their patients' comfort and quality of life.
Pursuing a career in WOC means that you'll not only make a difference in healing your patients, but you'll also provide them with the essential knowledge and resources that they need to make a long-term recovery.
What do WOC nurses do?
WOC nurses provide care for both chronic and acute wounds. An acute wound is a new wound, such as a cut, scrape, bruise or incision that is most often a result of surgery or trauma. A chronic wound is usually caused by a disease or condition—such as an ulcer, cancer or diabetes—and may not heal as quickly as an acute wound. WOC nurses are primarily responsible for assessing and prescribing appropriate wound care treatment. They may work in a variety of different healthcare settings, including acute care, long-term care and home health.
Why are WOC nurses important?
Wound care nurses uphold the same values as nurses in other specializations—the patient should always come first, and their comfort and recovery is of utmost priority. But, for wound care nurses, providing optimal care for their patients often goes beyond providing necessary treatment.
In order to help patients make a full recovery, WOC nurses must be critical thinkers, educators and experts in patient care.
First, a WOC nurse must consider, "What is the best course of treatment for my patient?" There are several procedures that can be used to treat a wound, and each patient's situation is different. In addition to being well-versed in wound care procedures, WOC nurses must be thorough in evaluating their patients and must recommend treatments to facilitate timely wound healing.
WOC nurses must also ask themselves, "What additional education does my patient need?" Many patients might believe that they can treat wounds themselves using information that they find online. However, treating complex wounds requires the care of a certified medical professional, and WOC nurses must often advise their patients against self-treatment. They must also stay informed of emerging home remedies so that they can educate their patients about how to properly use a product, or implement an alternate, more appropriate plan of care.
Finally, WOC nurses must consider, "How can my patients be empowered to care for themselves?" Wound care nurses must remember that they are treating a person—not just a condition. They must understand their patient's injury, living situation, support system and the resources that will help the patient make a full and fast recovery. Every patient is unique, and WOC nurses must base their treatment recommendations based on their patients' specific needs.
Typically, before being discharged from the hospital or emergency room, a WOC nurse will review both the symptoms of infection and the procedures for continued care with the patient. A WOC nurse may also recommend extended out-of-home treatment, such as a portable barometric wound healing vacuum. This device allows the wound to stay open but sealed to the outside environment. This makes it possible for patients with complex or chronic wounds to be physically active during the healing process, and they can very often go home after an initial treatment.
How do I become a wound care nurse?
In order to become a WOC nurse, you'll need to first obtain your Bachelor of Science in Nursing (BSN). Many WOC nurses have several years of experience as a registered nurse (RN) and may also choose to pursue a specialized degree, or their master's in nursing (MSN). Herzing University offers both BSN programs and RN to BSN programs. For registered nurses and prospective nurses alike, WOC is a rewarding career specialty that allows you to play an instrumental role in both ensuring optimal patient care and guiding your patients to recovery.
How much does a wound care nurse make?
The average salary of a registered nurse is $80,010 per year, according to the Bureau of Labor Statistics—and the average salary for a registered nurse with a BSN will be higher compared to a nurse with only an associate's degree.* Your pay will be dictated by the state you work in, your place of employment, and the relative demand for the wound care specialty in your area.
Earning your BSN means you may also pursue graduate nursing programs to become even more qualified in your specialty and pursue job opportunities in management or leadership.
Faith Martell RN MSN is a full-time nursing instructor at Herzing University, teaching Adult Health II theory and clinical, nursing informatics and NCLECX prep. Faith holds an MSN in nursing informatics. She has experience in critical care, emergency room and oncology surgery. Faith is married and is soon expecting a new baby into the family.
---
* Bureau of Labor Statistics (BLS), U.S. Department of Labor, Occupational Outlook Handbook 2021. BLS estimates do not represent entry-level wages and/or salaries. Multiple factors, including prior experience, age, geography market in which you want to work and degree field, will affect career outcomes and earnings. Herzing neither represents that its graduates will earn the average salaries calculated by BLS for a particular job nor guarantees that graduation from its program will result in a job, promotion, salary increase or other career growth.
Classes Start October 30th
Learn More Today
ADN nurses: take the next step
Advancing your education is key to discovering the career path of your choosing.
You can go from RN to BSN online in as little as 1 year and potentially open many doors to future career possibilities, including potential new specialty pathways of your choosing.
Learn more about our RN to BSN program: