When you've completed all of the necessary course and clinical work to start your career as a Family Nurse Practitioner, your next step is to start working in your area of specialty.
Before you graduate, however, you need to start thinking about the job search so you can move seamlessly from college to career. These tools and tips will make it easier to find the FNP position that's right for you.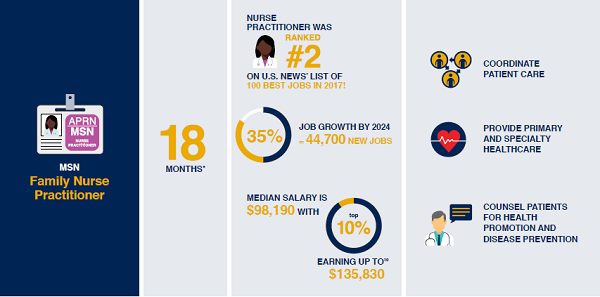 1. Research state licensing requirements
An important consideration is to research the required licensing in your state. There are multiple certifying agencies, so it is important to determine which certification your state accepts. Some states will allow you to work as a nurse practitioner for a limited time pending your certification. If this is true for your state, you can start working as soon as possible under the supervision of a physician. This opportunity is a great way for new graduates start their career right away instead of waiting weeks or months until their license is approved.
2. Join LiquidCompass
LiquidCompass is a tool used by employers, students and job seekers. Unlike other job search sites, LiquidCompass is specific to jobs in healthcare. The platform organizes postings so that you can ultimately shop for your job by required experience, shift, location, employer and more. As an added bonus, the site is free for Herzing students! Creating an account allows you to save the postings you like, making it easier to find them later.
3. Network
You can join professional groups or associations, like the American Association of Nurse Practitioners, to connect with potential employers. Professional FNP groups also exist on LinkedIn and other sites like Allnurses.com or enpnetwork.com. These sites allow you to read up on nursing topics and trends, identify potential job opportunities and find networking events in your area.
Attending networking events is a great way to meet people in your field and cultivate professional relationships that could benefit you later in your career. You may learn valuable tips that could help you with your job search, or you could hear about a potential job opportunity through your connections. Nurse practitioners work in many different environments, and you could catch wind of an excellent job opportunity you may not have found otherwise. You can even start going to events before graduation to brush up on your networking skills.
4. Start early
Don't wait until after graduation to perfect your resume. Use your school's career resources to practice your interview skills and get help on your resume and cover letters. You can also ask your clinical instructors if they would be willing to serve as one of your references or write a letter of recommendation, both of which come in handy during the interview process. Finally, make sure your LinkedIn profile is up to date so potential employers can see your qualifications and experience.
Know your worth. When it comes to the big question—"what is your expected starting salary"—you'll want to have a rough idea of the average FNP salary in your state. Keep in mind you're just starting out, and it will take some professional experience to measure up with veteran peers in the industry.
There are plenty of FNP jobs out there. The trick is to find the one that is right for you. Be patient, and remember to use all of the tools and resources available to you to get a head start on your job search.
---
* Bureau of Labor Statistics (BLS), U.S. Department of Labor, Occupational Outlook Handbook 2022. BLS estimates do not represent entry-level wages and/or salaries. Multiple factors, including prior experience, age, geography market in which you want to work and degree field, will affect career outcomes and earnings. Herzing neither represents that its graduates will earn the average salaries calculated by BLS for a particular job nor guarantees that graduation from its program will result in a job, promotion, salary increase or other career growth.