In celebration of National Nurse's Week, Shenese Stewart, an RN-BSN student at Herzing University, shares her first-hand knowledge about what it takes to succeed in an online RN to BSN nursing program.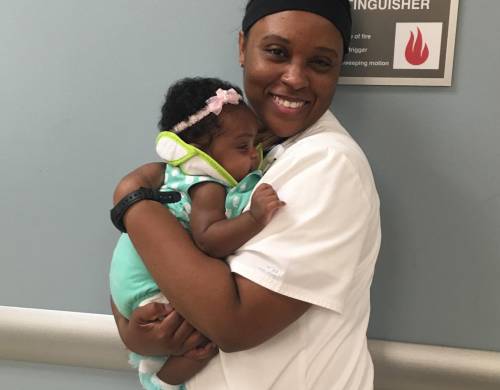 Why did you decide to study nursing?
I worked as a Certified Nursing Assistant and Certified Medical Assistant before returning to school to become a registered nurse. Eventually, my desire to do more for my patients outgrew my scope of practice. I worked as a Licensed Practical Nurse for four years before deciding to return for my RN license.
Being a RN has opened more doors than I can count. The opportunity to care for patients in a multitude of settings provides people like me the chance to make a difference in several places in the nursing field.
What does a typical day as an online RN-BSN student look like for you?
I work three 12-hour shifts per week that often turn into 13 or 14 hours depending on what happens that day. During each day that I work, I will check Blackboard for announcements and my e-mail to make sure I do not miss any important messages, but I do not do any school work. The other four days of the week, I work out in the morning, eat breakfast and have a scheduled study time that is usually 8-12 hours long. I'll study for 45 minutes and take a 15-minute break.
How do you balance home/family, work and online schooling?
Online schooling is very demanding, so you have to practice good time management. Because there is not a certain time to be in class, it is easy to put off logging on until later. Work, however, is a priority and cannot be put off until later.
My family and friends are the people I call when I need to cry, laugh, vent and express joy. They are my support system and my cheering squad. It took practice for me to look at my school schedule, work schedule and family obligations and set blocked times for them, but it got better over time.
I make appointments to hang out, go to dinner and go to movies instead of doing it randomly. This has helped my family and friends understand that they are important and a priority, but school is important and a priority too.
What is most challenging about being a nursing student online, and how have you overcome those challenges?
The most challenging part for me has been reducing my hobbies to devote more time to school and staying the course when I get distracted. Nursing takes a considerable amount of time to learn. It is not just memorizing – it is understanding and putting it into practice.
I enjoy piano lessons, self-defense classes and other extra-curricular activities that I needed to put on hold in order for me to accomplish my goal. I've learned my brain starts to get tired after about 45 minutes of concentration, so I take a 15-minute break and do something else to prevent becoming distracted. I may fold clothes, watch television or eat a snack.
What tips do you have for future RN-BSN students?
Ask questions: Always understand the reason behind anything you do. Never memorize anything just for the test. There are no dumb questions. Know what you don't know, and know where to find the answers. There is always something to learn.
Don't compete with anyone but yourself. Nursing school and the profession isn't about competition. It is about collaborating and helping each other make a positive difference in the lives of others.
Know what type of learner you are and the best way to study. Everyone is different, so there is no right or wrong way. Just do what works for you. For example, I learn best by reading and writing in a quiet environment alone in the morning. I need to read the material twice and make note cards. I study the note cards at a later time while listening to classical music. I also use the VARK learning style questionnaire.
Never give up. If you are not successful in a class, remember that you may be delayed, but you are not denied. Remember your reason for pushing so hard, and know it is worth it in the end.
When you finish, help someone else. Remember how you felt and pay it forward.
---
* Bureau of Labor Statistics (BLS), U.S. Department of Labor, Occupational Outlook Handbook 2021. BLS estimates do not represent entry-level wages and/or salaries. Multiple factors, including prior experience, age, geography market in which you want to work and degree field, will affect career outcomes and earnings. Herzing neither represents that its graduates will earn the average salaries calculated by BLS for a particular job nor guarantees that graduation from its program will result in a job, promotion, salary increase or other career growth.