What Can I Do with a Computer Networking Degree?
Banner Image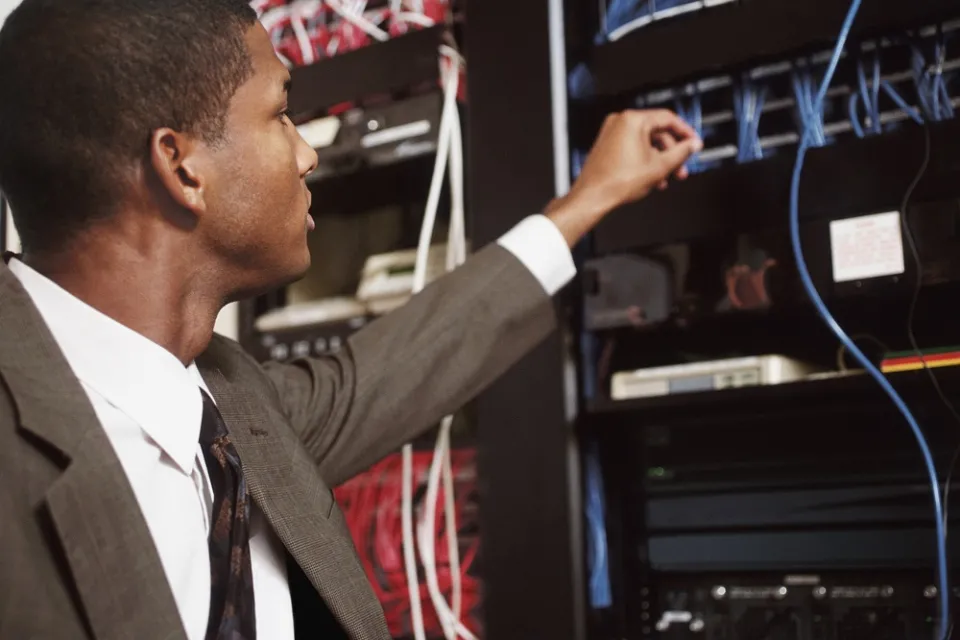 Computers are everywhere—networked in businesses, across corporations, internationally or at home. As technology becomes an integral part of everyday life, professionals with deep experience in computer networking are best equipped to handle the latest developments in a fast-evolving industry.
Are you your family and friends "go to" when they have computer issues? If you enjoy working with computers, troubleshooting issues, and solving tech-related problems, a computer networking degree could help you start the path to a rewarding career in technology.
Jobs you can get with a degree in computer networking
Computer networking professionals focus on the day-to-day support that keeps network systems running properly. This includes maintaining the software and hardware, monitoring the system for potential issues, analyzing problems, and creating plans to prevent or correct issues.
Computer networking professionals often work in fast-paced environment that can be challenging due to an organization's dependence on computers and technology. However, many IT jobs offer competitive compensation based on the education, skills, and traits needed to succeed in the field. IT professionals may also find great personal satisfaction in creating solutions to difficult problems.
Technology touches almost every part of our lives, and computer networking jobs are in demand. According to the U.S. Bureau of Labor Statistics, the number of overall jobs in computer and information technology is expected to grow by 12% from 2018 to 2028, faster than the average across all U.S. occupations. There are a variety of jobs you can find with a degree in computer networking that may match your specific interests.
1. Network and Computer Systems Administrator
Description: Network or computer systems administrators help ensure an organization's computers, software and operating systems work properly and stay up to date. They install and support local area networks (LAN) and wide area networks (WAN), depending on the number of people using the network and the size of the geographical area. Network administrators are often the "go-to" person for major computer or technical issues.
Average salary (US): $87,070 per year, $41.86 per hour (source: Bureau of Labor Statistics)
Job outlook: 5% increase from 2018-2028 (source: Bureau of Labor Statistics)
2. Computer and Information Systems Manager
Description: Network or computer information systems managers plan, coordinate and direct the administration and implementation of information technology in the workplace. Their role includes researching and providing oversight on a variety of programs, including internet operations, network security and user access permissions. Information systems managers also may create or help inform organizational guidelines and policies for computer usage.
Average salary: $152,860 per year, $73.49 per hour (source: Bureau of Labor Statistics)
Job outlook: 11% increase from 2018-2028 (source: Bureau of Labor Statistics)
3. Computer Network Architect
Description: Network engineers, also called network architect or computer systems engineers, design networks of all sizes. They often work with upper management, project managers and other engineers to design and implement network configurations, troubleshoot issues, oversee or carryout network monitoring, and configure security systems, such as firewalls.
Computer systems engineers also maintain the connectivity of network including data, voice, calls, video, and wireless network services. Generally, people working in these roles have more education, such as a master's degree, and may have more responsibilities than a network administrator.
Average salary: $111,130 per year, $53.43 per hour (source: Bureau of Labor Statistics)
Job outlook: 5% increase from 2018-2028 (source: Bureau of Labor Statistics)
4. Computer Systems Analyst
Description: Computer systems analysts are responsible for ensuring all computers within a network effectively communicate with one another. They do this by creating hardware and software configurations that help improve the overall system's functionality. Network analysts often assist with both business and technological aspects within an organization; for example, they may be asked to find a tech solution for a business-related problem.
Network analysts often report to a network manager while still working closely with a team of programmers and engineers.
Average salary: $93,610 per year, $45.01 per hour (source: Bureau of Labor Statistics)
Job outlook: 9% increase from 2018-2028 (source: Bureau of Labor Statistics)
5. Computer Network Support Specialist
Description: When you call the IT help desk, you generally speak with a network service technician or computer network support specialist. They provide support to customers who are experiencing computer-related problems. They troubleshoot components, hardware and software, including printers, scanners, email and work processes.
Because of the variety of issues they may be asked to assist with, computer support specialists must have a wide range of computer knowledge. They can help plan and analyze costs for an organization's computer network. They may also determine the necessary configurations, connections and tools.
Average salary: $68,050 per year, $32.72 per hour (source: Bureau of Labor Statistics)
Job outlook: 6% increase from 2018-2028 (source: Bureau of Labor Statistics)
Note: salary estimates may not represent starting salaries for recent graduates – average salaries are based on many factors such as experience, location and the employer's industry.
Your computer networking career path
A bachelor's degree in computer networking is the first step toward starting an exciting new career. In Herzing's online program, students will have the opportunity to learn how to install, configure, administer and maintain elements of computer network systems. This includes aspects of software applications, operating systems, and programming languages.
Advance your career further with an MBA
A master's degree can help you further increase your job opportunities and earning potential. Herzing's MBA in Technology Management online program can help prepare you for advanced positions or leadership roles within an organization.
Our IACBE accredited1 program can be completed in as few as 12 months when attending full time. It offers you a solutions-based curriculum with real-world applications. You'll also enjoy business concept "leveling" courses to prepare you for future complex concepts.
Take the first step towards a new career.
Computer networking jobs are in demand and the need is only growing. If you have a passion for technology and helping others, a bachelor's degree in computer networking is a great option! Learn how you can apply today.
1. The Business Division at Herzing University has received specialized accreditation for its business programs through the International Accreditation Council for Business Education (IACBE) located at 11374 Strang Line Road in Lenexa, Kansas, USA. For a list of accredited programs please refer to our IACBE member status page.
---
* Bureau of Labor Statistics (BLS), U.S. Department of Labor, Occupational Outlook Handbook 2020. BLS estimates do not represent entry-level wages and/or salaries. Multiple factors, including prior experience, age, geography market in which you want to work and degree field, will affect career outcomes and earnings. Herzing neither represents that its graduates will earn the average salaries calculated by BLS for a particular job nor guarantees that graduation from its program will result in a job, promotion, salary increase or other career growth.
Classes Start August 9th
Learn More Today