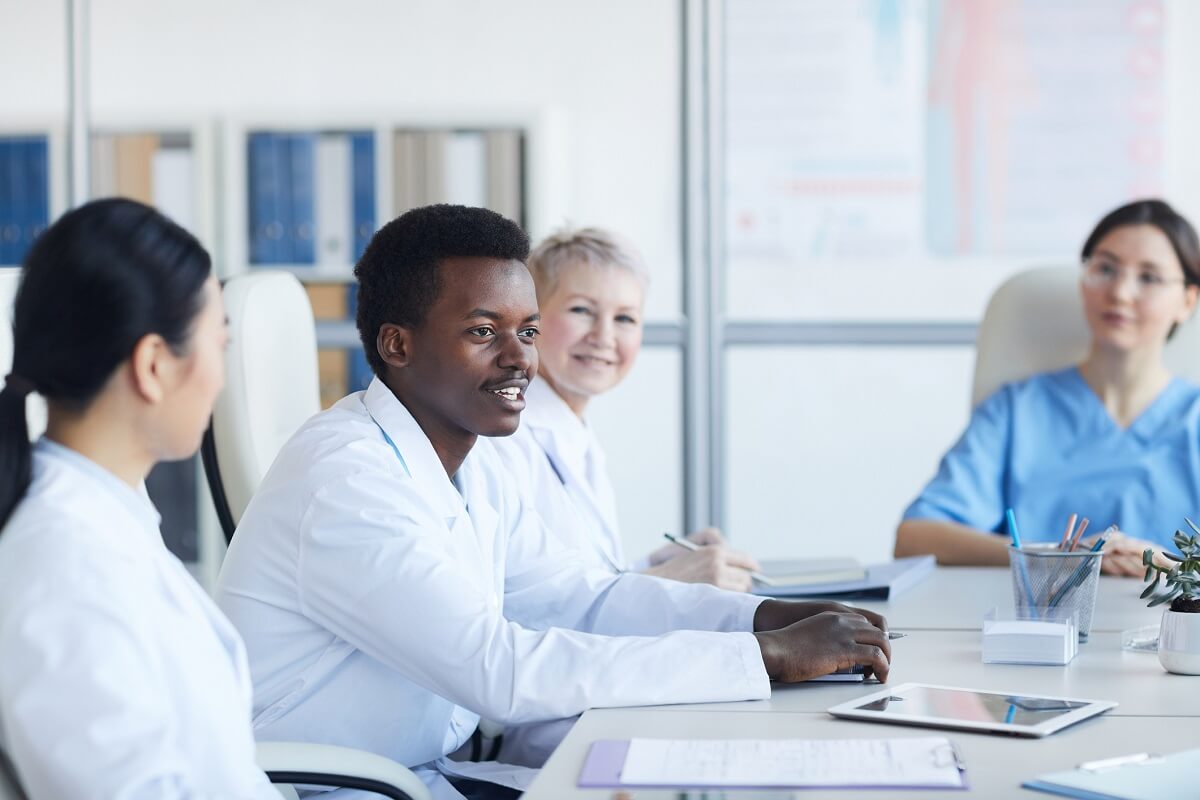 1. Advance in your current role
Current allied health professionals who hold a diploma or associate degree in their specialty may seek a bachelor's degree to advance in their field. Respiratory therapists, physical therapist assistants, occupational therapy assistants, surgical technologists, medical assistants, medical office assistants, and many other types of healthcare workers may be required to complete a bachelor's degree to advance to higher positions in their department.
Keep in mind job titles and specific roles and responsibilities will vary by employer, and there may be additional training/certification required for the job beyond a degree.
However—the broad educational scope of a career-focused health science program provides a strong foundation across healthcare specialties, making it a flexible option for bachelor's degree completion. Class topics include wellness and health promotion, medical law and ethics, social, behavioral and cultural aspects of healthcare, epidemiology, and many more subjects related to many different healthcare disciplines.
A health science degree isn't designed for a single type of job—it's designed for your career. 
2. Prepare for graduate-level education
A degree in health science can also provide the baccalaureate-level education you need to qualify for the next step into a master's degree program. Many advanced clinical roles can require graduate level education (or higher, such as doctorate), like physical therapy, physician assistant, or dentistry.
Example: a physical therapist assistant who holds an associate degree may be considering the pathway towards becoming a physical therapist, which requires earning a Doctorate in Physical Therapy (DPT). However, a bachelor's degree may be a prerequisite for enrollment in a DPT program.
A bachelor's degree in health science may be a good option to both qualify for advanced roles in the short term and prepare you for a graduate degree program in the future, such as a Master of Science in Healthcare Administration (MHA) program. You may also consider branching into behavioral health in a Master of Social Work (MSW) program.
A health science degree represents a versatile steppingstone to your unique educational pathway in healthcare.
3. Work in health education
While a health science degree can function as an excellent first step down a longer career path, there are several potential entry-level career possibilities you can pursue immediately upon graduating with an undergraduate degree.
Our health sciences bachelor's degree curriculum is best suited for career paths in public health education, health and wellness, and health education. A few required class topics include: US healthcare systems, dynamics of public and community health, public & global health, current healthcare issues and leadership in healthcare.
Health education specialists and community health workers earn an above average median salary compared to the average U.S. occupation, with 14% projected growth in employment from 2022-2032, according to the Bureau of Labor Statistics.*
You may also qualify for certain jobs in health nutrition education, although some employers may prefer a bachelor's degree education specific to that field/major.
Learn more about how you can become a community health worker.
Graduate from Herzing with a health sciences bachelor's degree and you may qualify for jobs such as:
Clinical Instructor
Community Health Consultant
Health Education Coordinator
Health Educator
Health Promotion Specialist
Public Health Educator
Public Information Officer
4. Transition into a new growing career path
A health science degree is a great option for students who:
Hold a degree in another field looking to transition into a career in healthcare
Do not have a degree and are considering getting educated to begin a new rewarding career
Because of the flexibility of our health sciences curriculum, students can choose 28 semester credit hours of electives, including class topics such as:
Healthcare administration: health policy, conflict resolution, healthcare human resource management
Healthcare leadership: administrative law, healthcare regulations and compliance, change management
Science: microbiology, chemistry, nutrition, anatomy and physiology
Required courses include topics in public health, wellness, health promotion and healthcare systems.
Students who currently hold a degree in another field, or who have some college course credit, may be able to transfer credit into our bachelor's degree program to greatly decrease how long it takes to earn your degree.1
Students new to the field of healthcare with no degree can earn a broad, comprehensive healthcare education preparing them for many potential career pathways.
Become possible with Herzing University
Your first step to walking a rewarding, fulfilling career path in healthcare begins with your education.
Whether you're pursuing the next big job opening with your current employer, positioning yourself for graduate study or looking for your first job in healthcare, a bachelor's degree in health science can help you find the job you've always wanted. We exist to make it possible!
1. Transfer up to 90 approved credits—with no expiration date on general education courses.
---
* Bureau of Labor Statistics (BLS), U.S. Department of Labor, Occupational Outlook Handbook 2022. BLS estimates do not represent entry-level wages and/or salaries. Multiple factors, including prior experience, age, geography market in which you want to work and degree field, will affect career outcomes and earnings. Herzing neither represents that its graduates will earn the average salaries calculated by BLS for a particular job nor guarantees that graduation from its program will result in a job, promotion, salary increase or other career growth.
Classes Start October 30th
Learn More Today