Jobs you can get with a degree in IT management
A degree in technology management prepares graduates for jobs leading and managing IT departments, including computer and information systems manager, IT project manager, computer systems analyst, and more.
Considering moving into information technology (IT) management? It's a great time to earn a degree in the field.
Skills that span technical knowledge and managerial capabilities can position you for long-term career security, strong earning potential—and for job roles that offer interesting, varied work.
Banner Image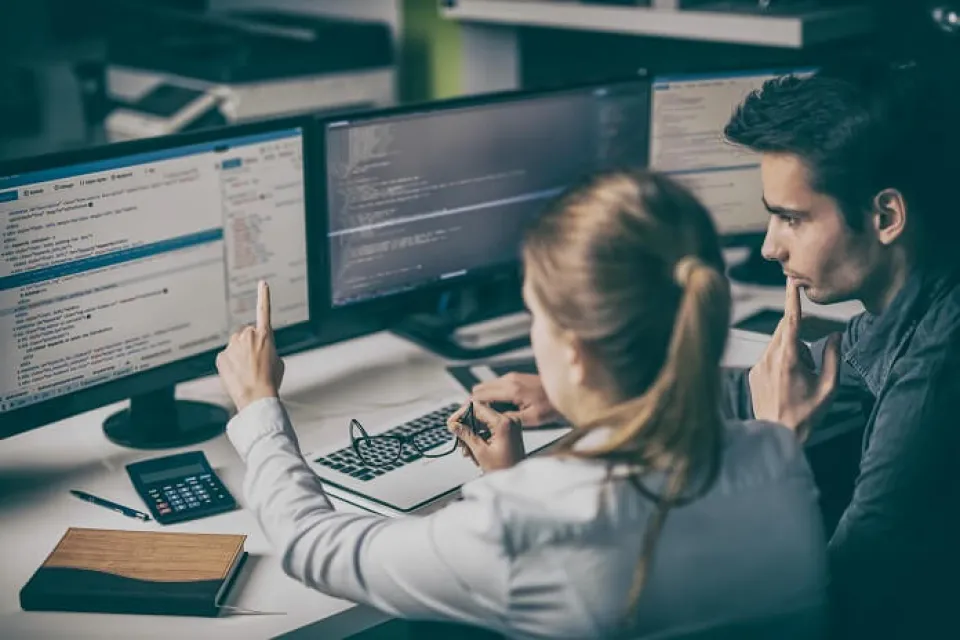 Information technology job outlook
Occupations in IT overall are expected to experience fast job growth over the next several years. According to the U.S. Bureau of Labor Statistics (BLS), job openings in the IT sector are expected to grow by 15% over the 2021-2031 period, about twice as fast as the overall job market growth rate of 5%.
Some occupations may grow even faster. For example, jobs for information security analysts are expected to grow by 35% over the 2021-2031 period according to the BLS.
While virtually every industry today needs IT managers, the industries that handle the most data and require the most security for that data are where many of the jobs will be. These include:
Health care
Finance and banking
Manufacturing
Government
This guide looks at the kinds of career paths open to you when you earn an IT management degree at the bachelor's or MBA level.
How do I know if a career in IT management is right for me?
In an IT management career, you'll have one foot in technology and another in business. You may oversee the day-to-day management of IT systems or play a more strategic role, analyzing business needs and developing the technology solutions that meet those needs. You may also specialize in high-demand IT areas such as security or data analytics.
As a result, you'll need the kind of personality that can handle technical details as well as the "people" skills an effective manager needs. These can include:
Problem-solving skills: Identifying issues, troubleshooting, taking a methodical approach to testing solutions
Communication skills: Writing, speaking and presenting
Leadership skills: Coaching, delegating and developing teams
Strategic thinking: Analyzing business goals and finding opportunities for IT solutions to help achieve those goals
Most importantly, you'll need to have an enthusiasm for lifelong learning. The IT field changes so rapidly that the most successful IT managers are those willing to stay on top of new technological developments all the time. You can learn more about the personality traits of a successful IT manager in our blog post on the subject.
If you are interested in the hands-on technical aspects of IT but not as much in management, you may consider pursuing careers in computer networking or cybersecurity as a starting point and build the foundation to grow into a management role further down the road. There's a lot you can do with an information technology degree before considering moving into managerial or administrative roles.
Now that you have an idea of what kind of person succeeds in IT management, it's time to learn about what kinds of jobs are available.
Jobs you can pursue with a degree in IT management
IT management jobs offer the opportunity to solve problems and work with teams of technological professionals. They also offer strong growth rate and the potential to earn high salaries. Here are a few career paths available to graduates of an IT management degree program, along with estimated job growth rates and the latest information about how much you could make in each job.
What you can earn as an IT manager. IT management salaries vary widely depending on your experience level, where the job is located, and the specific roles and responsibilities of the position. In general, compensation for IT managers is above average with room for growth: the Bureau of Labor Statistics estimates computer and information systems managers make an average salary of $162,930 per year ($78.33 per hour).* Some employers may also offer bonuses and other benefits, depending on the company.
1. IT Project Manager
Job description. Failure rates in IT projects are high—recent estimates range anywhere from 14% to over 50%. In order to prevent loss of time and money, organizations need project managers who can act as liaisons between business stakeholders and technical teams to ensure IT projects get off the ground within time and budget limits.
IT project managers fill this role, guiding projects from concept to plan to implementation. They develop budgets, identify resources, build teams, oversee development and implementation, and work with stakeholders to ensure the goals of the project continue to align with their needs.
According to O*Net Online, the top industries which employed IT project managers in 2021 were government and professional, scientific, and technical services.
How much IT Project Managers make. According to O*Net Online, the median annual salary for IT project managers in 2021 was $95,270.*
IT Project Manager job outlook. O*Net online estimates that demand for IT project managers will grow between 8-10% from 2021-2031, adding 34,700 new jobs nationwide.*
2. Computer Systems Analyst
Job description. Computer systems analysts combine management analysis skills with IT analysis skills. They evaluate the technology needs of an organization based on its size, function and business goals. Computer systems analysts can work with an organization's non-technical employees and its IT team to identify gaps in technology solutions and find opportunities to optimize the organization's current IT infrastructure.
They then compile recommendations, describe options for new system components or software, and train or hire personnel. These recommendations will take into account an organization's budget as well as its strategic goals.
Computer systems analysts may work as independent consultants as well as for organizations. The Bureau of Labor Statistics reports that the top five industries employing computer systems analysts in 2021 included computer systems design, finance and insurance, management, information, and government.
How much Computer Systems Analysts make. According to the Bureau of Labor Statistics, the average annual salary for computer systems analysts is

$102,210

per year (

$49.14

per hour).*
Computer Systems Analysts job outlook. Bureau of Labor Statistics projections forecast that computer systems analyst jobs will grow by 9% over the 2021-2031 period.*
3. Computer and Information Systems Manager
Job description. "Computer and information systems managers" is an IT management job category that covers a lot of ground. Mid-level computer information systems managers may oversee the day-to-day operation of specific functions, such as database administration or IT security. Upper-level computer information systems managers may have more strategic roles, helping to shape business goals or business decision-making through the use of technology.
According to the Bureau of Labor Statistics, the industry sectors that employed the most IT managers in this category include computer systems design, information management, finance and insurance, management, and manufacturing.
How much Computer and Information Systems Managers make. Computer and information systems managers earned an average salary of

$162,930

per year (

$78.33

per hour) according to the Bureau of Labor Statistics. Find the average salary for IT managers by state.*
Computer and Information Systems Manager job outlook. The Bureau of Labor Statistics projects growth of 16% for IT management jobs in this category over the 2021-2031 period.*
Read everything you need to know about how to become a computer and information systems manager.
Where you will work as an Information Technology Manager
IT managers work in a wide variety of industries, but working environments are generally office-based. Mid-level IT managers may work in offices close to server rooms and other technology infrastructure. Experienced, director-level IT managers may work in more executive-style offices. Actual workplace settings may include anything from hospitals to corporate headquarters.
It's not uncommon for IT managers who work as analysts, consultants, or for large organizations to travel as part of their job. Project-based or consulting roles may take IT managers to many different organizations, while those employed with large organizations may have internal teams with members in many different geographic locations—even international teams!
IT managers are likely to work a typical 40-hour week much of the time, with longer weeks around emergencies, project delivery dates, and other extenuating circumstances.
How to start or advance a career in IT Management
IT management career paths start with the right education and training. If you're new to the IT field but know you want to pursue management someday, you should start with a type of IT bachelor's degree that either focuses on IT management or includes significant management skills coursework as part of an IT degree. Experienced IT or business professionals should consider an MBA-level program with an IT management focus instead.
What to look for in an IT Management bachelor's degree program
Seek a hands-on IT management bachelor's degree program that:
Introduces you to key concepts in networking, data management, programming and cybersecurity
Features content that develops your understanding of business goals and organizational management
Helps you refine your professional communication skills
Builds your skills to earn industry certification and add significant professional value
At Herzing University, our Bachelor of Science in Technology Management degree program offers all of the above: a foundation in computer science and networking, plus business courses in management, marketing and finance. Depending on the electives chosen, Herzing IT management students may also pursue certification from companies including Cisco, Microsoft, and CompTIA. As an added bonus, our BS in IT Management is available online, and offers the opportunity to take MBA courses for dual credit.
What to look for in an IT Management MBA program
MBA programs in IT Management should aim to produce graduates with executive-level understanding of business functions and how technology can strategically amplify the effectiveness and efficiency of those functions. IT management-specific topics may include cybersecurity or systems analysis.
At Herzing, our MBA in Technology Management program offers experienced IT professionals the executive development they need—plus the opportunity to pursue a dual MBA concentration in Project Management or Data Analytics. Our program is also offered in an online format for the convenience of working professionals.
Read a personal account from a Herzing student who offers some advice on the things you need to know about getting a degree in IT management and starting in the field.
Learn more about IT Management degree programs at Herzing University
Whether you're new to IT or building on years of experience, the Technology Management programs at Herzing University can help you develop the expertise you want to pursue exciting, high-demand careers in IT management.
---
* Bureau of Labor Statistics (BLS), U.S. Department of Labor, Occupational Outlook Handbook 2021. BLS estimates do not represent entry-level wages and/or salaries. Multiple factors, including prior experience, age, geography market in which you want to work and degree field, will affect career outcomes and earnings. Herzing neither represents that its graduates will earn the average salaries calculated by BLS for a particular job nor guarantees that graduation from its program will result in a job, promotion, salary increase or other career growth.
Classes Start July 10th
Learn More Today