Banner Image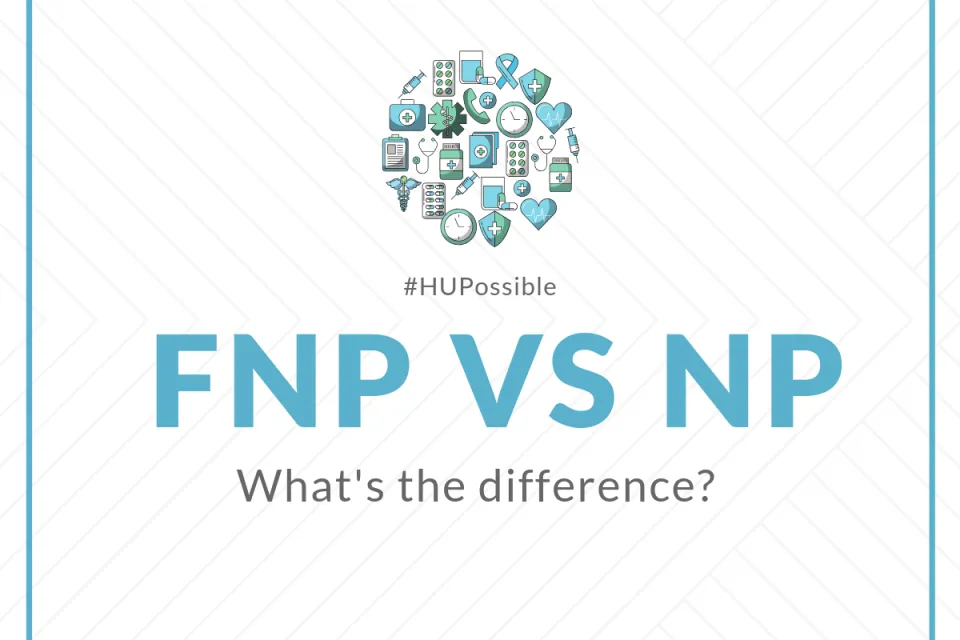 What's the difference between a FNP and NP?
Nurse practitioners (NPs) are master's prepared nurses that provide advanced level care, including diagnosis, treatment, health promotion, health prevention and disease management.
While most NPs will specialize in caring for a particular age group, family nurse practitioners (FNPs) work with patients of all ages and across various specialties.
For example, in each of these cases, FNPs can handle the same responsibilities as many different types of nurse practitioners.
You may also see additional letters added to FNP or NP to indicate a certification:
FNP vs. NP-C and FNP-C vs. NP. A "C" tacked on to the front or back means "certified" by AANP. 
FNP-BC vs. NP. When you see "BC" it means board certification. "FNP-BC" means a family nurse practitioner board certified by the ANCC.
In addition to serving a diverse patient population, FNPs have the flexibility of working in a variety of different healthcare environments, including:
Primary Care
Public Health
Retail Health Clinics
Urgent Care Clinics
School Health 
Veterans Administration
Women's Health
Family nurse practitioners are qualified to handle many different specialties under the family practice umbrella, including psychiatry, orthopedics, gerontology, rehabilitation, urology, pediatrics, cardiology, and much more.
Which nurse practitioner specialty is in highest demand?
According to the Bureau of Labor Statistics, the need for nurse practitioners is projected to increase 45% from 2022-2032. Nurse practitioners that specialize in geriatric care will be in high demand due to the growing healthcare needs of the aging baby boomer population.
Is a physician assistant (PA) above a nurse practitioner?
No. PAs and NPs are not the same, but they do have similar roles and responsibilities in patient care. The main difference between the two is that PAs come from a medical education model, while NPs come from a nursing education model focused on holistic care and health prevention. NPs are more specialized in treating certain segments of the population, while PAs have a more generalist education and take a generalized licensing exam.
What are the highest paid nurse practitioners?
The top 10 percentile of nurse practitioners make more than $150,000, according to the Bureau of Labor Statistics. It can vary quite a bit by your state of employment. In California, for instance, the average annual salary for a nurse practitioner is higher than in other states. These estimates also depend on your specialty, professional experience, development of your skills, and place of employment–hospitals, clinics or physician's offices.
Can an FNP work in urgent care?
Yes – a family nurse practitioner may work in urgent care or emergency services.
Can nurse practitioners work in hospitals?
Yes, FNPs and NPs often work in hospitals. It is the second most popular setting for employment after physician's offices, according to the BLS. Nurse practitioners may also work in outpatient care centers or offices of other healthcare practitioners.
Related: Find out where nurse practitioners work and average salaries in each according to data from the Bureau of Labor Statistics.
Which FNP certification should I pursue?
There are two certifying bodies for FNPs – the American Association of Nurse Practitioners (AANP) and the American Nurses Credentialing Center (ANCC). Your career goals will help you determine which certification is best for you.
Both AANP and AANC certification enable FNPs to work in any clinical setting in any state. The AANC certification differs in that its exam content includes nursing research and theory in addition to nursing practice. The AANC certification is more suited to those who are interested in academic roles, such as becoming a nurse educator at a university.
How do I become a family nurse practitioner?
To become an FNP, you will need to earn a Master of Science in Nursing (MSN) degree in Family Nurse Practitioner. Herzing University offers a variety of online FNP programs to help you achieve your goals:
---
* Bureau of Labor Statistics (BLS), U.S. Department of Labor, Occupational Outlook Handbook 2022. BLS estimates do not represent entry-level wages and/or salaries. Multiple factors, including prior experience, age, geography market in which you want to work and degree field, will affect career outcomes and earnings. Herzing neither represents that its graduates will earn the average salaries calculated by BLS for a particular job nor guarantees that graduation from its program will result in a job, promotion, salary increase or other career growth.
Classes Start January 8th
Learn More Today