Banner Image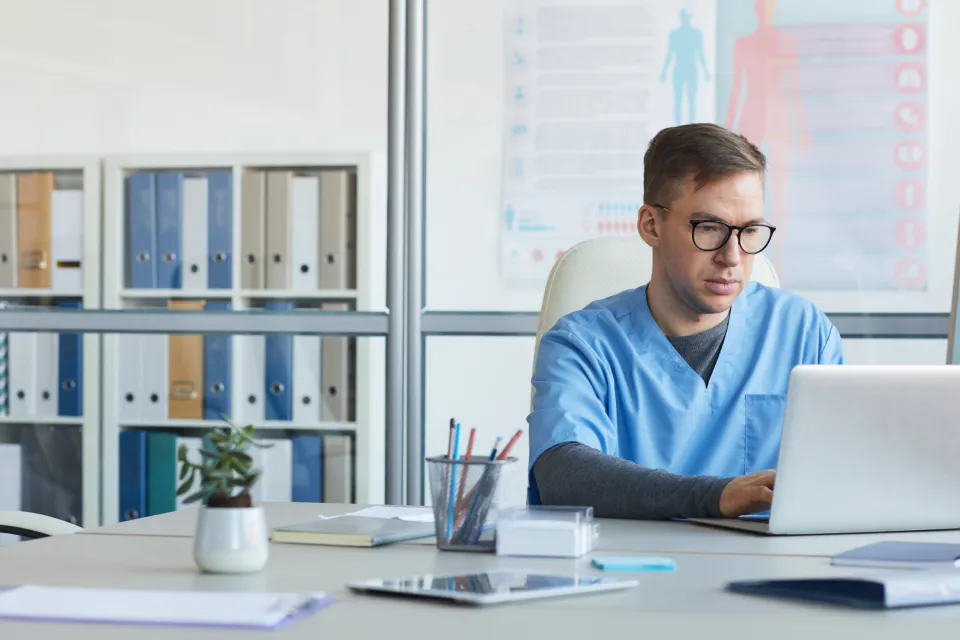 While their job titles are similar, the roles medical assistants and medical office administrators play in the healthcare industry are different. Both will continue to be in-demand careers over the next decade, with employment growth for all healthcare occupations being largely driven by an aging population and increased need for healthcare services.
Here are some key differences between medical assisting and medical office administration. 
1. Responsibilities
The primary difference between a medical assistant and a medical office administrator is that medical assistants play a more direct role in patient care. A medical assistant carries out various clinical tasks such as measuring vital signs, taking blood pressure, drawing blood and administering pregnancy tests. They can assist the doctor during patient exams, or they may take notes. Medical assistants also have a variety of administrative responsibilities such as answering phone calls, greeting patients when they first come into a clinic and gathering patient information, such as billing and contact information.
While medical assistants have both clinical and clerical duties, a medical office administrator mostly plays an administrative role in a healthcare organization. For this reason, they can also be known as medical secretaries, medical office assistants or medical administrative assistants. They handle bookkeeping tasks and act as a liaison between medical staff and the patient, making sure that patient records are up to date, appointments are scheduled and more. They also often manage the front desk of the organization and are responsible for ensuring that patients have a positive and smooth experience when they arrive for appointments.
2. Education
Medical assistants and medical office administrators have different educational requirements. Most medical assistant positions require either a diploma in medical assisting (DMAS) or an Associate of Science in Medical Assisting Services (ASMAS). While both degrees will qualify you for some entry-level positions, your program choice is based entirely on your needs. 
Becoming a medical office administrator does not always require a degree. However, earning your degree can provide you with leverage over candidates who don't have formal training or certification. Herzing also offers two programs for students interested in medical office administration:
3. Skills
Because medical assistants have both clinical and clerical responsibilities, they need a variety of skills, including:
Compassion. Medical assistants need to empathize with patients while showing care and understanding of their concerns. They should be comfortable communicating with patients in both office and clinical settings.
Ability to multitask. Medical assistants often have to juggle many patient-facing responsibilities and administrative duties, so they need to be able to prioritize their to-do lists and multitask when possible.  
Adaptive. Every day is different for a medical assistant, so you need to be open and willing to accept the curveballs that might occur throughout the day. For example, it's not uncommon for healthcare organizations to add last-minute appointments for sick patients, requiring you to adjust your schedule and reprioritize as needed.
While the above soft skills are great for any professional to have, medical office administrators, should also be:
Detail-oriented. Medical office administrators handle a significant amount of paperwork, such as invoices and patient information, which requires accuracy.
Computer savvy. They should also be comfortable using computers and learning new programs, especially as healthcare organizations continue to digitize some operations and adopt electronic health records.
Positive. Working in healthcare can be fast-paced and stressful at times, so patients and colleagues appreciate working with someone who maintains their composure and a positive attitude while getting their job done.
---
* Bureau of Labor Statistics (BLS), U.S. Department of Labor, Occupational Outlook Handbook 2021. BLS estimates do not represent entry-level wages and/or salaries. Multiple factors, including prior experience, age, geography market in which you want to work and degree field, will affect career outcomes and earnings. Herzing neither represents that its graduates will earn the average salaries calculated by BLS for a particular job nor guarantees that graduation from its program will result in a job, promotion, salary increase or other career growth.
Classes Start July 10th
Learn More Today