Banner Image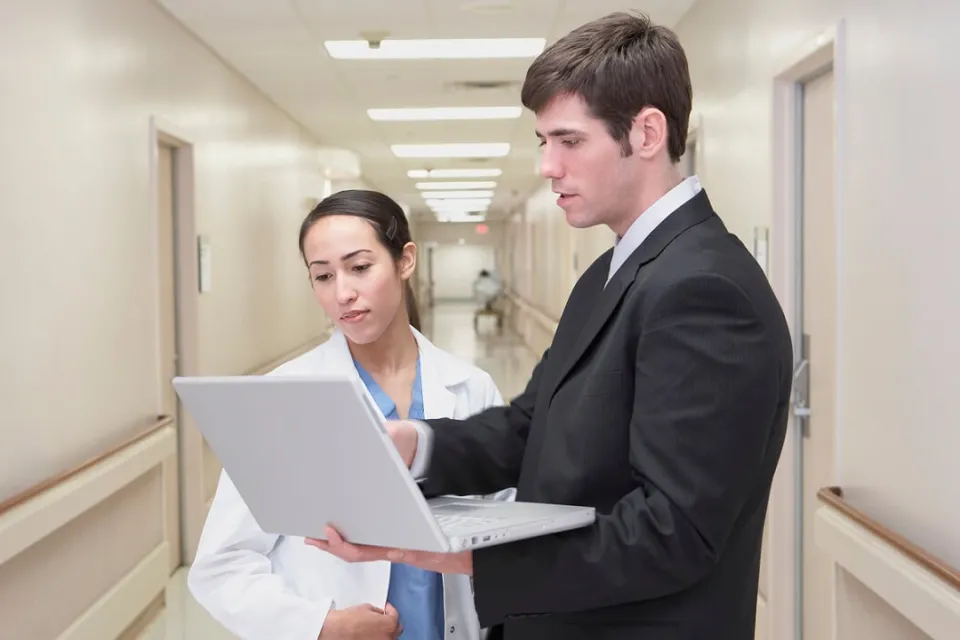 Healthcare administration and healthcare management are often incorrectly viewed as the same fields. While there are similarities, there are also unique differences between the two career focuses.
The primary difference between healthcare management and healthcare administration
Healthcare management focuses on overseeing the direction of a healthcare facility or system, organization-wide initiatives, and "big picture" needs, while healthcare administration focuses on individual departments and budgets, day-to-day operations, and staffing.
Healthcare management also focuses on the overall needs of the entire organization. By comparison, healthcare administration is more focused on individual areas and departments. A healthcare manager helps direct organizational policies and procedures and shares that information with the entire system, while a healthcare administrator is more focused on best using and directing his or her staff within a department.
Healthcare management job titles may include:
Hospital administrator
Executive director
Practice administrator
Public health director
Health advocate
Social welfare administrator
Healthcare administration job titles may include:
Clinic director
Hospice care director
Health services manager
Practice administrator
Medical records manager
Practice or office manager
There are also unique job opportunities for students considering healthcare administration vs. nursing. With the right education and job experience you can earn your way into roles under both umbrellas.
Where do healthcare administrators and managers work?
Both healthcare administrators and healthcare managers may work in similar settings, such as hospitals, private clinics, nursing homes, assisted living facilities, or even educational settings such as teaching hospitals or school districts.
The daily tasks and strategic goals are often different for healthcare management and healthcare administration employees and are often dependent upon where the person works.
Skills needed for healthcare administrators and healthcare managers
Healthcare managers and administrators are often found at the executive or c-suite level. Because of this, certain leadership and soft skills can help them be successful:
Analytical skills
Communication and interpersonal skills
Problem-solving skills
In addition, it is vital that both healthcare administrators and managers understand medical language, processes, and the unique environment of hospitals, clinics, and other health agencies or providers.
Educational requirements for healthcare administration and healthcare management
Minimum requirements depend on the nature of the job. In healthcare administration, earning an associate degree can help you find your first entry-level job in an administrative role and springboard your career in healthcare.
For a career in healthcare management, earning a health administration bachelor's degree helps prepare students by building their business acumen in areas such as finance, project management, and marketing, while also giving them a solid foundation for topics unique to the medical field, such as managing patient records and privacy laws.
For healthcare administrators or managers who would like to advance to higher-level positions, such as vice president or chief operating officer, a master's degree in a health-related field or a master's in business administration with a concentration in healthcare can be beneficial.
Herzing University is proud to offer a Bachelor of Science in Healthcare Administration degree that can be completed online in as few as three years. Students can choose from three different concentrations and earn dual credits toward an MBA.
Herzing also offers multiple options at the master's degree level, including a Master of Science in Healthcare Administration and an MBA in Healthcare Management. These programs provides students a more in-depth education of healthcare-specific issues, such as finance, insurance operations, and compliance issues.
How much can I make?
Salary can vary on many factors such as experience, education, location, and employer. As you gain experience and education in your chosen field, your earning potential can increase. Discover the average salary for a healthcare manager by state and find out what kind of pay you can begin working toward.
Researching your options? You may also be interested in jobs most closely related to the field of health information management. Discover the primary difference between health management and health information management.
With Herzing University you are possible.
Are you interested in joining a growing career field and making a difference in the lives of patients? Learn more about Herzing's online healthcare administration program today!
Classes Start January 8th
Learn More Today