Banner Image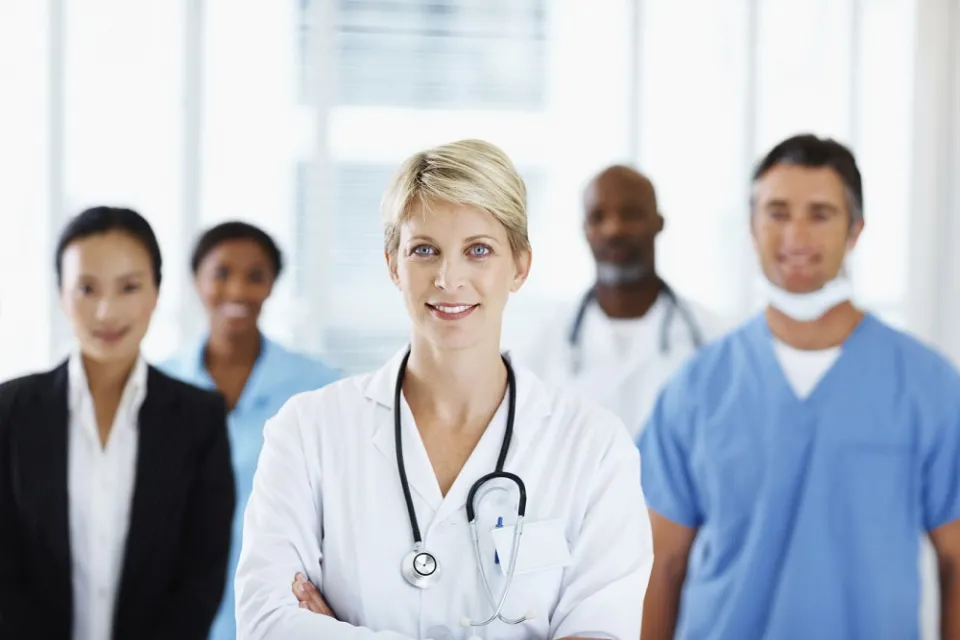 Thinking of earning a degree in health administration/management? You may be wondering about how much you can make in your first job and beyond. Healthcare management and administration positions have potential for good salaries and demand for the position is expected grow in the future (see below).
The average annual salary for healthcare managers is $119,840 per year ($57.61 per hour) nationally, according to the Bureau of Labor Statistics (BLS).*
Keep in mind this median value is not a typical starting salary you can expect straight out of school. That kind of annual pay comes with years of experience in healthcare management (and in many cases, a master's degree). Wages and salaries will vary depending on the local job market and your qualifications—someone with an MBA in Healthcare Management will likely earn more than someone with a bachelor's degree.
Average healthcare management salary by state
Potential pay can vary widely based on where you are hired. Here's a list of the average salary for healthcare managers in each U.S. state:
State
Per hour
Per year
Alabama
$44.87
$93,330
Alaska
$58.86
$122,430
Arizona
$59.40
$123,540
Arkansas
$43.12
$89,700
California
$66.36
$138,030
Colorado
$58.70
$122,090
Connecticut
$62.75
$130,510
Delaware
$62.65
$130,300
District of Columbia
$75.77
$157,590
Florida
$52.95
$110,130
Georgia
$49.58
$103,130
Hawaii
$67.14
$139,650
Idaho
$48.00
$99,830
Illinois
$60.07
$124,940
Indiana
$49.74
$103,470
Iowa
$43.83
$91,160
Kansas
$47.18
$98,140
Kentucky
$45.48
$94,600
Louisiana
$50.86
$105,790
Maine
$48.12
$100,100
Maryland
$63.50
$132,090
Massachusetts
$65.83
$136,930
Michigan
$52.24
$108,660
Minnesota
$53.54
$111,360
Mississippi
$48.40
$100,680
Missouri
$54.09
$112,500
Montana
$48.46
$100,790
Nebraska
$59.65
$124,080
Nevada
$58.38
$121,420
New Hampshire
$57.93
$120,490
New Jersey
$61.24
$127,380
New Mexico
$61.66
$128,250
New York
$75.07
$156,140
North Carolina
$57.72
$120,060
North Dakota
$60.84
$126,560
Ohio
$51.28
$106,670
Oklahoma
$45.76
$95,180
Oregon
$62.36
$129,710
Pennsylvania
$51.78
$107,710
Rhode Island
$62.80
$130,620
South Carolina
$51.14
$106,360
South Dakota
$51.85
$107,850
Tennessee
$50.18
$104,380
Texas
$53.30
$110,870
Utah
$51.76
$107,660
Vermont
$53.19
$110,640
Virginia
$56.98
$118,530
Washington
$63.76
$132,620
West Virginia
$53.42
$111,120
Wisconsin
$57.32
$119,220
Wyoming
$50.25
$104,510
Job growth outlook for healthcare management roles
The BLS creates projections for occupations across the economy. In their latest forecast, they predict overall national job openings over the 2020-2030 period will rise by 8%. For medical and health services managers—that's the BLS category which covers healthcare management jobs of many types—the BLS predicts job growth for the same period as high as 32%.
Possible driving factors behind this high growth in healthcare administration jobs include:
An aging baby boom population which requires more treatment
Increased complexity of healthcare laws and regulations, which raises demand for healthcare managers who can work to ensure compliance
A rising focus on improving cost-effectiveness and quality of care, which requires performance monitoring by individuals with healthcare-related management skills
As a healthcare management graduate, you'll have qualifications that make you eligible for jobs with strong earning potential and also offer the opportunity to create a career that helps improve patient care while supporting the practitioners who make healing possible.
Where healthcare managers work
Healthcare managers work full-time hours in typical office settings. If working for a care facility that is open at all hours, some managers may need to work nights or weekends.
According to the BLS, major employers of healthcare managers in 2018 include:
Hospitals
Physicians' offices
Outpatient care clinics
Nursing care facilities
Home health care services
What education do I need for a career in healthcare management?
Because healthcare management jobs require an understanding of healthcare treatment, insurance systems, and regulations along with business and management skills, it's highly recommended that you earn a degree to become a healthcare manager.
Associate degree-level job possibilities
An associate degree in healthcare management/administration can qualify you for entry-level support roles, including:
Medical Secretary
Medical Billing
Administrative Coordinator
Patient Services Representative
Operations Assistant
Bachelor degree-level job possibilities
A bachelor's degree prepares you to enter the management track. By earning a bachelor's degree in healthcare administration, you may qualify for jobs like:
Clinical Manager
Practice Manager
Residential Care Manager
Healthcare Manager
The jobs you qualify for depend on the unique requirements of the job, your experience in the field and level education you've earned.
Note that if you plan to work in nursing home management, you will need to pursue licensure with your state. All states require licensure, though requirements for gaining licensure vary by state.
An MBA in healthcare management or Master of Science in Healthcare Administration has the potential to qualify you for the highest levels of the profession, including clinical director and other executive roles.
Discover the primary differences between highly related healthcare fields:
Become possible with Herzing University
Our goal is to help you reach your career goals. We are your partner in lifelong learning—from your first class in an associate degree program to graduating with your MBA. Take the leap and become a new you!
---
* Bureau of Labor Statistics (BLS), U.S. Department of Labor, Occupational Outlook Handbook 2021. BLS estimates do not represent entry-level wages and/or salaries. Multiple factors, including prior experience, age, geography market in which you want to work and degree field, will affect career outcomes and earnings. Herzing neither represents that its graduates will earn the average salaries calculated by BLS for a particular job nor guarantees that graduation from its program will result in a job, promotion, salary increase or other career growth.
Classes Start May 8th
Learn More Today