Banner Image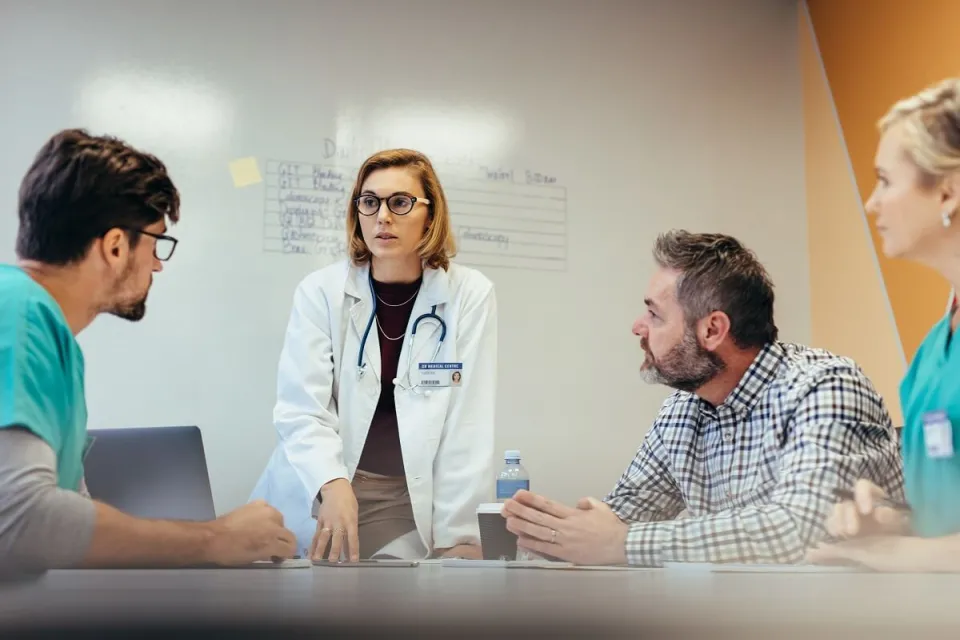 Healthcare occupations, including nursing and healthcare administration, are in high demand. In fact, healthcare is projected to add more jobs than any other occupational group according to the Bureau of Labor Statistics. Does working in a healthcare setting, either directly with patients or behind the scenes, interest you? If so, it's worth learning about the different educational pathways and career opportunities for nurses and healthcare administrators to see which one is the right fit for you.
Nursing: your many career pathways
There are different pathways to becoming a nurse. Some nurses start out as certified nursing assistants (CNAs). Working as a CNA offers you entry-level experience in a healthcare setting. To become certified as a CNA, you'll be required to complete some training, but you don't need to start your career in nursing as a nursing assistant. Students new to nursing may also choose to become a Licensed Practical Nurse (LPN) or Registered Nurse (RN).
LPNs and RNs have unique roles and responsibilities in patient care, with RNs adopting a broader scope of practice. Nurses can begin their career as an LPN, work towards an associate or bachelor's degree in nursing, and become an RN. You do not need to become an LPN before RN – you can enroll in a nursing degree program without any prior experience as an LPN or CNA.
What do CNAs, LPNs and RNS do?
These types of nurses are responsible for a wide variety of roles and responsibilities in patient care:
CNAs help patients with basic living activities such as bathing, getting dressed, using the toilet, eating and drinking. They can also take vital signs such as blood pressure or temperature.
LPNs work closely with registered nurses and typically have a wider scope of practice than CNAs depending on the state, including collecting patient data, assisting with medical procedures, changing bandages, or inserting IVs.
RNs assist with more advanced day-to-day tasks, including providing medical instructions, administering medication, monitoring patient progress and communicate between physicians and patients.
Advanced nursing roles
There are many opportunities in nursing beyond RN. Nurses seeking a greater role in the business of healthcare or would like to transition out of full-time patient care may pursue positions in nursing management, administration, or public health. These professionals combine both administrative and clinical nursing expertise to become highly valuable in helping healthcare organizations improve the delivery of healthcare.
Nurses can also consider roles as an educator or nurse practitioner. A nurse practitioner (NP) is an advanced practice nurse who works directly with patients, but has greater roles and responsibilities than a registered nurse. There are many types of NP specialties, including:
Family Nurse Practitioner (FNP). These advanced nurses provide primary and specialty care to patients of all ages, from pediatric to adults. They examine, diagnose issues, and develop treatment plans for individuals. FNPs also teach patients about disease prevention and wellness care and make referrals to specialists. FNPs often work in a variety of environments, including hospitals, clinics, doctor's offices, and even health insurance organizations.
Psychiatric Mental Health Nurse Practitioner (PMHNP). These NPs specialize in mental illness and psychiatric disorders, providing holistic care for patients experiencing issues such as depression, anxiety, insomnia and much more.
Nurse educators work in clinical or academic environments (sometimes both), tasked with training the next generation of nurses.
Educational options and requirements
To become an RN you will need to earn an Associate of Science in Nursing (ASN) or Bachelor of Science in Nursing (BSN) degree, which can take approximately 2-3 years (sometimes less). We now offer an online BSN program for students without RN experience, including clinicals and an intensive experiences designed to help you gain practical working experience before your first RN job.
Becoming an LPN requires earning a diploma in practical nursing, which typically takes about 1 year. Herzing offers many degree options for both students new to nursing and current nurses, whether you are considering going from LPN to BSN or RN to BSN. CNAs looking to expand their knowledge and go from CNA to RN can consider either the ASN or BSN programs.
To qualify for advanced roles in nursing, you'll need to become a registered nurse (RN), earn your BSN or similar degree, and gain work experience. You can also earn a Master of Science in Nursing (MSN) and/or Doctor of Nursing Practice (DNP) to best qualify for upper-level nursing jobs such as nurse practitioner, nurse educator or nurse manager/administrator.
Nursing represents a broad field and does offer opportunity to emphasize on the administrative side of healthcare if you choose to pursue it.
Healthcare Administration: Career Possibilities
Healthcare administration encompasses a wide variety of behind-the-scenes roles in the delivery of healthcare, including billing and coding, the maintenance of medical records, secretarial and bookkeeping duties, and upper-level roles in management and administration. 
One of the most important things you can do as a healthcare administrator is make sure you run a well-organized facility, for your patients and your staff. As a healthcare administrator, you will need leadership and supervisory skills to manage a wide scope of projects and personnel. You must be able to also coordinate an array of services, as well as budgets, to ensure patients and the organization are getting good value.
While healthcare administrators typically work in hospitals, clinics, or nursing homes, they may also work in school districts or teaching hospitals.
Healthcare Administration educational requirements
Healthcare administrators may begin in entry-level healthcare roles, such as medical secretary or office assistant. A medical office administration or healthcare administration program provides basic foundational knowledge about medical terminology, health policies and procedures, and information about patient privacy rules such as HIPAA. This comprehensive educational background can prepare you for entry-level positions within hospitals, clinics, or nursing homes.
After gaining experience, you can pursue a Bachelor's Degree in Healthcare Administration, which can help you continue to advance your career. This provides students more focused education in the areas of healthcare finance, medical ethics, human resources and more.
Healthcare administration focuses on individual departments and budgets, day-to-day operations, and staffing, with titles include:
Clinic Director
Hospice Care Director
Health Services Manager
Practice Administrator
Medical Records Manager
Practice or Office Manager
For healthcare administrators or managers who would like to advance to higher-level positions, such as vice president, chief operating officer, or executive, a master's degree in healthcare administration or a Master's in Business Administration with a concentration in healthcare management can be beneficial. 
Build your career path in healthcare
Healthcare jobs are in demand and growing. Whether you would like to work directly with patients as a nurse, or provide more behind-the-scenes management as a healthcare administrator, you can have a positive impact on many lives.
---
* Bureau of Labor Statistics (BLS), U.S. Department of Labor, Occupational Outlook Handbook 2022. BLS estimates do not represent entry-level wages and/or salaries. Multiple factors, including prior experience, age, geography market in which you want to work and degree field, will affect career outcomes and earnings. Herzing neither represents that its graduates will earn the average salaries calculated by BLS for a particular job nor guarantees that graduation from its program will result in a job, promotion, salary increase or other career growth.
Classes Start January 8th
Learn More Today