Banner Image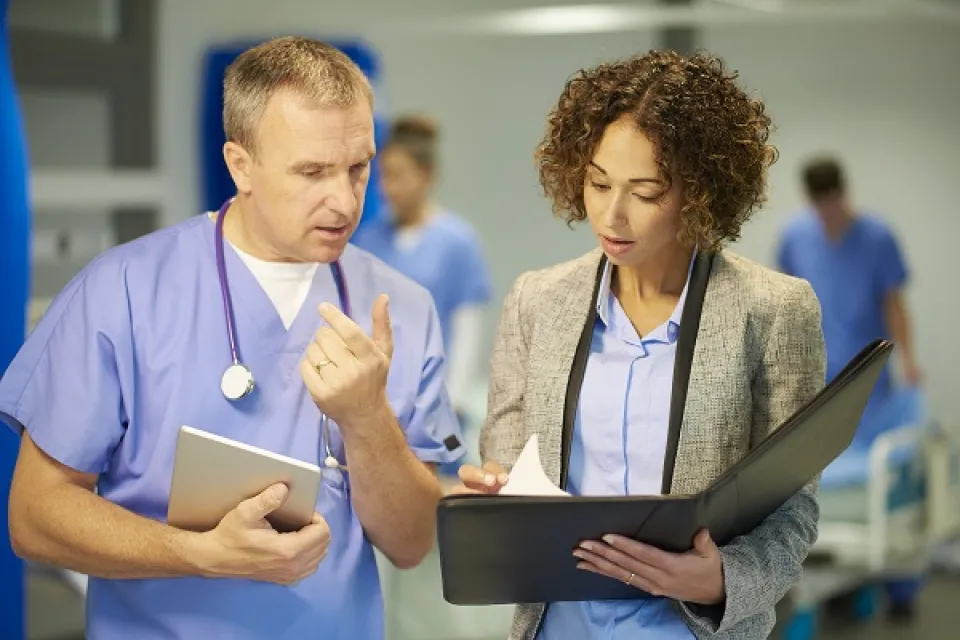 To help care for a rapidly aging baby boomer population, the healthcare field is expected to grow, spurring an abundance of employment opportunities in patient care, patient treatment and managed healthcare. Healthcare managers are in high demand, since they plan, direct and coordinate health services and manage healthcare professionals in various capacities. If you are interested in the healthcare industry and feel comfortable in leadership positions, a degree in healthcare management/administration could be right for you.
What do healthcare managers do?
Healthcare managers are compassionate and supportive; like other healthcare professionals, their No. 1 priority is helping other people feel better. Additionally, healthcare managers have good business sense and strong communication skills. As a healthcare manager, you must be equally comfortable working alone or as part of a team, since you'll often be tasked with making important decisions and upholding the rules and standards of your medical facility or hospital.
Healthcare managers can hold a variety of different positions, such as Health Care Department Manager, Dental Officer Manager, Public Policy Analyst in Health Care, Community Relations Specialist, Clinical Trial Investigator or Health Care Analyst.
What's the difference between healthcare management and other closely related fields?
There is a lot of overlap in the way people refer to healthcare managers, administrators, and health information managers. There are a few primary differences to consider. Learn more:
How do I become a healthcare manager?
Employers are looking for healthcare professionals who are prepared to become leaders. Employers also want individuals who understand the trends shaping today's healthcare market and the future role of managed care, which is quickly becoming the industry standard for delivering healthcare benefits. Healthcare management students can pursue degree concentrations in leadership, managed care and medical assisting, among others. Both bachelor's degree and master's degree programs can help you prepare for administrative and leadership roles in healthcare.
Graduates with a healthcare management degree can gain an added advantage in the workforce by obtaining recognized industry certifications. Herzing University's healthcare management program offers students the opportunity to earn optional credentials through additional coursework and certification exams, such as:
Certified Associate in Project Management (CAPM) exam
Lean Six Sigma Yellow Belt Certification
Certified Specialist Managed Care (CSMC) exam
As a healthcare management student, you'll have the option to enhance your academic experience and customize your degree to fit your career goals. Through your leadership, you'll help improve the quality of patient care at your organization and make a difference in lives of the patients you serve.
How much can I make as a healthcare manager?
How much healthcare managers make depends largely on their level of experience, degree earned, the specific role within a medical facility and the state in which they work.
According to the Bureau of Labor Statistics (BLS), the average salary for healthcare managers was $127,980 per year ($61.53 per hour) across the United States.
Wendyanne Jex has more than 23 years of experience in healthcare and higher education. Her bachelor's degree is in Political Science and her Master's degree is in Public Policy Administration; Health Services. She has held roles with large healthcare organizations like Kaiser Permanente and Intermountain Health Care as well as working for public health with the Utah Department of Health Government services division. For the last ten years, she has been working as a Chair managing faculty teaching Health Services curriculum as well as developing curriculum and programs as a System Division Chair in the Health Care Patient Services Programs.
---
* Bureau of Labor Statistics (BLS), U.S. Department of Labor, Occupational Outlook Handbook 2022. BLS estimates do not represent entry-level wages and/or salaries. Multiple factors, including prior experience, age, geography market in which you want to work and degree field, will affect career outcomes and earnings. Herzing neither represents that its graduates will earn the average salaries calculated by BLS for a particular job nor guarantees that graduation from its program will result in a job, promotion, salary increase or other career growth.
Classes Start January 8th
Learn More Today