Banner Image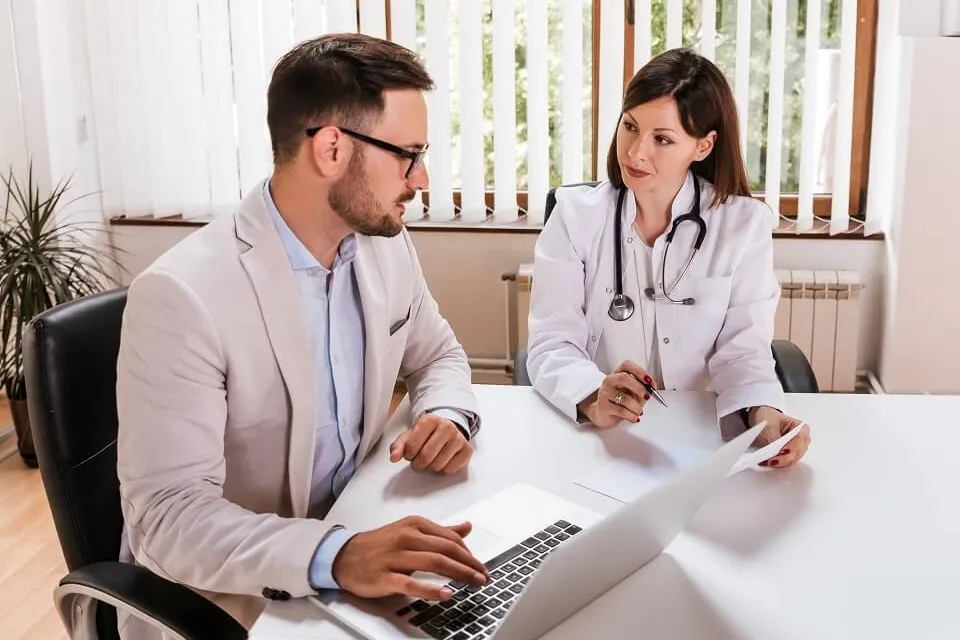 If you are interested in a career in healthcare and picture yourself in a lead role managing departments and hospital operations, becoming a healthcare administrator may be a great career path.
Here are the steps you can take to help you prepare for a rewarding career as a healthcare administrator:
1. Understand the role: what does a healthcare administrator do?
Healthcare administrators help ensure the smooth operation of a hospital, hospital system, or healthcare organization. Unlike doctors and nurses, healthcare administrators do not typically work directly with patients. Instead, they focus on individual departments and budgets, day-to-day operations, information technology, and staffing. Healthcare administrators also help create far-reaching policies that affect the coordination and implementation of medical and health services to improve the delivery of healthcare.
To be successful as a healthcare administrator, it's important to possess strong leadership skills, in-depth knowledge of healthcare business operations and financial structure, and a solid understanding of basic medical language.
Minimal educational requirements for healthcare administrators are generally a bachelor's degree in healthcare administration or a related field. A master's degree or MBA with a healthcare management focus can help qualify individuals for higher positions and greater pay.
Where do healthcare administrators work?
The majority of healthcare administrative professionals work in hospitals. Other work environments include private clinics, nursing homes, assisted living facilities, or educational settings such as teaching hospitals. Healthcare administrators may manage an entire facility or focus on a specific department, depending on the size of the organization.
Additionally, healthcare administrators may work in the public sector, such as local health departments. Those who work to shape healthcare policies may find careers with local, state or federal agencies, such as the FDA and Medicare and Medicaid, or national associations, such as the Red Cross.
Healthcare administrative professionals may also in the corporate or manufacturing sectors, such as with pharmaceutical companies, health insurance providers, or laboratory science and medical equipment manufacturers.
Most health care administrators work full-time business hours, but those responsible for 24-hour facilities may be needed to work varying shifts and hours, including weekends, nights, and holidays.
How much can healthcare administrators make?
According to the Bureau of Labor Statistics, the average salary for medical and health services managers is $119,840 per year ($57.61 per hour).* The salary range for healthcare administrators may vary based on factors such as geographical location, size and type of employer, and experience level. As healthcare administrators gain more experience and education, including a master's degree or post-graduate certificate, their earning potential can increase.
What is the job market like?
Healthcare occupations in the United States are projected to grow steadily due to an aging baby boomer population that requires more care, as well as technology that helps patients live longer lives. Because of this, this outlook for healthcare-related careers is very good, projected for 16% growth from 2020-2030.*
Upper-level health administrators will be especially needed to help ensure hospitals, clinics, and physician offices run smoothly. The BLS expects employment of medical and health services managers to increase 32% from 2020-2030, much faster than the average across all U.S. occupations.*
2. Choose your educational pathway
There are many educational paths to a career in healthcare administration depending on what education and professional experience you've already earned.
Building a foundation with a diploma
A diploma is a great option for students who would like to gain a basic understanding of the healthcare environment and get off to a fast start in a new career.
It can help students prepare for entry-level roles such as medical coder, biller, or secretary. This credential can be completed online and is good preparation for those who plan to pursue an undergraduate degree.
We offer many diploma options in the field of healthcare:
Associate Degree in Healthcare Administration
An associate degree in healthcare administration provides students foundational knowledge unique to the healthcare environment. This includes basic medical terminology, health policies and procedures, and patient privacy rules. It can help prepare students for entry-level positions in an administrative support role within hospitals, clinics, and nursing homes.
Bachelor's Degree in Healthcare Administration
In a bachelor's degree program, students learn about care delivery systems, day-to-day operations of healthcare providers, and more. Courses may focus on healthcare finance and human resources, as well as medical law and ethics.
A Bachelor of Science in Healthcare Administration is generally an educational requirement for people who would like to become healthcare managers. This degree is a good choice for those already in the healthcare field who want to take on greater responsibilities, or for students who want to prepare for a future career in healthcare.
With a bachelor's in healthcare administration, you may qualify for mid-level and managerial jobs such as:
Healthcare Administrator
Department Manager
Clinic Manager
Assistant Director
Master's Degree Options: Master of Science (MS), Master of Business Administration (MBA)
A Master's in Business Administration in Healthcare Management or Master of Science in Healthcare Administration can help you fully prepare for a role as a healthcare administrator. It can help you stand out from other candidates, as well as increase your earning potential. With a master's degree, you may potentially qualify for executive-level jobs, such as:
Chief Executive Officer
Chief Operations Officer
Clinic Director
Nursing Home Administrator
Healthcare Consultant
Post Master's Certificate in Healthcare Management
Current master's degree holders (in a business-related discipline) may consider earning a post-graduate certificate in healthcare management to bolster their professional credentials. Herzing's certificate program can be completed in as little as 8 months when attending full-time.
Students who have earned a healthcare management or administration related master's degree can also pursue additional post master's concentrations such as technology management, project management or human resources.
Our goal is to help you earn the education to best qualify for the healthcare administration job you really want.
How long does it take?
How long it takes to become an administrator depends on the educational requirements for the job. Typical length for Herzing's degree options break down as such:
Associate degree in healthcare administration: 16 months
Bachelor's degree in healthcare administration: 32 months
MBA in Healthcare Management (bachelor's degree required to enroll): 20 months
Post-Master's Certificate in Healthcare Management (master's degree required): 8 months when full-time
3. Advance your education—and your career
If you are interested in healthcare business operations, managing policies and teams, and helping ensure patients get the services and support they need, a career in healthcare administration may be a great fit.
With many educational pathways, including graduate degree (MBA) and post-graduate certificate options, Herzing can help you continue to advance your healthcare education and continue following the career path of your choosing.
---
* Bureau of Labor Statistics (BLS), U.S. Department of Labor, Occupational Outlook Handbook 2021. BLS estimates do not represent entry-level wages and/or salaries. Multiple factors, including prior experience, age, geography market in which you want to work and degree field, will affect career outcomes and earnings. Herzing neither represents that its graduates will earn the average salaries calculated by BLS for a particular job nor guarantees that graduation from its program will result in a job, promotion, salary increase or other career growth.
Classes Start July 10th
Learn More Today