Banner Image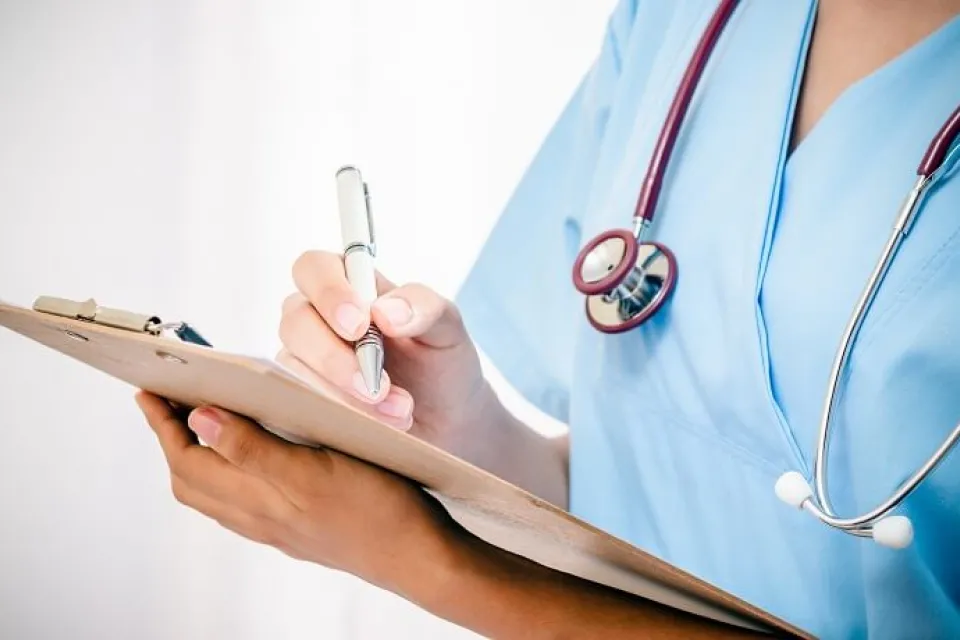 The average annual salary for Licensed Practical Nurses (LPN) and Licensed Vocational Nurses (LVN) is $50,090 per year ($24.08 per hour), according to 2020 data from the Bureau of Labor Statistics (BLS). LPN's in the top 10% earn more than $65,000 per year ($31.50 hourly based on a 40-hour workweek).
Average LPN salary by state
Your pay will vary based on your level of experience, the type of healthcare facility you work for, and the state in which you practice—its population and demand for LPNs relative to other states will affect the estimate for yearly/hourly salary. Find your state below for an LPN salary estimate in your area and see where the highest paying LPN jobs are in the US.
State
Per hour
Per year
Alabama
$19.56
$40,680
Alaska
$32.51
$67,620
Arizona
$26.84
$55,820
Arkansas
$20.08
$41,760
California
$30.81
$64,090
Colorado
$26.11
$54,310
Connecticut
$28.09
$58,430
Delaware
$25.92
$53,920
District of Columbia
$27.80
$57,810
Florida
$22.46
$46,710
Georgia
$21.48
$44,690
Hawaii
$26.04
$54,160
Idaho
$23.38
$48,640
Illinois
$26.24
$54,580
Indiana
$23.02
$47,890
Iowa
$22.05
$45,860
Kansas
$21.66
$45,050
Kentucky
$21.23
$44,160
Louisiana
$20.16
$41,920
Maine
$23.27
$48,390
Maryland
$27.03
$56,220
Massachusetts
$29.04
$60,400
Michigan
$25.10
$52,220
Minnesota
$23.96
$49,840
Mississippi
$19.39
$40,340
Missouri
$21.39
$44,490
Montana
$22.12
$46,010
Nebraska
$21.98
$45,710
Nevada
$28.70
$59,700
New Hampshire
$27.12
$56,400
New Jersey
$27.69
$57,590
New Mexico
$24.27
$50,480
New York
$24.66
$51,300
North Carolina
$22.65
$47,120
North Dakota
$23.10
$48,060
Ohio
$22.40
$46,590
Oklahoma
$20.79
$43,250
Oregon
$27.56
$57,320
Pennsylvania
$24.16
$50,250
Rhode Island
$28.41
$59,090
South Carolina
$20.97
$43,630
South Dakota
$18.95
$39,420
Tennessee
$20.35
$42,330
Texas
$23.26
$48,380
Utah
$22.86
$47,550
Vermont
$24.64
$51,240
Virginia
$22.79
$47,410
Washington
$28.74
$59,780
West Virginia
$18.72
$38,940
Wisconsin
$23.11
$48,070
Wyoming
$23.55
$48,980
The job outlook for LPNs
The career outlook for LPNs remains very positive in the coming years. Jobs for LPNs/LVNs are projected to increase by 9% from 2019-2019, according to the Bureau of Labor Statistics. Earning your diploma in practical nursing in the next couple years puts you in a position to compete for a growing number of job opportunities.
A brief LPN job description
Licensed practical nurses provide basic nursing care under the supervision of registered nurses and physicians in many different healthcare settings, including hospitals, nursing homes, hospice, doctor's offices and urgent care clinics.
Maintaining, updating patient records
Changing bandages
Inserting IVs or catheters
Taking patient vital signs and histories
Listen to patients' concerns and report to RNs and doctors
Make patients as comfortable as possible
LPN average salary vs. other occupations
There are many different types of nurses and positions in healthcare—deciding who you want to become in the early stages and taking the first step can be a real challenge. Here are the average salaries for alternative, similar career options in nursing & healthcare:
Job / Career
Per year
Per hour
LPN - Licensed Practical Nurse
$50,090
$24.08
CNA - Certified Nursing Assistant
$32,050
$15.41
Medical Assistant
$36,930
$17.75
RN - Registered Nurse
$80,010
$38.47

All salary data courtesy of the Bureau of Labor Statistics.
Exploring your career options?
No matter where you start in healthcare, we want to help you take the leap and become a new you.
If your goal is to become a nurse and specialize in a certain area, like becoming a travel nurse, wound care nurse or pediatric nurse, you will need a degree and may consider enrolling in an ASN or BSN program to become an RN.
However, becoming an LPN gets you into nursing faster, and your experience will be instructive in helping you determine where you may want to specialize in the future. On-the-job everyday training as a health provider can be a valuable experience no matter your professional title.
With Herzing University you are possible.
Going to nursing school on top of an already busy lifestyle can be intimidating. We do everything we can to make things easiest for you. How long it takes depends on the nursing program you choose, if you can transfer any prior credit, and if you choose to complete coursework on a full-time or part-time basis.
There are many potential career pathways you may follow, and you'll find Herzing University staff and faculty there to assist you at every fork in the road. We are your partner in starting and advancing your career in nursing.
---
* Bureau of Labor Statistics (BLS), U.S. Department of Labor, Occupational Outlook Handbook 2020. BLS estimates do not represent entry-level wages and/or salaries. Multiple factors, including prior experience, age, geography market in which you want to work and degree field, will affect career outcomes and earnings. Herzing neither represents that its graduates will earn the average salaries calculated by BLS for a particular job nor guarantees that graduation from its program will result in a job, promotion, salary increase or other career growth.
Classes Start August 9th
Learn More Today