Interested in getting started in nursing, or going from LPN to RN? There's never been a better time. As the baby boom generation ages, demand for healthcare is rising, and rising demand for healthcare inevitably leads to rising demand for nurses of all types. This is due to the front-line patient care nurses provide.
Two of the most common types of nurses are Licensed Practical Nurses (LPNs) and Registered Nurses (RNs). LPNs may alternatively be referred to as Licensed Vocational Nurses (LVNs).
If you're researching nursing career paths, you may be wondering what the difference is between these two types of nurses. Read on to find out how LPNs compare to RNs in terms of duties, average salary, job prospects, and education/training requirements.
Banner Image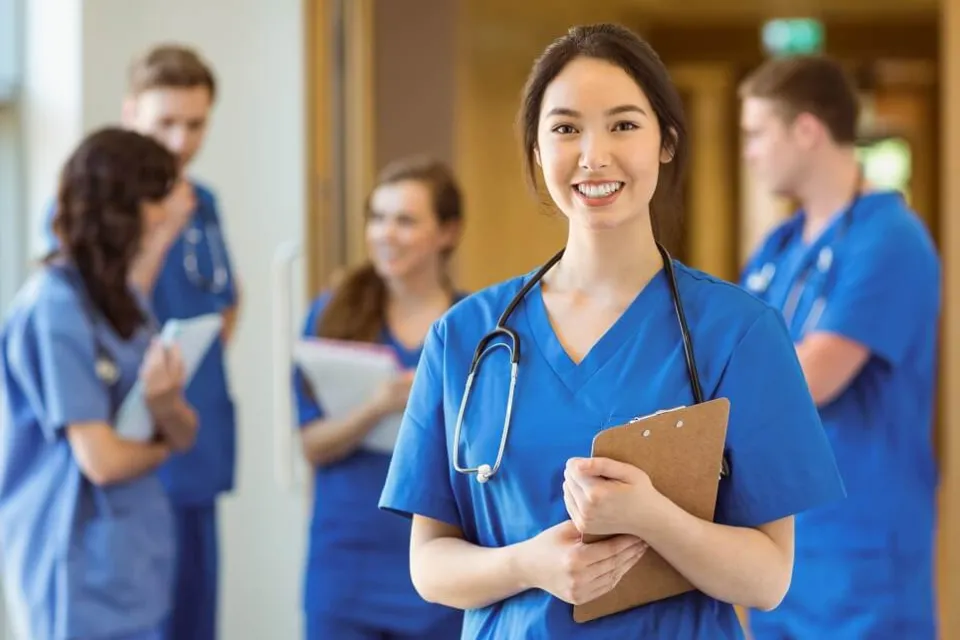 Duties of an RN vs. an LPN
First, while RNs and LPNs may frequently work together as healthcare collaborators in a hospital or other healthcare facility, the roles and responsibilities of their jobs are very different.
Licensed Practical Nurse (LPN)
LPNs provide basic nursing care under the supervision of an RN or other healthcare practitioner. The scope of LPN duties may include:
Feeding, dressing or bathing patients
Monitoring patient vital signs, including blood pressure and temperature
Applying or changing bandages, cleaning wounds, or inserting catheters
Keeping records of patient health
Talking to patients about how they are feeling and passing concerns to other practitioners
LPNs are prepared during their education to provide medication to patients and make seek additional certification for intravenous insertion and line management. However, these procedures may vary from state to state. It is important for LPNs to know their scope of practice in the state where they practice. LPNs have the opportunity to work in several settings including, but not limited to: nursing homes, hospitals, home health, and schools.
Registered Nurse (RN)
RNs provide most of the nursing care in healthcare facilities. Their job description will include all the LPN duties above, plus:
Administering medication, drawing blood, and inserting IV drips
Operating and monitoring medical equipment
Performing diagnostic tests and collecting lab samples
Teaching families and patients how to manage care after treatment
Setting up or contributing to patient care plans
Collaborating with doctors, advanced practice RNs (APRN), and other professionals to administer and improve care
RNs can also specialize in different types of medicine or in the patient populations they work with, from nephrology (care of patients with kidney disease) to neonatal nursing (care of new mothers and babies), for example. Discover the most common careers for nurses, many of which first require becoming a registered nurse.
Salary and job growth outlook
LPNs will likely earn lower salaries than RNs. This is because RNs have more advanced training and can carry out more complex types of patient care. Average salaries across both professions depend largely on your education, experience and where you practice and typically do not reflect entry-level positions.
LPN vs. RN average salaries and job outlook
Education Requirements for RNs vs. LPNs
Training to become an LPN or RN requires post-secondary education and licensure by your state board of nursing.
LPN training programs
LPNs usually earn a diploma or certificate—Herzing University's PN program takes as few as 12 months to complete. LPN diploma programs cover basic nursing and health sciences concepts, including:
Biology
Pharmacology
Psychology
Human development
Nursing care across the lifespan
LPN programs also include supervised clinical care experience.
RN degree programs
Becoming an RN requires a college degree: an Associate of Science in Nursing (ASN) or Bachelor of Science in Nursing (BSN) degree. RN programs typically cover:
Advanced health assessment skills
Population-specific courses in mental health, gerontological and/or community nursing
Evidence-based nursing and nursing research skills
Nursing informatics and technology
Management and leadership (usually BSN level only)
Learn more about the difference between ASN/ADN vs. BSN and what degree path is better for you and your career goals.
Certification and licensure for RNs vs. LPNs
RNs and LPNs all need to gain licensure from their state boards of nursing. The steps to licensure involve:
Passing a state nursing board-approved training program which includes approved curriculum and clinical experience hours
Taking and passing a National Council Licensure Examination (NCLEX). The examination for LPNs is the NCLEX-PN, while the exam for RNs is the NCLEX-RN.
Applying for a state license and paying the appropriate fee
How long it takes to become an RN vs. LPN
Going back to school and becoming an LPN typically takes about one year. 
How long it takes to become a registered nurse can vary anywhere from 2-5 years. If you are new to the field of nursing and don't hold any other degree, earning an associate degree will take about two years while earning a bachelor's can take three to four years. Note: the same estimates apply to CNAs and non-CNAs.
If you graduated with a bachelor's degree in another field, you may be able to enter an accelerated BSN program (ABSN) or MSN Direct Entry online program, which both transfer over the general education credits from your first bachelor's. You would then complete nursing coursework and clinical experience. At Herzing, both programs can take as few as 20 months to complete.
If you already work as a healthcare technician or LPN, you may be able to transfer coursework completed during your earlier training program to an RN or BSN bridge program. Bridge programs can help you become an RN faster.
Learn more about our LPN to RN program pathways. You may be eligible to advance to RN online through our online LPN to BSN bridge option.
Become a nurse with Herzing University!
We hope you have a clearer understanding of what it takes to become an LPN vs. an RN. If you're ready to start exploring diploma or degree programs, Herzing University can help. Find out about our PN programs, ASN programs, or BSN options today!
---
* Bureau of Labor Statistics (BLS), U.S. Department of Labor, Occupational Outlook Handbook 2021. BLS estimates do not represent entry-level wages and/or salaries. Multiple factors, including prior experience, age, geography market in which you want to work and degree field, will affect career outcomes and earnings. Herzing neither represents that its graduates will earn the average salaries calculated by BLS for a particular job nor guarantees that graduation from its program will result in a job, promotion, salary increase or other career growth.
Classes Start July 10th
Learn More Today
Locations
Online & on-campus options
Herzing University nursing programs are available online and at 11 ground campus locations, each offering extensive student resources and support as you pursue your nursing degree. Program availability varies by campus location and state eligibility.