Discover the role of different types of pediatric nurses
Alongside doctors and pediatricians there are many kinds of nurses in the pediatric specialty responsible for delivering unique types of healthcare for children. You can potentially make an impact in the life of babies and newborns or focus your care on children and adolescents up to age 21.1
You can make a huge difference in the lives of children and their families by choosing to specialize in pediatric nursing.
We've listed some of the most common career pathways in the pediatric nursing specialty below. No matter what level of education you've earned, there is a path awaiting your next step.
Banner Image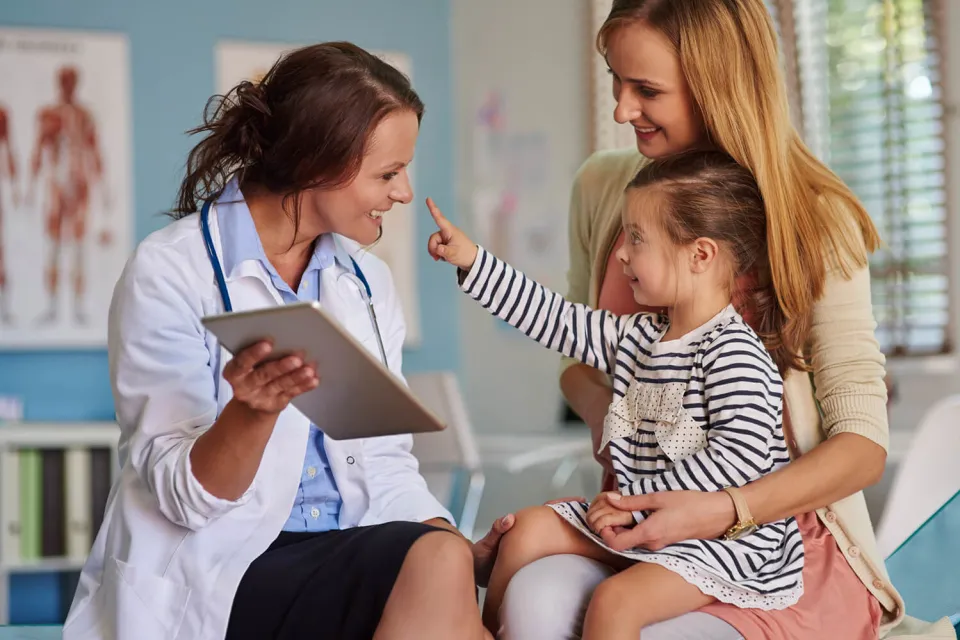 1. Pediatric RN
Pediatric nurse represents a broad category of nursing professionals rather than a single, specific type of job. Job titles vary, and there are many different types of jobs out there for RNs seeking to specialize in the pediatric patient population.
If you are a practicing RN who already provides direct care to children, you are already considered a pediatric nurse—but there are a couple certifications you can pursue to formally credential yourself in the pediatric specialty without having to earn a master's degree.
Get certified. There are multiple certifications you may consider:
Certified Pediatric Nurse (CPN). If you are a practicing RN, regardless of degree earned, with the appropriate experience you may qualify to sit for the CPN exam. This is a widely recognized credential proving your capability of delivering pediatric nursing care.
Pediatric Nursing Certification (PED-BC). This certification from the American Nurses Credentialing Center (ANCC) is another widely respected credential for pediatric nurses.
There are many different types of nursing specialties that can potentially apply to the pediatric population, including palliative care, developmental disability, oncology, and much more.
Pursuing and earning these pediatric certifications can be a great step towards improving your credentials for more jobs in pediatric nursing. You can potentially take the next big step in your career by working towards becoming a pediatric nurse practitioner.
2. Pediatric Nurse Practitioner
You can expand your scope of practice significantly by becoming a Pediatric Nurse Practitioner (PNP). Working as a pediatric RN provides great experience you can utilize to transition to a more autonomous role as a nurse practitioner.
Some of the biggest differences between RNs and nurse practitioners include:
Pediatric NPs can both provide physical examinations and prescribe medication
Pediatric NPs can act as a primary care provider
Pediatric NPs must earn a Master of Science in Nursing (MSN) or Doctor of Nursing Practice (DNP)
There are two major types of pediatric nurse practitioners: primary care PNPs and acute care PNPs:
Acute Care PNP. PNPs in the acute care role provide care for pediatric patients with acute, complex, or critical illness—typically in hospitals, intensive care units, or emergency departments.
Primary Care PNP. Primary care PNPs provide primarily preventative care and treat common pediatric illnesses and conditions on an ongoing basis. These types of NPs more often work in private practices/offices or clinics.
PNP represents a great option if you're looking to become a primary care provider and reach for the top of the field of nursing. The demand for nurse practitioners is rising significantly, and you can potentially compete for some of the highest salary jobs in nursing.
Learn more about our Pediatric NP program offerings (primary care) designed for current RNs who hold an associate or bachelor's degree in nursing.
3. Pediatric Intensive Care Unit Nurse (PICU)
Some pediatric RNs can specialize in acute or critical care by working in a pediatric intensive care unit. These nurses work in similar environments as pediatric acute care NPs, but don't share the same scope of practice.
Get certified. Earn enough experience treating acutely or critically ill pediatric patients and you can potentially qualify for CCRN (Pediatric) certification from the American Association of Critical-Care Nurses. Certification requirements can vary by state and employer. The AACN also offers the CCRN-K (Pediatric) certification designed for nurses outside of the direct care role (for educators, managers, directors, faculty, or administrators).
Current RNs who aren't yet ready to begin working towards becoming a pediatric nurse practitioner can earn valuable experience as an RN in a pediatric ICU.
4. Neonatal and NICU Nurses
You may choose to focus your specialty to treating babies and newborns by becoming a neonatal nurse.
While there are a few potential neonatal specialty areas (some can be NPs or surgical nurses), one of the most common types of neonatal nurses are those who work in the Neonatal Intensive Care Unit (NICU). These nurses work exclusively with newborns, delivering care from the time of birth until they are discharged from the hospital.
Get certified. The AACN also offers a CCRN (Neonatal) certification for current RNs with significant experience treating acutely or critically ill neonatal patients.
This can be a good career pathway for nurses looking to earn valuable experience caring for infants before potentially taking the next step to neonatal or pediatric nurse practitioner.
Another important type of nurse who works with newborns are labor & delivery nurses.
5. Labor & Delivery Nurse
These types of nurses help pregnant patients give birth to newborns, guiding new mothers through the process of labor and assisting in delivering babies as needed.
Labor & delivery nurses work in hospital maternity wards and possess a diverse set of skills. They monitor the status of both the child and mother before delivery begins, clearly communicate progress with the patient, and are ready to act fast and effectively when it's time to deliver.
In addition to monitoring vital signs and administering medications during the antepartum period, these nurses also assist obstetricians (OB-GYN) in the delivery process, including potential surgical procedures.
This can be a good choice for current RNs looking to work in labor & delivery and do not necessarily want to go back to school to earn a master's degree.
Get certified. One key certification you can pursue as a labor & delivery nurse is the NCC Credential in Inpatient Obstetric Nursing (RNC-OB).
Prerequisites to sit for the RNC-OB certification exam include current licensure as an RN and a minimum amount of specialty experience in providing care during the antepartum, intrapartum, postpartum, and newborn periods. You do not need to earn a master's degree to qualify for the test, meaning RNs with an ASN or BSN may potentially qualify to become a certified RNC-OB.
6. Certified Nurse Midwife
Nurse midwives can also assist patients through the labor and delivery process but play a larger overall role in a patient's pregnancy. Midwives can potentially deliver babies in certain circumstances, but their primary duties focus on the prenatal period.
While we include this on a list of "pediatric" nurses because it involves the development and birth of children, nurse midwives work primarily with mothers to ensure a healthy pregnancy—and may assist mothers with a more holistic approach throughout several stages of life.
To become a nurse midwife, you'll need to earn an MSN (or in some cases, a DNP) in a nurse midwifery program to be eligible for certification.2
Nurse midwifery can be a good option for current RNs seeking to advance their career and play a pivotal role in a mother's health during pregnancy.
7. School Nurse
School nurses are responsible for being the primary source of medical care for kids (and sometimes adults) during the school day.
While the day-to-day includes what you might expect, like treating skinned knees, headaches, or general illness, the diversity of the students with many different health profiles makes every day interesting. Duties can extend beyond the daily incidents and expand to case management work. Your overall goal is to ensure every student is in the healthy state needed to learn and thrive.
Get certified. Check with your state requirements to see if you need to be certified to work as a school nurse. At the very least, you'll need to have a current RN license. The National Board for Certification of School Nurses offers a certification which requires at least a BSN to qualify for the exam, in addition to clinical practice requirements.
You may choose to become a school nurse if you're considering nursing jobs outside of the hospital and want to continue working with children.
Find your career path with Herzing
We want to help you earn the career in pediatric nursing you want to pursue.
Our online pediatric nurse practitioner programs can help you discover new skills in nursing, expand your scope of practice, and earn greater autonomy in delivering care to the pediatric patient population.
When you are ready to take the next step, we are here to help you get started.
1. This age range is not an exact estimate. There is no hard and fast rule about when a patient is no longer considered in the "pediatric" patient population.
2. Herzing University does not currently offer a nurse midwifery program.
---
* Bureau of Labor Statistics (BLS), U.S. Department of Labor, Occupational Outlook Handbook 2021. BLS estimates do not represent entry-level wages and/or salaries. Multiple factors, including prior experience, age, geography market in which you want to work and degree field, will affect career outcomes and earnings. Herzing neither represents that its graduates will earn the average salaries calculated by BLS for a particular job nor guarantees that graduation from its program will result in a job, promotion, salary increase or other career growth.