Begin your healthcare career as a first responder
If you are interested in quick path to a career in the medical field, you might consider becoming an Emergency Medical Technician (EMT). A career as an EMT involves an active and fast-paced lifestyle with multiple paths for growth and learning beyond your regular coursework.
Not only will you be faced with a new challenge every day, but you will also be helping and often saving the lives of the people in your community.
To become an EMT, you will need to get educated and certified to become fully qualified for your first job.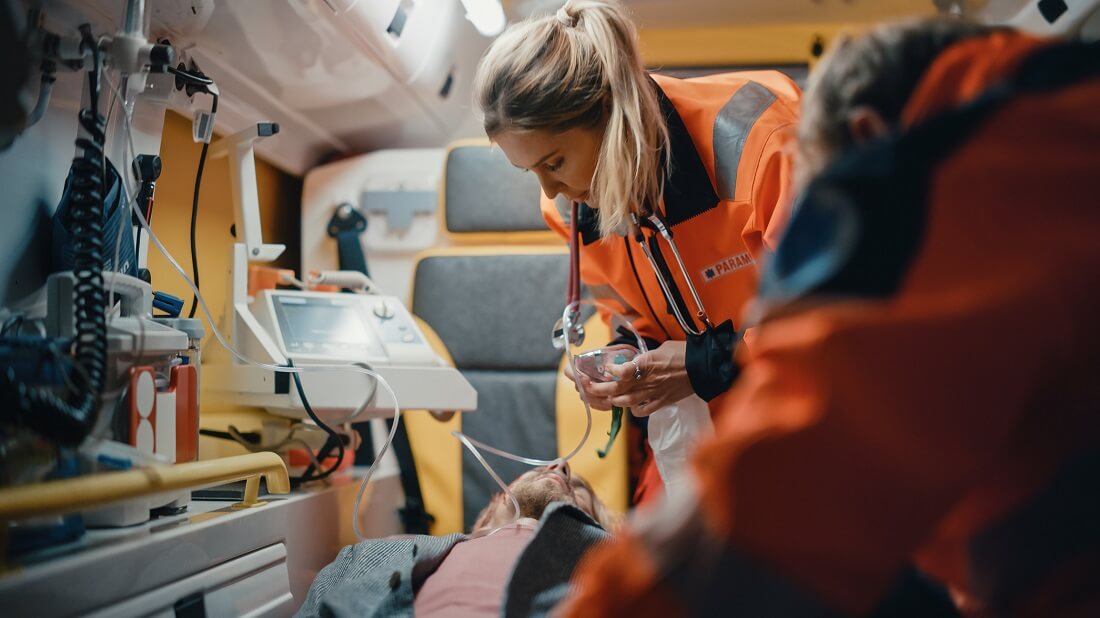 Educational requirements
The educational requirements for becoming an EMT can vary depending on how far you want to branch your medical knowledge.
There are several options for education, including certificate, diploma, and associate degree pathways.
How long it can take:
Our EMT training programs are designed for your career path, to prepare you to succeed in your work and continue to advance your career.
Different types of EMTs
Like doctors and nurses, there are different types of EMTs. The different types of EMTs and the path you see yourself taking depend on the level of education and type of coursework involved during your studies. Below is a list describing the common types of EMTs:
EMT-B
Emergency Medical Technician - Basic
The primary duty of a basic emergency medical technician is to provide immediate medical care for individuals who are unable to get to the hospital. The goal then is to stabilize the patient, so they are then able to be transported to the hospital. Typical duties may include CPR and assistance with childbirth.
A diploma-level EMT-paramedic will involve more schooling in order to provide more specialized care. This type of care includes carrying out tasks that will involve IV fluids, clinical administration, and other advanced life-saving techniques.
An associate-level EMT-Paramedic will demonstrate advanced knowledge of life support techniques in a variety of emergency situations. Their responsibilities will include everything in a diploma-level EMT-Paramedic plus the ability to make decisions on the fly, meaning this role will also require strong leadership skills.
This path can help gain experience and potentially advance in the field of healthcare, including nursing, healthcare administration, and health sciences.
EMT vs. paramedic: what's the difference?
While EMTs and Paramedics are both considered first responders, their roles are still very different. The main difference between the two roles is the level of education and medical knowledge.
EMTs are often responsible for procedures like CPR whereas paramedics will be more involved with procedures like administering IV fluids and clinical medications, which require more complex knowledge of the human body. Both roles, however, are important to the function of a team of first responders.
According to the Bureau of Labor Statistics, emergency medical technicians earn an average salary of $36,690 per year ($17.64 per hour).*
Of course, this will vary depending on your educational level in this specific field, meaning a paramedic with 20 months of schooling can potentially earn more than a basic level EMT with 4 months of training.
The job outlook for EMTs is promising, as the field is expected to grow 5% between 2022-2032, according to the Bureau of Labor Statistics, faster than the average across all U.S. occupations.
The demand for these crucial jobs is expected to rise as current EMT-paramedics enroll in more advanced health care positions as well as the fact that many current EMTs, like many other professions, are entering retirement.
Become possible with Herzing University
Enroll in our EMT program today and start investing in your future as a medical professional. We at Herzing University offer programs with qualified instructors that will help guide you on your path to becoming an EMT.
Take the first step today and begin walking your new, exciting career path.
---
* Bureau of Labor Statistics (BLS), U.S. Department of Labor, Occupational Outlook Handbook 2022. BLS estimates do not represent entry-level wages and/or salaries. Multiple factors, including prior experience, age, geography market in which you want to work and degree field, will affect career outcomes and earnings. Herzing neither represents that its graduates will earn the average salaries calculated by BLS for a particular job nor guarantees that graduation from its program will result in a job, promotion, salary increase or other career growth.
Classes Start January 8th
Learn More Today