You are doctorally possible with Herzing University
We are proud to introduce our new degree pathway to the highest heights in the nursing field: a practice leadership-focused Doctor of Nursing Practice – Post Master's DNP program designed for nurses who have already earned a master's degree in nursing.
According to the AACN's most recent Annual Survey, enrollment in DNP programs has increased continuously for 20+ years running. Now is an excellent time to leverage your master's-level education into the terminal degree in nursing.
Learn online in Herzing's Everywhere Classroom: on your schedule, at your pace (asynchronously)
Class topics include Improvement Science, Technology and Nursing Informatics in Advanced Practice, Professionalism and Leadership for Advanced Practice, Population Health, and more.
Access to extensive student services, including an academic coach for each DNP course
Discover the skillset required to become an invaluable change agent for the discipline of nursing
The future of advanced practice nursing is at the doctoral level. This is your opportunity to complete your education from MSN to DNP and develop the knowledge and skills needed to be transformative for healthcare.
Our goal is your career success—join us on the journey to actively create positive change for nursing.
Classes Start September 7th
Learn More Today
DNP program classes & curriculum details
Our DNP program, developed in compliance with the model for advanced nursing education of the AACN new Essentials (2021), implements a competency-based program structure:
Build
Develop a strong conceptual framework. Lecture-style coursework amplifies your current knowledge base and introduces concepts and frameworks to expand your understanding.
Engage
Build upon the framework and dive into the literature, evidence, and tools of nursing practice. Engage the evidence and appraise its utility. Identify opportunities for improvement and learn to design and implement methodologies to address them.
Apply
Apply practice tools at the highest level. Challenge and expand your knowledge base through clinical applications, complete your DNP project, and graduate ready to continue your professional journey to the top of your practice.
| Program | Monthsi | Credits |
| --- | --- | --- |
| Doctor of Nursing Practice - Post Master's DNP | 24 | 32 |
i. Average number of months for students to complete the program. Program availability varies by location.
Tuition & Cost
Our goal is your career advancement. That's why we are always working to improve our curriculums and processes to make our post master's DNP program as affordable as possible while preparing you best for success in your work.
With Herzing University, you are never alone, and we offer many options to help you invest in yourself and earn your doctorate degree. Financial aid options include:
Program admission requirements
Prerequisites to enroll in the Herzing University Doctor of Nursing Practice (DNP) program include:
Unencumbered RN licensure
Minimum 3.0 GPA
A master's degree in nursing (MSN, MN) from a program accredited by the Accreditation Commission for Education in Nursing (ACEN), Commission on Collegiate Nursing Education (CCNE), and or National League of Nursing Commission for Nursing Education Accreditationi
Current Curriculum Vitae (CV)/résuméii
Required background check/clinical compliance upon admission
No GRE required
i. The master's degree must include preparation for an advanced nursing practice specialty (e.g., Nurse educator, Nursing administration, etc.) or an advanced practice nursing role (NP, CNS, CRNA, CMN). If the master's degree did not include preparation for an advanced nursing practice specialty or an advanced practice nursing role, the completion of an accredited post-graduate certification program in an advanced nursing practice specialty or an advanced practice nursing role is required prior to admission.
ii. Your CV/résumé should include: focus/topic for your DNP project, site for your DNP project (ideas for what and where to do the project), years of practice experience, community service, references, and experience with any of the following: diversity, equity and inclusion initiatives, initiatives focusing on the social determinates of health, population health initiatives, health-focused partnerships with industry, academia, or local government, research or research translation, quality and safety initiatives, leadership in complex healthcare systems, health information technology/advocacy and/or policy development.
Eligible states for enrollment: Alabama, Alaska, Arkansas, California, Colorado, Connecticut, Delaware, District Of Columbia, Florida, Georgia, Hawaii, Idaho, Illinois, Indiana, Iowa, Kansas, Kentucky, Maine, Massachusetts, Michigan, Minnesota, Mississippi, Missouri, Montana, Nebraska, Nevada, New Hampshire, New Jersey, New Mexico, North Carolina, North Dakota, Ohio, Oklahoma, Pennsylvania, Rhode Island, South Carolina, South Dakota, Texas, Vermont, Virginia, West Virginia, and Wisconsin.
The Herzing DNP Practice Project
While the clinical practicum is the key practical component of an MSN program, the DNP Practice Project represents the culmination of your DNP education: put everything you've learned into practice and begin making your impact immediately.
You won't need to find a preceptor. The DNP project is an independent clinical effort facilitated by a Project Chair and Committee.
Key elements of the DNP project include: 
Identify a problem
Search, analyze, and synthesize literature and evidence
Translate evidence to build methodology to address the problem
Plan and implement
Evaluate the outcomes, process and experience
Upon completion you'll work closely with your Project Chair to disseminate your findings, from presentation to the practice and University/community events including submission for publication.
What you can do with a DNP degree
Advanced Practice Registered Nurses (APRN) and other master's-prepared advanced practice nurses can earn a DNP to climb to the highest rung on the career ladder across many different specialties.
Our leadership-focused program is designed to cover a broad set of skills applicable to any advanced practice nursing role you might seek, allowing you to make an impact in your practice, your community or your healthcare system.
You can also potentially increase your earning potential. According to the 2020 National Nursing Workforce Survey, registered nurses whose highest education was a DNP reported a median salary of about $100,000, 11% higher than the $90,000 median for those who had earned as much as a master's degree.
I haven't earned an MSN—how can I earn a DNP with Herzing? You'll first need to earn an MSN in one of our concentrations (AGACNP, AGPCNP, FNP, PMHNP, Nursing Education, or Nursing Leadership & Administration), then apply for our Post Master's DNP program.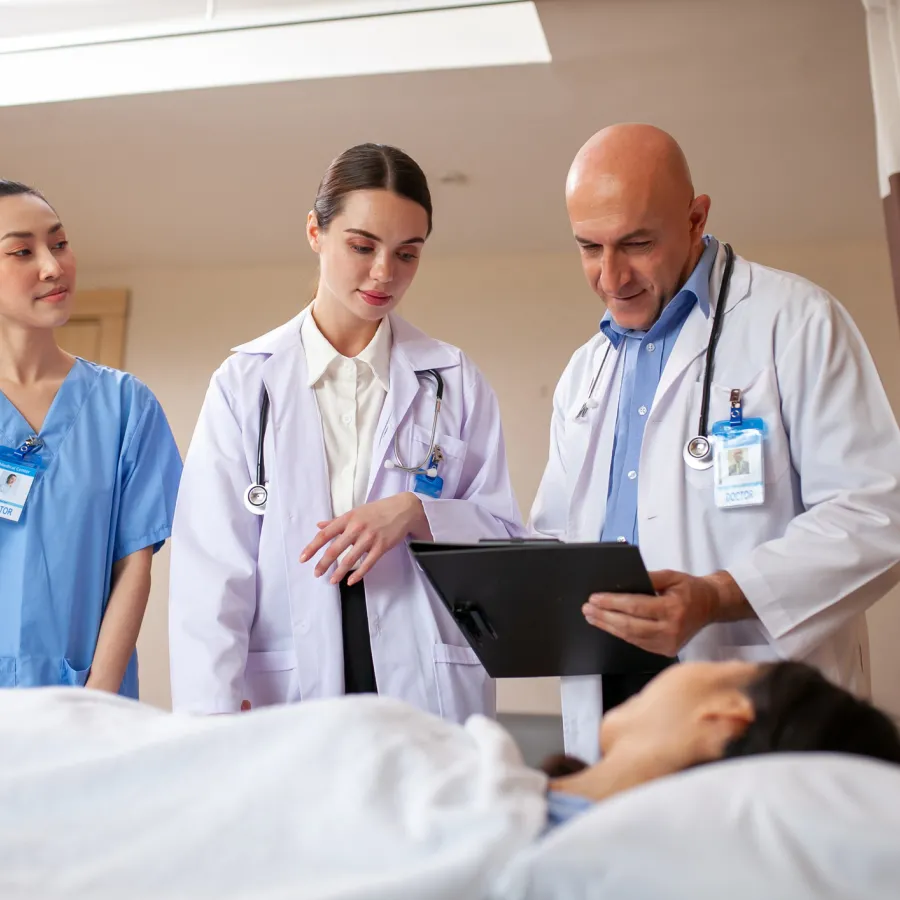 Doctor of Nursing Practice - Post Master's DNP Degree Programs
Showing 1 programs for the Online campus
To learn more about this program, click the Request Info button to the right.
Ready to get started?
Contact us to request more information