ADN vs BSN
There are foundational nursing roles in which earning a degree is not required, including nursing assistant (CNA) or practical nurse (LPN/LVN). These types of positions can help you gain working experience quickly and get your feet wet in the field of nursing.
But in order to become a Registered Nurse (RN), you'll need to earn an associate or bachelor's degree in nursing.
Which degree should you choose? We want to help you decide.
Our goal is to clearly differentiate ADN and BSN degrees for two types of nursing students:
Students new to nursing considering their first step into a new career
Current licensed, practicing RNs with an ADN/diploma considering transitioning from RN to BSN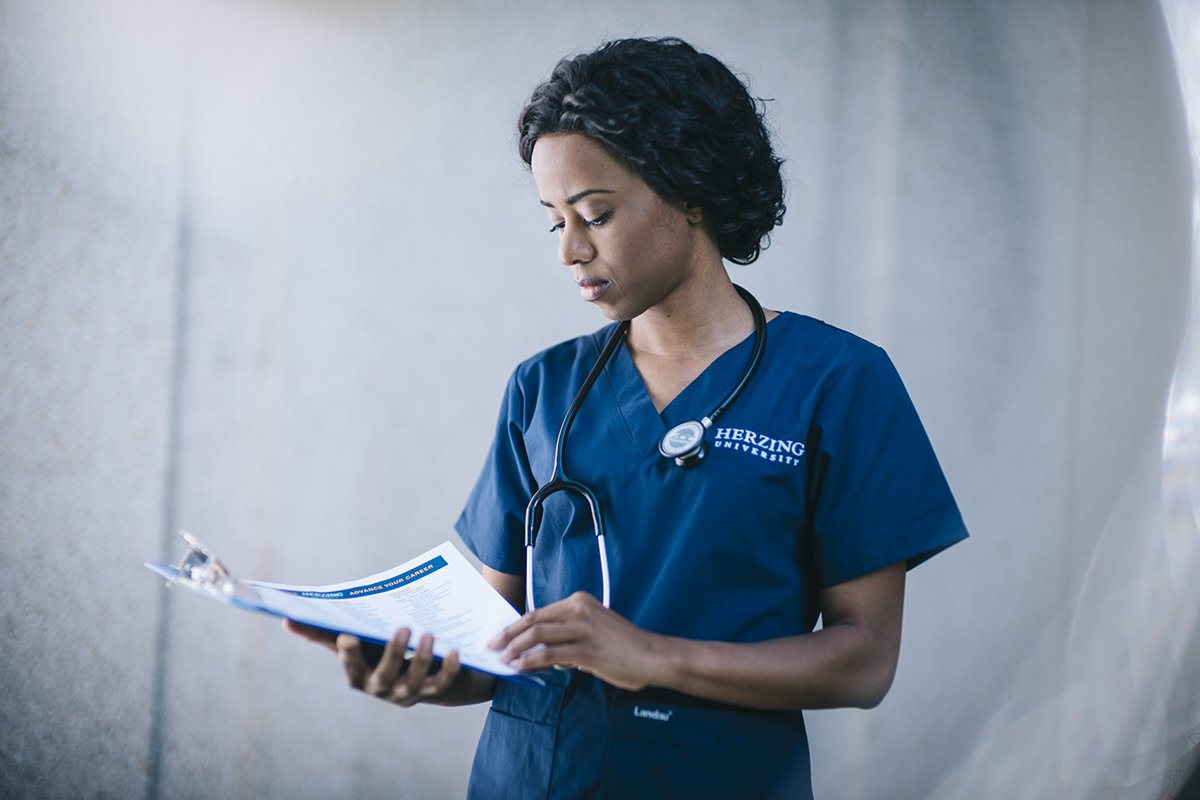 Banner Image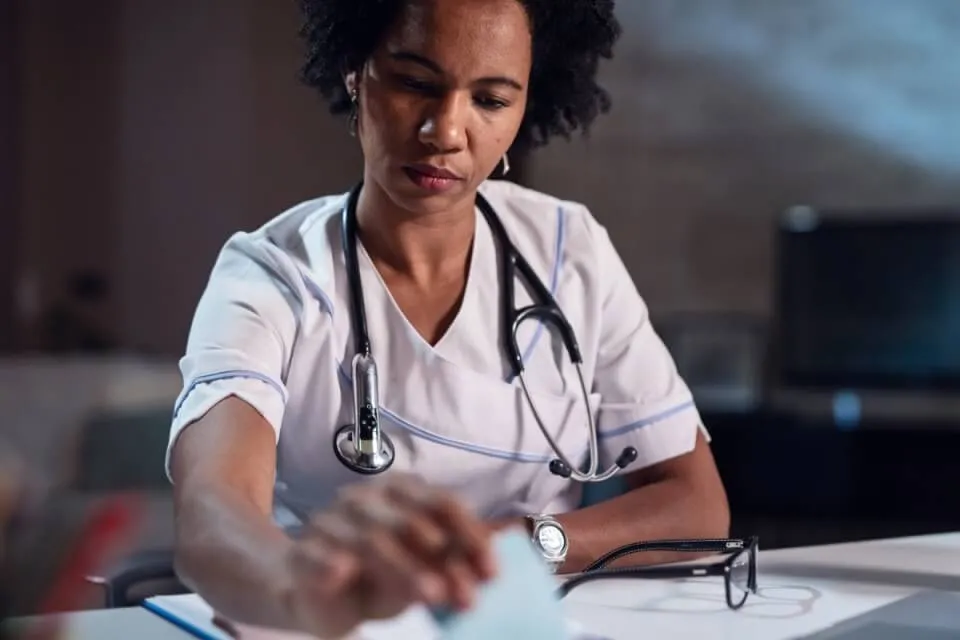 Discover the primary differences between each degree path, including how long they take, curriculum, patient outcomes, NCLEX pass rates, average pay and more.
1. Terminology: ADN vs. BSN vs. RN vs. more acronyms
Current registered nurses may be familiar with the language of nursing and skip ahead—but those new to the field researching educational programs can quickly get lost in a sea of abbreviations and overlapping terminology. What do all these acronyms mean? What is RN vs. BSN or ADN vs. ASN?
Here's a brief review of everything you need to know before diving deeper:
ADN stands for Associate Degree in Nursing. You may also see associate nursing degrees referred to as ASN or AASN. These stand for Associate of Science in Nursing and Associate of Applied Science in Nursing, respectively. The difference between ADN, ASN and AASN are primarily naming preference, but can reflect subtle differences in curriculums or state requirements.
BSN stands for Bachelor of Science in Nursing.
RN stands for Registered Nurse. While ADN and BSN reference types of nursing degrees, RN represents the profession you can practice with a degree. You can qualify to become an RN with an RN diploma, ADN or BSN.
CNA stands for Certified Nursing Assistant and LPN stands for Licensed Practical Nurse (alternatively called LVN – Licensed Vocational Nurse). These are entry-level jobs in nursing that do not require a degree, but can be excellent experience before eventually working towards becoming an RN.
Programs titled "RN to BSN" or "RN to MSN" (that's Master of Science in Nursing) are designed for RNs with an ADN/diploma who do not have a BSN.
2. How long it takes to become an RN
One of the biggest differences between the ADN and BSN degree pathways is the length of time needed to earn each degree. Every school has their own estimates for program length depending on full or part time enrollment.
For students new to nursing, it generally takes 2 years to earn an associate degree in nursing, and roughly 3-4 years to earn a bachelor's degree.
Overall, how long it can take to become a registered nurse can range anywhere from 2-5 years depending on what education you've already received and what degree path you choose.
However, there are several possibilities to decrease the time needed to earn a bachelor's degree depending on your prior education or experience in other healthcare professions.
Our undergraduate nursing programs break down as such:
ADN/ASN program: 20-24 months
BSN program: 36 months
Faster BSN options: Our RN to BSN online program can be completed in as little as 1 year. We also offer a 20-month accelerated BSN program, designed for students who already hold a bachelor's degree in another field. The coursework is more rigorous, but you can potentially earn a BSN faster than an associate degree.
Bridge options for current LPNs, paramedics, respiratory therapists and cardiovascular technicians: Earn an ADN/ASN in 16-18 months or a BSN in 28-32 months.
All estimated timelines vary by campus location. You may be eligible to transfer prior college credit into a degree program and finish even faster.
3. Scope of practice and core competencies
Going from ADN to BSN represents an evolution from technical RN to professional RN. BSN nurses may enjoy increased autonomy in decision making on the job, with increased knowledge and understanding of RN specialties and skills.
ADN nurses are typically highly focused on technical clinical tasks and day-to-day care, such as monitoring patients, administering basic procedures or updating charts.
In addition to direct patient care, BSN nurses have the capability of adopting leadership, administrative and management roles, tilting more of their focus towards big picture initiatives within a healthcare institution. Some BSN nurses may even qualify to advance into roles in public health, nursing research or education.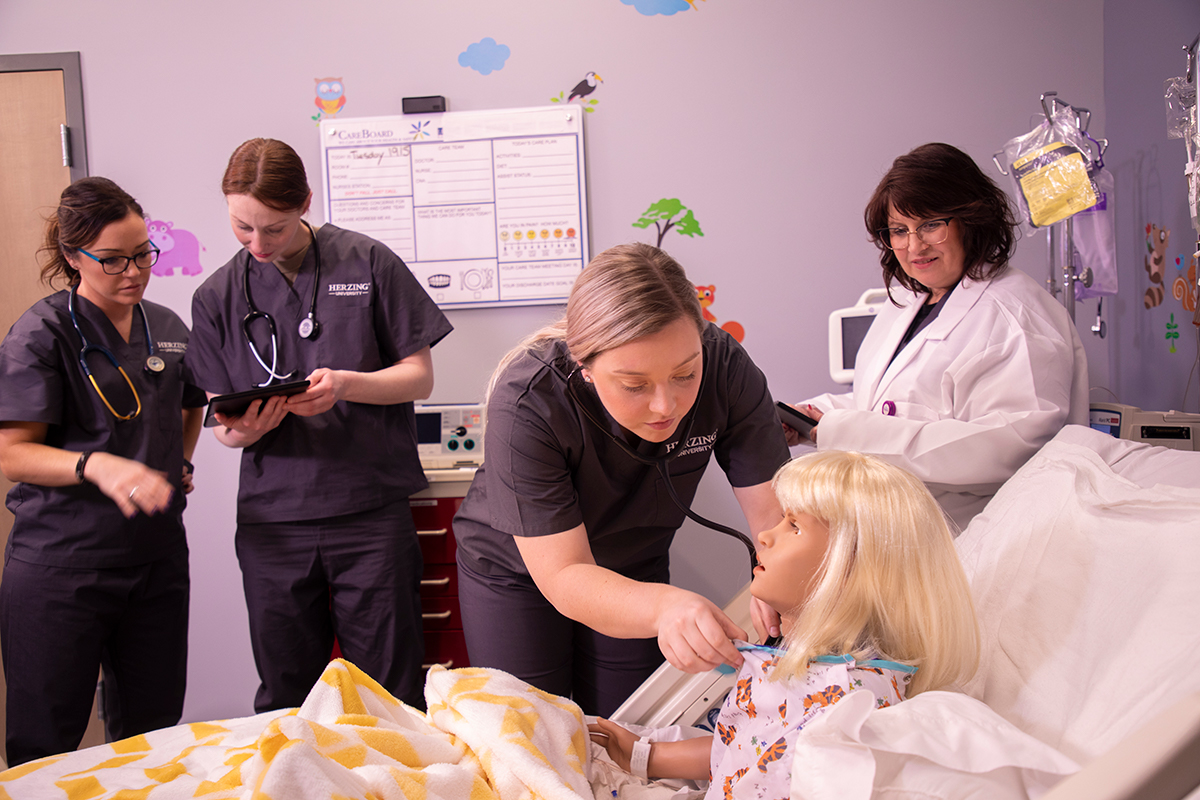 4. Patient outcomes
Several studies suggest patient outcomes may be improved under the care of BSN-prepared nurses. According to several studies cited by The American Association of Colleges of Nursing (AACN):
Baccalaureate-prepared RNs reported as "significantly" better prepared in 12 of 16 areas related to quality and safety
Replacing professional nursing personnel with those in assistive roles may contribute to preventable deaths and diminish the quality of care
A 10% increase in the proportion of BSN-prepared nurses in hospital units lowered the odds of patient mortality by 10.9%.
Because of this, many hospitals have made efforts to emphasize baccalaureate-prepared candidates in the hiring process. Hospitals seeking "Magnet" status are recommended to have an 80% BSN-prepared nursing workforce by 2020.
A 2017 study from the AACN indicates employers have the level of education at top of mind in the hiring process. Based on results from 586 schools of nursing, the study revealed 49% of hospitals and other healthcare facilities require new hires to hold a bachelor's degree in nursing, and 86.3% of employers show a strong preference for BSN graduates.
5. NCLEX pass rates
To become an RN, you will need to pass the National Council Licensure Examination (NCLEX). The exam determines if it's safe for you to begin practicing as an entry-level nurse.
Exam takers who earned a bachelor's degree (BSN) are more likely to pass their first attempt at the NCLEX, according to the National Council of State Boards of Nursing.
The NCLEX is a comprehensive exam covering a wide variety of topics testing what you've learned in your degree program. There are several different types of questions, challenging you to apply critical thinking skills to nursing practice.
Given the expanded course of study in a bachelor's degree program, NCLEX pass rates for these students tends to be higher. Students who have earned an associate degree still usually pass the exam on the first try, but their success rate is slightly lower than BSN holders.
Learn more about the NCLEX exam, including details on eligibility, how long it takes and subject matter covered.
NCLEX-RN Pass Rates on First Attempt, 2018-2020
Degree Level
2018
2019
2020*
Diploma
88.62%
87.89%
87.40%
Associate degree
85.11%
85.17%
86.53%
Bachelor's degree
91.57%
91.22%
92.83%

* Q1 data: January - March
Registered Nurse 2021 Median Salary
by Percentile, BLS*
| Percentile | Annual salary |
| --- | --- |
| Top 10% | $120,250 |
| Top 25% | $97,580 |
| Median | $77,600 |
| Bottom 25% | $61,790 |
| Bottom 10% | $59,450 |
6. Salary
One key benefit of a BSN is you may be able to potentially earn a higher salary by moving up the ladder with your existing employer, qualifying for more types of jobs, or pursue more unique specialties of your choosing.
Given an expected nursing shortage and an optimistic job outlook for RNs in years ahead from the Bureau of Labor Statistics (BLS),* the demand for ADN nurses is expected to remain high. However, BSN nurses tend to qualify best for specialty or senior roles demanding greater experience and education.
Continuing your education and earning more experience will bolster your credentials and position you best to demand a higher salary. The up-front cost for schooling in a BSN program may be higher, but in the long run it can definitely be worth it.
One of the biggest benefits of earning a BSN vs. an ADN is your ability to increase your earning potential.
7. ADN vs. BSN curriculum
Both undergraduate degrees prepare nurses to provide patients care that meets accepted standards for entry-level nursing. Here's the fundamental distinction:
Associate degree programs emphasize clinical skills, with lab training and core nursing coursework
Bachelor's degree programs similarly build clinical skills, with additional training in research, management and leadership to provide a broad, holistic and reality-based understanding of the roles and responsibilities of a professional nurse
Herzing's ADN program includes class topics such as the fundamentals of nursing, adult nursing systems, newborn care, self-care and nursing process and documentation.
Our BSN program includes classes covering patient care across the lifespan, national and global health policy, nursing informatics, evidence-based nursing research and practice, mental health nursing and much more. The BSN curriculum is more comprehensive to help professional nurses learn how to deliver complete, holistic care. Our BSN program is available online, with eligibility in select U.S. states.
An ADN program is designed to help you prepare for entry-level roles as an RN, while a BSN program establishes the same foundation and expands upon it to cover advanced
9. Career advancement
Earning a BSN positions you well for career advancement. You'll have an opportunity to pursue nursing specialties in terms of type of care (oncology, psychiatry, etc.) or patient population across the lifespan (neonatal, pediatric, adult/gerontology).
While Advanced Practice Registered Nurses (APRN) such as clinical nurse specialists, nurse practitioners or nurse anesthetists are required to hold a Master of Science in Nursing (MSN), BSN nurses may qualify for higher paying roles without having to earn an MSN.
However, if a BSN nurse does want to become an APRN or pursue an MSN in a specialty concentration, they will have a shorter path to earning one than a nurse with an ADN or diploma. Then once they've earned an MSN they can potentially qualify for a Post Master's Doctor of Nursing Practice (DNP) program to earn the terminal degree in nursing.
MSN pathways for ADN/diploma nurses
The good news is there are accelerated online RN to MSN program options available to help RNs bridge the gap to MSN faster without having to earn a BSN. RNs who want to move directly into a role as a nurse practitioner, nurse educator or nurse administrator may be eligible to enroll in an RN to MSN program in their chosen concentration and reach the next level in their career more quickly.
We exist to help nurses at any degree level walk a direct pathway to their highest career goals. Advancing your career IS possible with Herzing.
Summary: pros and cons of ADN vs. BSN
Choosing ADN
Finish school faster
Modified curriculum compared to BSN
Transition into employment related to decrease program length
Unique accelerated degree programs available for future career advancement
Lower ceiling on potential earnings
Less likely to pass NCLEX on the first try
BSN sometimes preferred by employers
More limited on-the-job responsibilities
Choosing BSN
Higher earning potential
More comprehensive nursing curriculum
More likely to pass the NCLEX on the first try
Positions you best for career advancement
Takes longer to finish school
Delays working experience as an RN
Higher cost for education
ADN nurses: take the next step
Advancing your education is key to discovering the career path of your choosing.
You can go from RN to BSN online in as little as 1 year and potentially open many doors to future career possibilities, including potential new specialty pathways of your choosing.
Learn more about our RN to BSN program: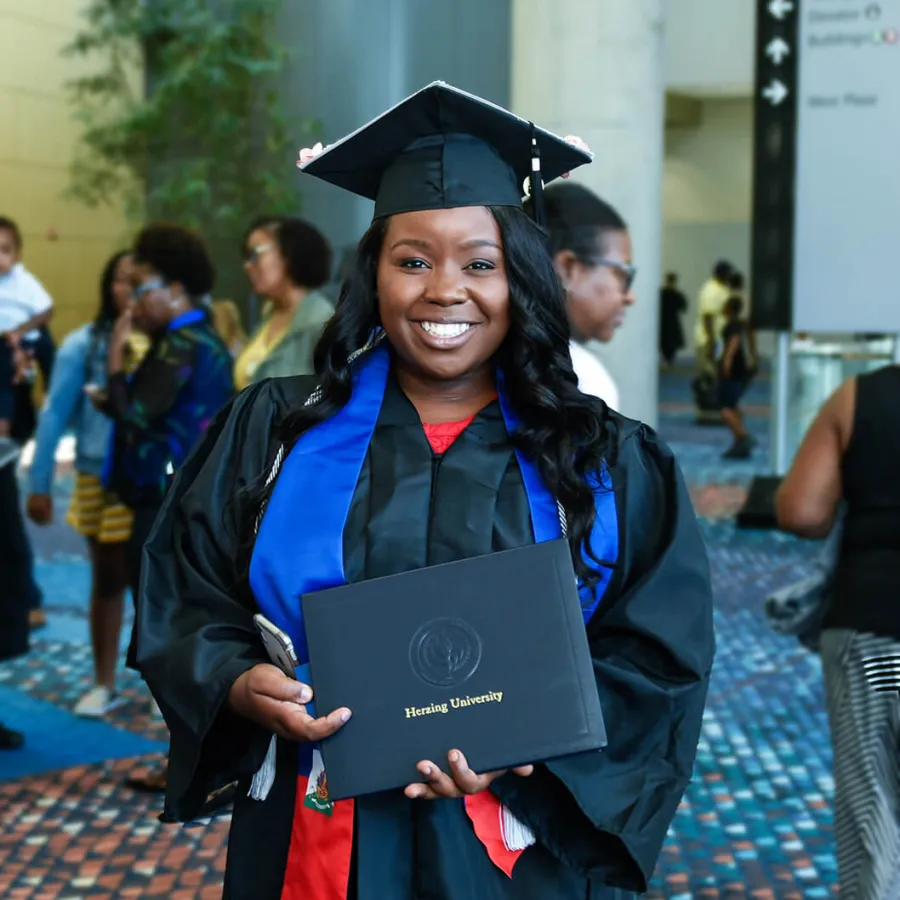 Choosing your career pathway
Should you choose ADN or BSN? There is no single right answer for everyone. Students who want to get started fastest may choose an ADN – and others will definitely find earning an BSN is worth it.
Our goal is to help you pursue your desired career path in nursing no matter where you begin.
---
* Bureau of Labor Statistics (BLS), U.S. Department of Labor, Occupational Outlook Handbook 2022. BLS estimates do not represent entry-level wages and/or salaries. Multiple factors, including prior experience, age, geography market in which you want to work and degree field, will affect career outcomes and earnings. Herzing neither represents that its graduates will earn the average salaries calculated by BLS for a particular job nor guarantees that graduation from its program will result in a job, promotion, salary increase or other career growth.
Locations
Online & on-campus options
Herzing University nursing programs are available online and at 11 ground campus locations, each offering extensive student resources and support as you pursue your nursing degree. Program availability varies by campus location and state eligibility.