Become possible with Herzing University in Minneapolis.
Choose a nursing school in Minnesota who exists to support your career success. Herzing University in Minneapolis offers career-focused nursing programs built to help you earn the education you need to thrive in your career as a nurse. Take the first step to becoming a brand new you.
Herzing University
Minneapolis
Address
435 Ford Road
St. Louis Park, MN 55426
Become a Nurse
How do I become a registered nurse (RN)?
The biggest step you need to take to become a registered nurse in Minnesota is earning your nursing degree. Requirements include passing the National Council Licensure Examination for Registered Nurses (NCLEX-RN) exam and meeting the Minnesota Board of Nursing requirements.
How long it takes
20-36 months1
Enrollment requirements
2.5+ GPA2
Minimum TEAS score3
How much you can make
$84,030/year4
9% projected job growth5
Bachelor's degree program options. Varies depending on your eligible transferrable college credit.
Students with 18 or more transferable collegiate credits will be assessed on their collegiate cumulative GPA. Otherwise, the high school GPA will be used.
Applicant must achieve a minimum score on the most current version of the Test of Essential Academic Skills (TEAS); TEAS score must be from within two years of anticipated date of matriculation. Students with a 3.00 GPA or higher may not be required to take the TEAS. Please contact us for more details.
Average / mean pay in Minnesota, according to 2021 data from the Bureau of Labor Statistics (BLS). BLS estimates do not represent entry-level wages and/or salaries. Multiple factors, including prior experience, age, geography market in which you want to work and degree field, will affect career outcomes and earnings. Herzing neither represents that its graduates will earn the average salaries calculated by BLS for a particular job nor guarantees that graduation from its program will result in a job, promotion, salary increase or other career growth.
Nationwide 2020 – 2030 estimate for Registered Nurses, according to the BLS.
When the economy took a downturn, I decided to pursue a career in nursing. Herzing allowed me to get my degree in just 2 years!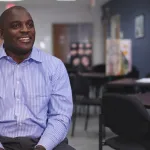 Nursing Program
Madison Campus
FAQ
Frequently Asked Questions
Accreditation
Accreditation & Disclosures
The Bachelor of Science in Nursing program at the Minneapolis campus is approved by the Minnesota State Board of Nursing (2829 University Avenue SE, #200, Minneapolis, Minnesota, 55414-3253, 612-317-3000, www.mn.gov/health-licensing-boards/nursing). Consequently, graduates are eligible to sit for the National Council of State Boards of Nursing (NCLEX-RN) licensing exam upon successful completion of the program. Passing this exam allows graduates to apply to the State Board of Nursing for licensure as a registered nurse.
The baccalaureate degree program in nursing at Herzing University Minneapolis is accredited by the Commission on Collegiate Nursing Education (http://www.ccneaccreditation.org).
The master's degree program in nursing and post-graduate APRN certificate program at Herzing University Madison are accredited by the Commission on Collegiate Nursing Education (http://www.ccneaccreditation.org). Herzing University is approved to offer programs in an online learning modality through association with the main campus in Madison, Wisconsin.