Advance your nursing career
The next step up in nursing from working as a Certified Nurse Assistant (CNA) is Licensed Practical or Vocational Nurse (LPN/LVN). Advance to practical nurse and you can earn the skills and knowledge to officially become a nurse and open doors to many career possibilities in the future.
Here's what you need to know about transitioning from CNA to LPN:
Banner Image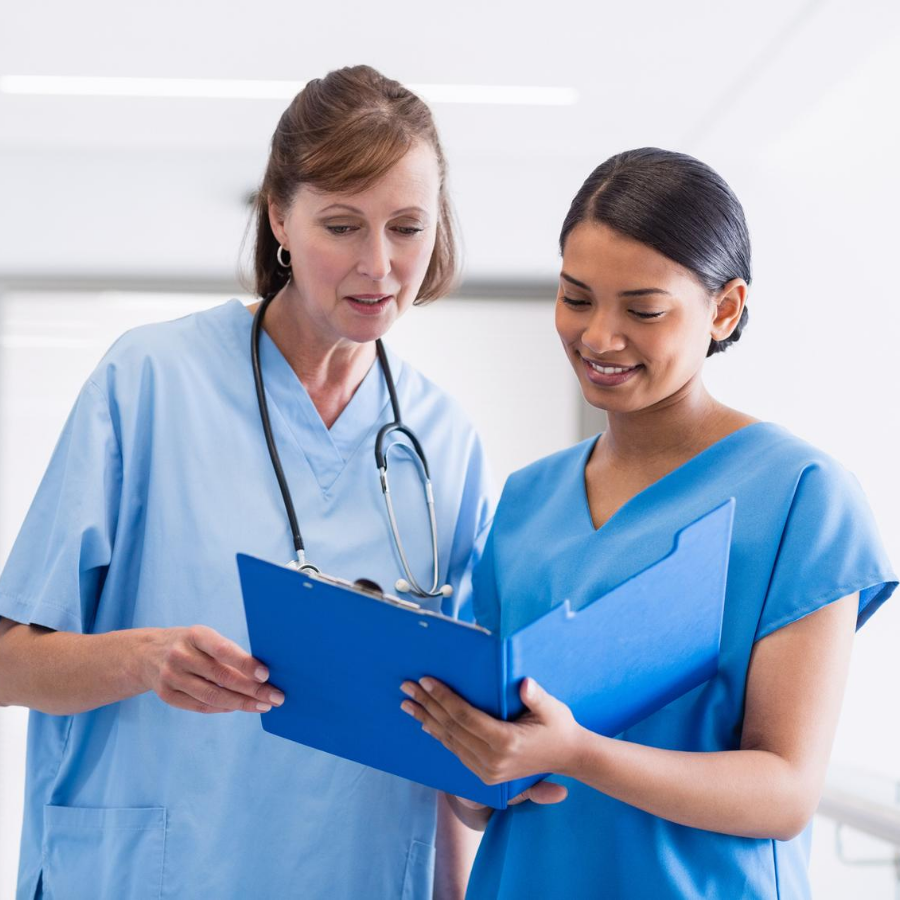 1. CNA vs. LPN duties & responsibilities
There's a big difference between working as a CNA and an LPN. A practical nurse's scope of practice goes well beyond typical nursing assistant responsibilities, such as helping patients bathe, dress, eat, groom, or transport to different areas in a health or nursing facility.
The job description of an LPN can include:
Taking patient vital signs and histories
Changing bandages, inserting IVs or catheters
Performing routine assessments, such as checking blood pressure
Maintaining and updating patient records
Listening to patients' concerns and providing reports to RNs and doctors
The duties of an LPN can vary based on the healthcare facility and state in which they work. Some states do not permit LPNs to administer medication or start IV drips. In some cases, LPNs may supervise other less experienced nurses or nursing aides.
You will expand the scope of care you are allowed to provide as a practical nurse vs. nursing assistant. This is a great starting point to build your skill set and advance your nursing career to the next level. The first step is to get educated.
2. Education requirements
Becoming a practical nurse requires additional education beyond the training required to work as a CNA.
While no college-level credential or degree is required to become a CNA, you must first earn a Diploma in Practical Nursing before qualifying to work as a practical nurse.
You can earn a diploma in as few as 12 months and be prepared for your first job in about a year (three 16-week semesters through our program).
| | |
| --- | --- |
| Length | 12 months |
| Credits | 37-48 (varies by campus |
| Format | On-campus classes |
| Locations | 8 campuses |
3. Certification requirements
After graduating from a diploma program, you'll need to pass the National Council Licensure Examination for Practical Nurses (NCLEX-PN) from the National Council of State Boards of Nursing (NCSBN). Our curriculum is designed with the NCLEX-PN in mind to fully prepare you to both ace the exam and succeed as an LPN right from the start.
How hard is the NCLEX-PN exam?
The exam is designed to be challenging enough to ensure you're ready to succeed in the role.
According to the NCSBN, here's an annual breakdown of the NCLEX-PN exam first-time pass rate from US-educated candidates:
| Year | Test takers | Pass rate |
| --- | --- | --- |
| 2022 | 47,635 | 79.93% |
| 2021 | 46,356 | 79.60% |
| 2020 | 45,661 | 83.08% |
| 2019 | 48,234 | 85.63% |
| 2018 | 47,031 | 85.91% |
You'll need to study hard to feel confident going in for the exam to pass on the first try. Our faculty, staff, and student services teams are always here to help you with your studies and prepare for the exam.
The goal of our program is to help you build the knowledge and skills to qualify for a great job, and preparing for the NCLEX-PN is a huge part of it.
4. Salary potential
With higher educational requirement comes higher short-term cost. However, you can potentially earn a significantly higher salary as a practical nurse than a nursing assistant.
The investment in yourself can really pay off!
According to 2022 data from the Bureau of Labor Statistics (BLS), licensed practical and vocational nurses earn a 54% higher average salary than nursing assistants.
Additionally, the college-level diploma you earn in a PN program can set you up for the next big step in the future, both in terms of responsibility and how much money you can potentially make—becoming a Registered Nurse (RN).
5. Job outlook
While employment of both CNAs and LPNs is expected to rise from 2021-2031, the rate of increase is slightly higher for LPNs, according to the BLS.
More total CNA jobs are expected to be added over that time, but the rate of growth is expected to be a bit higher for LPNs.
Now is a great time to consider working towards the education you need to potentially compete for a growing number of LPN jobs in the future.
6. Where you may work
Nursing assistants and LPNs commonly work together, but it's possible you may find LPN jobs available in different types of facilities than you're used to as a CNA.
Percent of total occupational employment in industry, May 2022i
Industry
Nursing Assistants
Practical Nurses
Nursing Care Facilities (Skilled Nursing Facilities)
34.22%
27.08%
General Medical and Surgical Hospitals
30.26%
12.80%
Continuing Care Retirement Communities and Assisted Living Facilities for the Elderly
10.76%
13.16%
Home Health Care Services
6.24%
13.16%
Employment Services
4.00%
4.61%
Individual and Family Services
2.69%
1.34%
Specialty (except Psychiatric and Substance Abuse) Hospitals
2.08%
1.09%
Local Government, excluding schools and hospitals
1.67%
1.77%
Offices of Physicians
1.40%
12.53%
Federal Executive Branch
1.15%
2.85%
Outpatient Care Centers
0.95%
5.26%

i. U.S. Bureau of Labor Statistics. (2022). Occupational employment and wage statistics, May 2022: All data. United States Department of Labor. https://www.bls.gov/oes/tables.htm. This table includes a selection of the top industries for each occupation. That's why there are only 10 industries listed and percentages do not add to 100%.
Examples of how to interpret this data:
34.2% of all Nursing Assistants are employed in Nursing Care Facilities
12.8% of all Practical Nurses are employed in General Medical and Surgical Hospitals
Employment of practical nurses is generally more spread out among different types of healthcare facilities. While both types are most frequently employed in nursing care facilities, LPNs are less likely to be employed in hospitals and more likely to work in home health care or physician's offices.
7. Career pathway – what comes next?
Become an LPN and you'll climb one step further up the nursing ladder.
Keep in mind you do have additional options to take a bigger first step in nursing if you've decided that's the right career path for you.
Not 100% sold on nursing? There are many additional diploma and associate degree options in allied health and behavioral health you may be interested in, including medical assisting, medical billing and coding, health and human services, sterile processing, and more.
Our goal is to help you discover the career path you've always wanted. The admissions team is eager to help you find your pathway and begin working towards your dream job.
Take the next step
We are here to help you earn a college education and advance your nursing career to the next level. Our nursing school is designed for you – from your first course in a PN program all the way through your final assignment in a doctoral DNP program!
But where you start and how far you progress is up to you. Herzing University can help you discover a rewarding, fulfilling career path regardless of where you take it.
---
* Bureau of Labor Statistics (BLS), U.S. Department of Labor, Occupational Outlook Handbook 2021. BLS estimates do not represent entry-level wages and/or salaries. Multiple factors, including prior experience, age, geography market in which you want to work and degree field, will affect career outcomes and earnings. Herzing neither represents that its graduates will earn the average salaries calculated by BLS for a particular job nor guarantees that graduation from its program will result in a job, promotion, salary increase or other career growth.
Classes Start October 30th
Learn More Today