Banner Image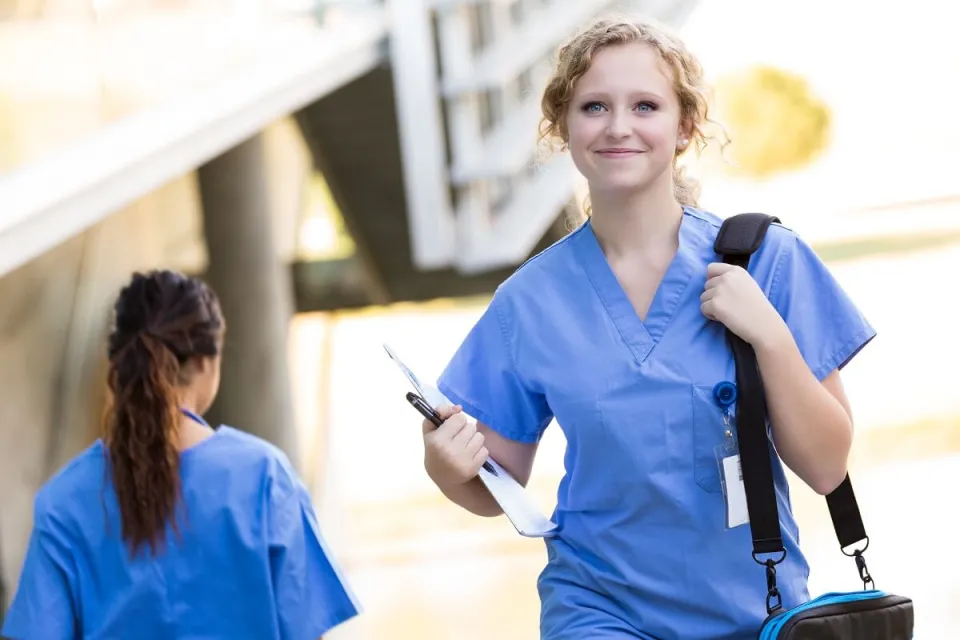 Many people who are interested in nursing as a career start their path as a certified nursing assistant (CNA). If you are a CNA interested in taking the next step to become an LPN/LVN or RN, here are six important things you need to know to help you prepare:
1. CNAs and RNs often work in the same areas.
Both CNAs and RNs often work together in hospitals, medical centers or clinics, nursing homes, or physicians' offices. However, as an LPN or RN you may have greater flexibility and choice in where you work based on your experience and specializations. RNs and LPNs may work in specialty departments, schools, the military, or in unique environments as a travel or flight nurse.
2. CNAs and RNs have different job duties.
CNAs may work under the direct supervision of an RN or LPN, but CNA vs. RN job duties can be different. Like other nurses, CNAs help patients with basic living activities such as bathing, getting dressed, using the toilet, and eating and drinking. They also take vital signs such as temperature and blood pressure.
RNs may help with these tasks, but there is a difference in day-to-day tasks. RNs may spend more time assessing patients' unique health problems and needs, providing medical instructions, tracking health histories, and interacting with physicians and families on patients' care plans.
3. RNs require more training and education than CNAs.
CNA training can be completed fairly quickly. After this, graduates may take a state licensing exam so they have the best credentials to apply for jobs.
RNs typically need two to four years of schooling—depending on their degree and how many credits they take. They can earn their associate degree in nursing (ADN/ASN) in about two years or their Bachelor of Science in Nursing (BSN) in about four years. After their schooling is completed, they may take the National Council Licensing Examination for Registered Nurses exam (NCLEX-RN). This exam tests them on the application and analysis using the nursing knowledge they gained in school.
Students may also choose to pursue a diploma in practical nursing to take classes to become a licensed practical nurse (LPN). These programs generally take 12 months and prepare students to take the National Council Licensing Examination for Practical Nurses exam (NCLEX-PN). Learn more about the difference between LPNs and RNs.
4. RNs can pursue a variety of specializations.
As an RN, you have the opportunity to advance your nursing career and improve patient care by pursuing a variety of specializations that are of interest to you. Some possible nursing specialties include:
Earning an associate or bachelor's degree in nursing and become an RN opens up many different career opportunities you may pursue.
5. Going from CNA to RN may significantly impact salary.
Stepping up from CNA to LPN to RN represents leaps in not only in job responsibilities and opportunities, but also in potential pay.
Average salaries according to the Bureau of Labor Statistics (BLS)*

| Job / Career | Per year | Per hour |
| --- | --- | --- |
| Nursing Assistants (BLS) | $29,580 | $14.22 |
| Licensed Practical Nurse (BLS) | $47,050 | $22.62 |
| Registered Nurse (BLS) | $75,510 | $36.30 |
Because of the high demand for all healthcare occupations, projected by the BLS to be a 14% increase from 2018-2028, the need for CNAs, LPNs and RNs is expected to continue rising.
BLS projected employment increase, 2018-2028*

| Job / Career | Proj. increase |
| --- | --- |
| Nursing Assistants (BLS) | 9% (BLS) |
| Licensed Practical Nurse (BLS) | 11% (BLS) |
| Registered Nurse (BLS) | 12% (BLS) |
By continuing to grow your nursing career you can increase the likelihood of finding a good job and get paid well to do it.
6. You have many pathways for education.
How long it takes to go from CNA to RN depends on the educational path you choose. Herzing University has a variety of programs to choose from, including:
There are many unique options – check out all of our available online & on-campus nursing programs. Availability varies by campus location.
Become possible with Herzing University.
We exist to help you thrive in your career and become the best nurse you can be. If you're a CNA picturing yourself as a registered nurse, we want to help you make that picture reality and build a bridge to your new career. We are here to support your first big step and become your lifelong partner in learning.
---
* Bureau of Labor Statistics (BLS), U.S. Department of Labor, Occupational Outlook Handbook 2020. BLS estimates do not represent entry-level wages and/or salaries. Multiple factors, including prior experience, age, geography market in which you want to work and degree field, will affect career outcomes and earnings. Herzing neither represents that its graduates will earn the average salaries calculated by BLS for a particular job nor guarantees that graduation from its program will result in a job, promotion, salary increase or other career growth.
Classes Start August 9th
Learn More Today