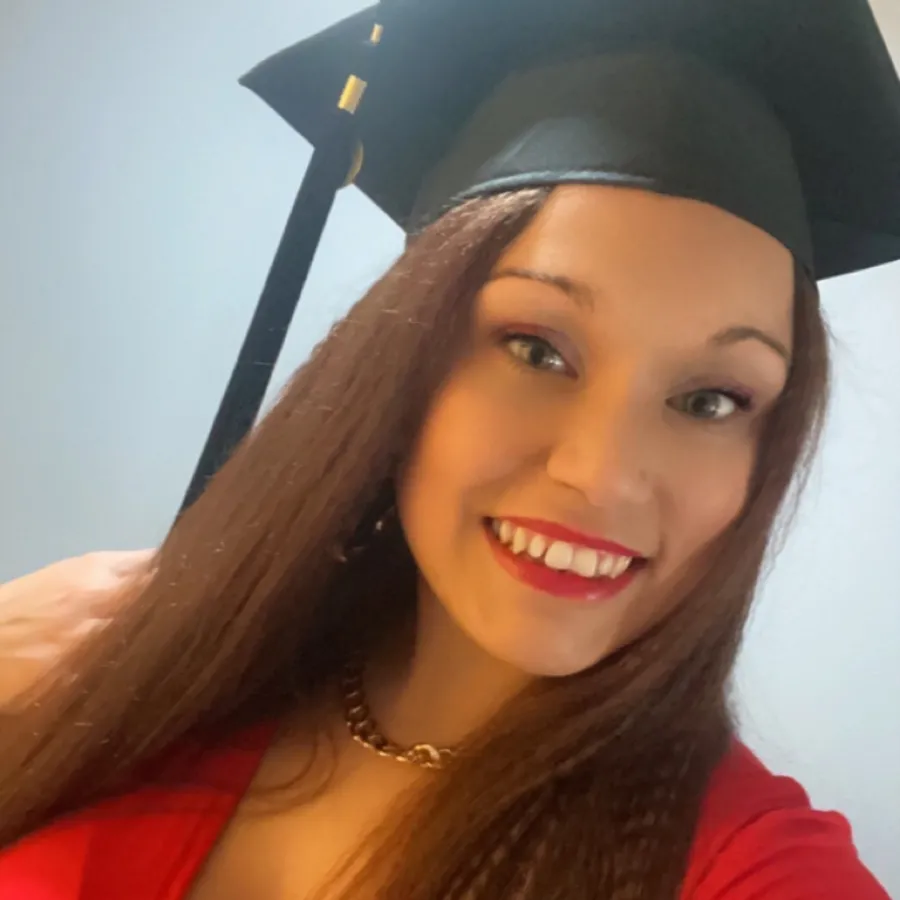 Kelly Hyatt
Herzing Alumni
When you think of accounting, do you think of a boring world of crunching numbers? To Herzing graduate Kelly Hyatt, it's so much more. "To me, accounting is a big part of our life," said Hyatt, a 2021 graduate from Herzing's accounting program. "Whether we realize it or not, we use accounting every day." 
When deciding where to earn her degree, Kelly immediately felt connected to Herzing and their team. Even for a virtual school experience, feeling at home can be a huge part of a successful educational experience. This was something that Kelly found here.
"I immediately felt like I could be successful. The first person I spoke to not only made me feel comfortable but made me feel supported and motivated to finish," said Kelly. "You don't get that everywhere."
As a single mom of two, the flexibility of online courses was a huge plus. And Herzing's strong support system kept her feeling confident in her ability to complete her degree in two years.
"I could complete coursework without missing football games or recitals, which was very important to me," said Kelly. "The workload wasn't easy, but Herzing's resources and support made it manageable."
On top of the strain of schoolwork, Kelly was navigating through an extremely challenging time in her life. During the pandemic, Kelly and her two young children faced homelessness, adding unimaginable stress and responsibilities to Kelly's already busy life. Kelly used the resources offered through Herzing to help her thrive, even when faced with situations that would cause most to stumble or collapse under the strain.
Kelly credits her career coach as a source of motivation and inspiration throughout her educational journey and beyond. "Even after graduation, my career coach still checks in with me," Kelly noted. "I'm more than just a student here. Everyone genuinely wants to help you succeed."
It wasn't just at Herzing that Kelly felt the love and support of those that believed in her.
 "When you're navigating so many ups and downs and trying to balance everything, having people in your life that believe in you makes all the difference in the world." Kelly shared, "My boyfriend never let me stop, even on the days when I wanted to. I am so thankful to have someone that would hold my hand and push me to keep going, even at my weakest moments."
Thanks to the combined support from her family, friends and Herzing's team, Kelly was able to elevate her expertise, earn valuable accreditations and achieve her goal of earning an accounting degree by graduating in December of 2021. And she's not slowing down! Kelly's passion for learning and ambition has ignited a new goal for her to pursue — earning her MBA. "My goal is to always be learning and growing within this field," Hyatt said.
Now Kelly has a new home with her two children and is already putting her degree to good use as an administrative assistant. Her success is a testament to her drive and perseverance that serves as inspiration, not just to accounting students, but to any student who shares her ambition to do more than what they once thought possible.
"Take advantage of the support system here at Herzing and don't be afraid to ask questions," Kelly advised. "Even without face-to-face interaction, I didn't hesitate to reach out to my professors and counselors. And because of that, my experience was extremely rewarding."