How to Become a Surgical Nurse
Banner Image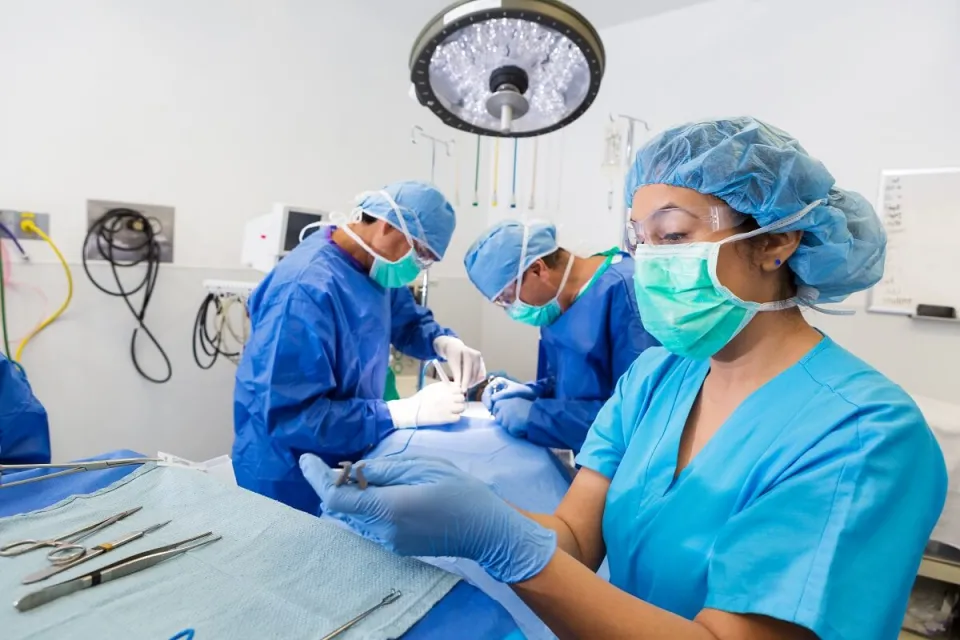 If you are passionate about nursing, detail-oriented, flexible, and thrive in a fast-paced, challenging medical environment, you may consider exploring a career as a surgical nurse.
Surgical nurses, also called perioperative nurses, are registered nurses (RNs) who specialize in surgical care. They work in hospital surgical departments, day-surgery units, or clinics or physician offices that perform invasive procedures. Surgical nurses generally work with health practitioners and technicians in pre-op and post-op areas where they educate the patient and family members before and after surgery.
If you enjoy healthcare, work well under pressure, and pride yourself on offering exceptional patient care, follow these steps to help you prepare for a career in perioperative nursing:
1. Understand the role of a surgical nurse
What does a surgical nurse do?
Surgical nurses, also known as perioperative or operating room (OR) nurses, provide a variety of services, such as assisting surgeons in the operating room and providing care before, during, and immediately after surgical and diagnostic procedures. There are several different roles surgical nurses may fill. Some roles and sample job descriptions are below:
Scrub nurse: Selects and handle instruments and supplies used for surgeries.
Circulating nurses: Manages the overall nursing care in the operating room. Ensure all necessary personnel, equipment, and supplies are readily available. 
RN First Assistants (RNFA): Assists the surgeon(s) in controlling bleeding, providing wound exposure, and suturing.
Pre-op nurse: Performs the necessary duties to prepare a patient for surgery. This may include collecting vital stats and health history, starting IVs, verifying paperwork, and providing emotional support and instruction.
Post-Op nurse (also known as post-anesthesia care unit (PACU) nurse): Receives the patient immediately after the surgical procedure. Monitors for complications as the patient wakes from anesthesia, then coordinates patient transfer or discharge.
Jobs you may get as a surgical nurse
Surgical nurses typically work in hospitals (in areas including: inpatient and ambulatory operating rooms, recovery rooms, medical-surgical care units), ambulatory surgery centers or day-surgery, outpatient centers, clinics, or physician offices. In addition, surgical nurses may take on other responsibilities and titles, including operating room director or manager, clinical educator, and researcher.
Perioperative nurses can also focus on many subspecialties, including:
Neurosurgery
Cardiac surgery
Transplant surgery
Plastic and reconstructive surgery
Ear, nose, and throat
Trauma
General surgery
2. Enroll in a nursing degree program
To become a surgical nurse, you are usually required to be an RN with either an associate or bachelor's degree. Regardless of where you currently find yourself in nursing, Herzing University offers pathways to help you earn the degree you want and become a registered nurse:
** - Program availability varies by campus. Click through to each program for further detail.
At Herzing you'll be immersed into hands-on training designed to prepare you for life as a nurse in your clinicals as well as your future career.
3. Pass the NCLEX exam and become an RN
Once you have graduated from an accredited college or university, you are eligible to take the National Council Licensure Examination for Registered Nurses (NCLEX-RN). Once you have passed the exam and met the requirements of the board of nursing in your state, you will be a certified RN.
4. Get certified
Many employers require additional education and training to become a perioperative nurse who works in the preoperative, intra-operative, and post-operative areas. This experience can be gained from a post-bachelor's perioperative certificate program or in on-the-job programs offered by hospitals and clinics.
Not all employers may require additional education and/or certification for surgical nurses, but it may help increase your earning potential. Certifications that are currently offered include:
CMSRN (Certified Medical-Surgical Registered Nurse)
CNFA (Certified Nurse First Assistant)
CNOR
Additional certification can be gained through the Association of Perioperative Nurses by passing the Certified Operating Room Certification Examination.
Note: Herzing University does not offer these certifications.
5. Start your career as a surgical nurse
Surgical nursing is a fast-paced, exciting career that offers you many opportunities to make a difference every day. You can assist surgical teams and take part in life-saving work, improve patient outcomes, and educate and support patients and family members. There are many areas of perioperative nursing you can focus on, and no matter which one you choose, you can enjoy a rewarding career that offers opportunities for professional growth and financial benefits.
Ready to make an impact in the lives of patients? Start on the path to becoming a surgical nurse today.
Frequently Asked Questions (FAQ)
How much can you make as a surgical nurse?
The U.S. Bureau of Labor Statistics (BLS) does not provide salary estimates specific to surgical nurses but does provide data for registered nurses. According to 2020 data from the BLS, the average annual salary for registered nurses is $80,010. Job opportunities for registered nurses are expected to grow by 7% from 2019-2029.*
Average salaries typically do not reflect entry-level positions. Surgical nurse salaries vary depending on your level of education, years of experience, employer, and location. Discover the RN salary by state for nurses who hold a bachelor's degree.
How long does it take to become a surgical nurse?
Becoming a surgical or perioperative nurse may take approximately 2-5 years, depending on where you are in your nursing education or career, the number of credits you can transfer, and whether you choose a full or part-time schedule.
What makes a good surgical nurse?
Surgical or perioperative nurses must be detail-oriented, adaptive, calm under pressure, and able to juggle multiple priorities with ease. In addition, strong technical skills, the ability to think critically in a fast-paced, challenging environment, and excellent communication skills are important requirements.
Because of the dynamics in and outside of the operating room, it's important that surgical nurses work well in teams. Compassion and emotional stamina are also key traits, because surgical nurses often interact with anxious or distressed family members.
Learn more about what makes a great nurse.
How much does it cost to become a surgical nurse?
The cost to earn your nursing degree varies depending on your school choice and program. Herzing offers a variety of pathways to help you earn your nursing degree.
Herzing also offers flexible online MSN programs to help you further advance your nursing career. In many of our undergraduate nursing programs we offer a dual credit option so you can save time and money if you choose to enroll in an MSN program in the future.
---
* Bureau of Labor Statistics (BLS), U.S. Department of Labor, Occupational Outlook Handbook 2020. BLS estimates do not represent entry-level wages and/or salaries. Multiple factors, including prior experience, age, geography market in which you want to work and degree field, will affect career outcomes and earnings. Herzing neither represents that its graduates will earn the average salaries calculated by BLS for a particular job nor guarantees that graduation from its program will result in a job, promotion, salary increase or other career growth.
Classes Start August 9th
Learn More Today