Post Master's Certificate
Data Analytics
Online Post Master's Certificate
Post Master's Certificate
Data Analytics
Online Post Master's Certificate
Earn a post graduate certificate online with Herzing
| | |
| --- | --- |
| Accreditation | Accredited by the Higher Learning Commission |
| Transfer credit | Up to 12 approved credits |
| Enrollment | Full-time and part-time flexibility available |
| Certification | Opportunity to earn Associate Certified Analytics Professional (aCAP) designation prior to graduation |
| Pathways | Pathways to continued post-graduate education |
| QuickPaths | Transfer credit, stackable credentials, and adaptive learning technology build a faster pathway to a higher education with Herzing University |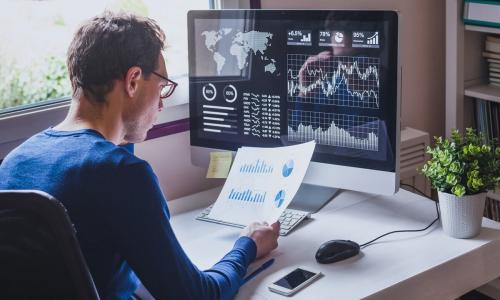 Overview: Online Certificate in Data Analytics
The Post Master's Certificate in Data Analytics is a 16-credit post-graduate certificate program which prepares you for a career as a leader in business and data analysis.
The online certificate program provides students with fundamental knowledge and skills in technology and innovation, applied statistics, analysis methods and models, business analytics, and much more.

Career-focused curriculum
Discover the crucial knowledge and skills required to succeed in your work and build a foundation for continued career growth.

Flexible schedule
You can take classes during the day or in the evening. We strive to be as flexible as possible for busy non-traditional students.

Virtual services
Access to extensive virtual services, including academic advising, tutoring, support services, technical support and library services.

Lifelong support
We support your ongoing career advancement by providing comprehensive, personalized student services with lifelong career coaching.

Rolling admissions
No application deadlines to worry about. Apply when you're ready and prepare to get started soon.
Classes Start January 8th
Learn More Today
Classes & curriculum details
Our Post Master's Certificate in Data Analytics program prepares you to apply quantitative and statistical methods to business problems. Discover the skills and foundational knowledge needed to recommend sources of business data, how to examine them and apply analysis techniques to propose solutions.
All classes are delivered online so you can take them right at home as you continue working.
| Program | Monthsi | Credits |
| --- | --- | --- |
| Post Master's Certificate in Data Analytics | 8 | 16 |
i. Average number of months for students to complete the program attending full-time
Required Courses
All courses, 16.00 semester credit hours, are required.
BU 620 - Technology and Innovation 3.00
This course introduces students to the knowledge and skills needed to manage technology organizations in an increasingly competitive global environment through the successful use of innovation and creativity. The course provides a consistent process for the formulation, implementation, and assessment of technology business strategy and presents a framework for the birth, growth, maturation, and decline of business innovation. Students will analyze technology issues in various business sectors throughout the course and develop findings and recommendations.
BU 681 - Global Business Perspectives 4.00
In this course students will evaluate major global challenges that businesses are faced with. Emphasis will be on economic, political, and cultural characteristics of different regions and how they impact the business landscape locally and globally. Impacts in multiple functional roles will be considered, specifically in the areas of marketing, human resources, finance, healthcare, business intelligence, technology, and project management.
BU 682 - Applied Statistics for Data Analysis 3.00
This class focuses on the mathematical and conceptual foundations of statistics within the context of data analysis.  Students will be exposed to applied applications of probability and statistical techniques.  Additionally, students will be introduced to the fundamental methods of data science and data analytics.  Students will explore the ethics and privacy concerns related to the field. Software tools will be used throughout the course.
BU 684 - Analysis Sources, Methods and Models 3.00
This course explores and evaluates the various methods and standard models used to approach business problems.  Consideration of data sources (including data mining, text mining and databases) and project plans/life cycles will be addressed. Students will assemble data from multiple sources and develop plans, processes, and conclusions. Software will be used throughout the course.
BU 686 - Business Analytics and Data Visualization 3.00
This course allows students to apply data analysis methods to practical business problems.  Multiple functional areas will be addressed including marketing analytics as well as supply & demand forecasting.  Students will utilize industry best practices in the analysis, solution recommendation and visualization of cases.  Software will be used throughout the course.
Tuition & Cost
Tuition & Cost
When you accept the 10% tuition discount from our Financial Commitment Scholarship, the cost of tuition for the Post Master's Certificate in Data Analytics program is $554 per credit.1
You can potentially earn even greater savings by transferring credit from prior college coursework, applying for financial aid, or potential partnership opportunities through your employer.
Our goal is your career advancement. That's why we are always working to improve our curriculum and processes to make our program as affordable as possible while preparing you best for success in your work.
 Scholarships & Financial Aid
You may be eligible for multiple scholarships and grants, both through Herzing University and several national scholarship websites.
 Military/Veteran Discounts
Veterans, Active Duty U.S. Servicemembers, and spouses may qualify for a 10% tuition discount or tuition reduction to $250 per credit.
i. Financial Commitment Scholarship eligibility requirements: Recommended that students limit student loan borrowing to only what is needed to cover the cost of tuition and fees. Students may borrow up to $2,000 in student loans in excess of tuition and fees to cover their cost of attendance and retain eligibility for this scholarship. Excess loan eligibility dependent on individual student situation.
Enrollment prerequisites
The Herzing University's Post-Master's Certificate in Data Analytics program is open to candidates who have completed a Master's degree or higher in a business related discipline from an accredited institution.
Eligible states for enrollment: Alabama, Alaska, Arizona, Arkansas, California, Colorado, Connecticut, Delaware, District Of Columbia, Florida, Georgia, Hawaii, Idaho, Illinois, Indiana, Iowa, Kansas, Kentucky, Louisiana, Maine, Maryland, Massachusetts, Michigan, Minnesota, Mississippi, Missouri, Montana, Nebraska, Nevada, New Hampshire, New Jersey, New Mexico, New York, North Carolina, North Dakota, Ohio, Oklahoma, Oregon, Pennsylvania, Rhode Island, South Carolina, South Dakota, Tennessee, Texas, Utah, Vermont, Virginia, Washington, West Virginia, Wisconsin, and Wyoming.
Career possibilities in business analysis
Even more important than accessibility to data is proper interpretation of the data. As a data analyst, you are the invaluable asset capable of turning a sea of information into a story that's easy to tell. Many aspects of a business require sound, timely data analysis to address problems and clearly present pathways to organizational solutions.
Play a key role in market research and help businesses refine their processes to run smoothly and stay competitive in their industry. Job possibilities in business analysis include:
Data Analyst
Process Analyst
Information Analyst
Business Intelligence Analyst
Data Services Manager
How can I continue advancing my career? Herzing University offers several additional options for post-graduate certificate concentrations. Continue your education, add to your professional credentials and strengthen your case for the next big job opportunity.
According to the Bureau of Labor Statistics:*
Employment of Operations Research Analysts is expected to rise

23%

from

2022-2032

Employment of Market Research Analysts is expected to rise 

13%

over the same timeframe
Now is an excellent time to become qualified for business analysis jobs poised for significant growth in the coming years, well above the average for all U.S. occupations. Learn more about the average salary for jobs in data analytics in the U.S.
FAQ
Frequently Asked Questions
Graduate certificates, alternatively referred to as post master's certificates, typically take less time to complete than a full-time master's degree program. Certificate programs focus on skills and competencies related to a particular career specialization rather than a broader master's degree curriculum.
These advanced certificate programs are designed for students who already hold a master's degree in another field. Depending on your current job and desired career pathway, earning a certificate can make more sense in terms of time and cost than working towards another master's degree.
Working towards a graduate certificate can potentially be the best option for full-time working professionals looking to go back to school yet continue working.
Graduate with a certificate in data analytics from Herzing University and you will qualify to become certified as an Associate Certified Analytics Professional (aCAP). This certification is designed for the entry-level professional who has earned education in the analytics process but does not yet have practical experience.
There are many other potential certifications for which career experience is required, but the aCAP certification is a great starting point to help get your foot in the door for your first entry-level position as a data analyst.
Data analysis and data science are not the same thing. Here's a general way to think about it:
Data analysts examine big data sets to identify trends and create visualizations to help businesses make decisions. They build reports using the tools and materials provided to them using predetermined models. The scope is very focused.
Data scientists concern themselves with the tools, materials, and models provided for analysts. It's up to the data scientists to design and construct new processes to unearth new pathways to organizational insights. The scope is very broad.
According to the Bureau of Labor Statistics, earning jobs in the field of data science often requires a master's degree in computer science or something similar.
Yes!
Data analytics is a vital skill integral to a wide variety of occupations. The job outlook for data analyst-related jobs is projected to be notably higher than the average U.S. occupation.
Becoming educated is the first step to competing for a growing number of jobs in data analytics and earning a post graduate certificate is one of the fastest ways master's degree holders can prepare themselves for the next big step in their career. You can transition your current skills into a variety of different jobs in the field of data analytics (such as going from accounting to data analyst). 
Yes. Herzing University offers multiple online programs for students seeking both foundational and advanced training in the fundamentals of data analytics:
Bachelor of Science in Information Technology with a Concentration in Data Analytics
Master of Business Administration (MBA) in Data Analytics
Post Master's Certificate in Data Analytics
Our goal is to provide you with the career-focused education you need to become a data analyst and advance your career—and make it as flexible and convenient as possible for your life circumstances.
Based on a few of the most common career paths for data analytics professionals, average annual salaries can range from $78,880 for Market Research Analysts to $107,530 for Computer Systems Analysts, according to data from the Bureau of Labor Statistics.*
How much you can potentially make depends on many factors, including state of employment, experience, education level, job roles and responsibilities, and much more.
Learn more about the earning potential in the field of data analytics, including estimates for additional types of jobs.
Data analyst positions require a bachelor's degree, which typically takes around 3-4 years to complete. A master's degree or MBA can be completed in under two years, and a post-master's certificate can be completed in under a year.
It is important to note that the time depends on the specific program, the amount of education you've already earned, and the number of credits you are eligible to transfer into the next degree program.
Succeeding in a career in data analytics requires soft skills such as problem solving, critical thinking, mathematical and analytical thinking, attention to detail, creativity and ingenuity. A great data analyst has a knack for identifying the key takeaways from a dataset and understand how to communicate it to many different types of people, from fellow analysts to C-suite executives looking for actionable insights.
Every job will come with its own requirements for technical skills and programming languages, including SQL, Python, SAS, Git, Excel, R, or many more.
Some jobs with a business emphasis may place a higher value on your ability to communicate the numbers rather than crunch them. Data analytics can become a valid career path for students with all sorts of different educational and professional backgrounds, such as going from accountant to data analyst.
Data analysts can wear many hats. We offer educational programs in data analytics across the spectrum of business and technology to equip students with the tools necessary to thrive in a wide variety of potential career pathways.
Data analysts can be found in just about every industry, including the financial industry, market research, healthcare, government, education, and IT. Some analysts work in an office setting, while others may work remotely from home.
Some data analysts choose to work as an independent consultant on a freelance or project basis. They may provide research or even training for companies on an as-needed basis.
Some potential data analytics job titles include:
Data Analyst
Business Analyst
Computer Support Specialist
Database Administrator
Network Engineer
Post Master's Certificate - Data Analytics Degree Programs
Showing 1 programs for the Online campus
To learn more about this program, click the Request Info button to the right.
Ready to get started?
Contact us to request more information
Accreditation
Accreditation & Disclosures
Herzing University is accredited by the Higher Learning Commission (hlcommission.org), an institutional accreditation agency recognized by the U.S. Department of Education.
* Bureau of Labor Statistics (BLS), U.S. Department of Labor, Occupational Outlook Handbook 2022. BLS estimates do not represent entry-level wages and/or salaries. Multiple factors, including prior experience, age, geography market in which you want to work and degree field, will affect career outcomes and earnings. Herzing neither represents that its graduates will earn the average salaries calculated by BLS for a particular job nor guarantees that graduation from its program will result in a job, promotion, salary increase or other career growth.