If you want to make a difference and help others, a career in healthcare could be the right path for you. Going back to school is never an easy decision, however, even if a healthcare career has always been your calling.
There are a lot of factors to consider – finding the right program, how much you can make as a medical assistant vs. the cost of your education, striking a balance between work, school and your personal life, among others.
We asked recent medical assisting graduates for their advice on navigating the college journey. Here's what they had to say: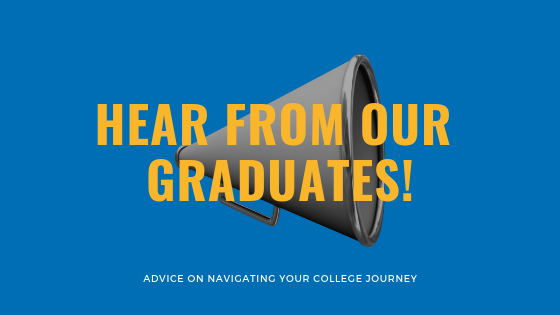 Find a program that works for you
It's important to find a school and program that can meet your individual needs as a student. Flexible schedules and online course offerings can make it easier for you to earn your degree while working or raising your family.
Brandy Rollinson found that being able to complete her classes online was a tremendous advantage.
"I have two children and a full-time job, so going to campus for class seemed impossible with my work schedule," she said. "I chose an online program because I was able to balance my schedule in a way that would allow me to be successful in school."
Ask for help if you need it
Everyone needs a little help from time to time. Your professors want to see you succeed, and they will be there for you whenever you need extra help or support.
"I think it's important to put your best foot forward and talk about any challenges you are facing with the faculty and staff, as they can help guide you to the correct resources for your situation," says Marquita Starks.
"Taking care of my sick mother and running a household while pursuing my degree was extremely difficult, but my professors were always there to help me cope when I felt like giving up," she adds. "Everyone at Herzing is friendly and willing to help you. Your success is their success."
Take advantage of other academic resources
There are a variety of academic resources to support you in your learning and career development. Be proactive about getting the support you need – whether it's a quick visit to the Writing Center, meeting with your career coach, or setting up weekly appointments with a tutor.
Rollinson says that taking advantage of outside resources helped her succeed in the online medical assisting program.
"My favorite resource was the Writing Center," she says. "I could submit a paper for review and they would make suggestions on my writing. It was very helpful."
Believe in yourself
Cherryl Shields always knew she wanted to help others, and a career in healthcare seemed like the perfect fit. It wasn't always an easy journey, but she didn't give up. Now, she's pursuing the career of her dreams as a medical assisting graduate
"At the age of 54, who knew that I had this kind of potential?" she said. "Herzing did, my family and friends did, and finally I did after I saw what I could do. I realized that I am possible!"
Don't lose sight of your goals
No matter what challenges you face along the way, keep your eye on the prize and continue working to achieve your goals. Your dedication and hard work will all be worth it in the end.
"I have been working as a registered medical assistant for almost a year and I have loved every moment of it," says Rollinson. "I would tell other students that you shouldn't let anyone stop you from pursuing your dream or goal in life. Studying hard and doing well in school may take some time, but the end result is very rewarding."
---
* Bureau of Labor Statistics (BLS), U.S. Department of Labor, Occupational Outlook Handbook 2022. BLS estimates do not represent entry-level wages and/or salaries. Multiple factors, including prior experience, age, geography market in which you want to work and degree field, will affect career outcomes and earnings. Herzing neither represents that its graduates will earn the average salaries calculated by BLS for a particular job nor guarantees that graduation from its program will result in a job, promotion, salary increase or other career growth.