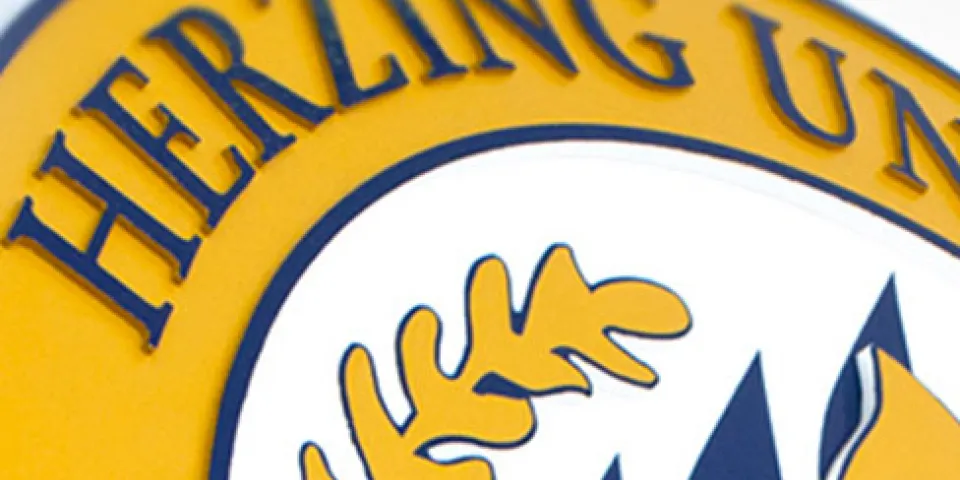 HERZING UNIVERSITY – BIRMINGHAM RECEIVES EMS AWARD
FOR EDUCATIONAL EXCELLENCE
            BIRMINGHAM (NOVEMBER 17, 2014) – Herzing University was awarded the 2014 Marilyn Grubbs Educational Excellence Award, which is presented for outstanding performance in educating Emergency Medical Personnel, at the Annual Birmingham Regional EMS System (BREMSS) awards banquet. Held on November 17, 2014 at the Pelham Civic Center, the awards banquet honors individuals and companies within seven counties in Alabama.
John Reed, BREMSS Education Coordinator, presented the plaque to Mr. Tommy Dennis, President of Herzing University – Birmingham, and Homewood Fire Lieutenant Leo Deason, an EMT Department Chairman, acknowledging the quality EMS students as well as graduates of Herzing University – Birmingham's EMT and Paramedic programs.  "As President of Herzing, I am honored and grateful for the opportunity to work with the many outstanding EMS Fire and Rescue personnel, faculty, and students. My commitment to you is to continue providing students with quality education opportunities."  Dennis was especially proud of Chris Manning, an EMS Herzing student, who also received an award for 2014 EMSP of the year for Blount County.  
About Herzing University - Birmingham
Serving the local community since 1965, Herzing University – Birmingham boasts state-of-the-industry classrooms and labs to provide a real-world, hands-on learning environment, consistent with its "career-focused, convenient and caring" educational mission. Its 26,000-square-foot facility is specifically designed to prepare students for dynamic careers in the fields of technology, business, healthcare, design, and public safety. Students have the convenient option to take courses either on-campus or online toward their bachelor's or associate degree or diploma, and can also earn graduate degrees through Herzing University – Online. Information about Herzing University – Birmingham is available at www.herzing.edu/birmingham.
CONTACT:
Kathy Hasty, Social Media/Community Outreach
Herzing University – Birmingham
280 West Valley Avenue
Birmingham, Alabama 35209
(205) 271-4269
khasty@herzing.edu
www.herzing.edu/birmingham