Renée Herzing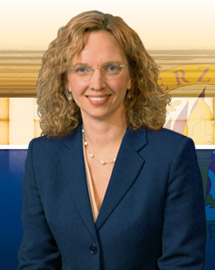 Renée Herzing succeeded her father, Henry Herzing, as President of the Herzing University System on March 1, 2009.
After attaining a bachelor's degree from Brown University, she taught abroad in Scotland and Germany for nine years before completing her M.B.A. online.
She has worked in various positions at Herzing at the campus level, including Registrar, Director of Admissions, and President of Herzing Online. In addition, Ms. Herzing has overseen the System's online, strategic planning, and IT initiatives. She launched the System's Online division in 2003, which has grown from 100 students to over 1600 students (July 2014).
President Herzing has been a member of the Board of Directors for the Association of Private Sector Colleges and Universities (APSCU). She is also active in business groups such as TEC and various educational idea-sharing groups.
Outside of work, she enjoys travel, music, and most of all, spending time with her husband and two children.
Meet the Founder – Henry G. Herzing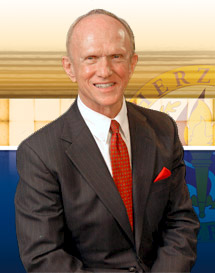 Henry G. Herzing is the founder of Herzing University. His academic credentials include: a B.S. in Electrical Engineering from Northwestern University, an M.S. in Electrical Engineering from New Mexico State University, and an M.B.A. from Marquette University. In 2011 he recieved an honorary Doctor of Philosophy degree from Sullivan University for his contributions and outstanding service to higher education throughout his career. Prior to founding Herzing University in 1965, his experience included Systems Engineering with Litton Industries and serving as Senior Missile Test Officer for the U.S. Navy at White Sands Missile Range.
Mr. Herzing has served as President of Wisconsin Council for Independent Education for fifteen years, President of the National Association of Trade and Technical Schools, and President of the Career Training Foundation. He served four years on the Board of Directors of the National Center for Higher Education Management Systems, a research institution on higher education.
By appointment of the Governor of the State of Wisconsin, Mr. Herzing served on the Wisconsin State Advisory Council on Vocational Education for six years, including a term as Vice-Chairperson. He also served on the Governor's Education Advisory Committee, which functioned as an advisory committee on all aspects of education in Wisconsin.
Elected to the National Accreditation Commission for private career colleges in Canada, he served for four years as its Chairperson.
As a tangible recognition of his contributions to career education, he has received the Community Service Award as well as the Outstanding Member Award from the National Association of Trade and Technical Schools. He has also received the "National Industry Leadership Award" from the National Association of Career Colleges (NACC) in Canada, making him the only person to be so recognized by national career college associations in both the U.S. and Canada.
In his free time, Mr. Herzing treasures time with his wife, children, and grandchildren, especially when traveling together. A student of foreign language and song, he loves sharing his appreciation of language and culture with friends and family. Mr. Herzing continues to pursue voice and dancing lessons and hopes to take additional culinary courses. He is a champion windsurfer (among the "ancient mariners," he says) and an aspiring golfer. With the latter sport, he relates the advantage is that when he messes up, the ball goes in the water, not him.