There has never been a better time to advance your nursing career by earning your MSN. The nationwide nursing shortage, fueled by an aging baby boomer population and growing demand for medical care, is expected to increase as 500,000 nurses reach retirement age by 2022.
In fact, the U.S. Department of Labor predicts nearly 1.1 million RNs will be needed by 2022 to offset the gap left by retirees and fill 100,000 new nursing jobs each year.
As more new nurses join the workforce, experienced nurses will have the opportunity to move into specialized roles and leadership positions, such as a nurse educator or a family nurse practitioner (FNP).
Which MSN pathway is right for you?
Nurse educator vs. nurse practitioner: What's the difference?
Nurse educators are essential for ensuring that the RN workforce can meet the healthcare needs of current and future generations. As registered nurses return to school and new students seek entry to ASN or BSN programs, colleges and universities are under increased pressure to find qualified faculty to educate and train future nurses. In fact, 83 percent of nursing programs sought to hire new faculty in 2015.
Nurse educators also serve an important role within the hospital system. Their depth of knowledge and experience in the field means that they understand how to convey critical and lifesaving information to other nurses and can help improve processes to mitigate risks to the patient, nurse and hospital.
While nurse educators work to train future generations of nurses, family nurse practitioners (FNPs) are leading change in patient care. Nurse practitioners are more in demand than most physicians, as more states give direct access to nurse practitioners for patients who need primary care. FNPs can make an excellent yearly salary; read more about the average family nurse practitioner salary.
FNPs administer advanced nursing services to patients and their families and are also instrumental in disseminating knowledge and resources for health promotion and disease prevention. FNPs may choose to specialize in a specific field of care, such geriatrics, pediatrics, or mental health.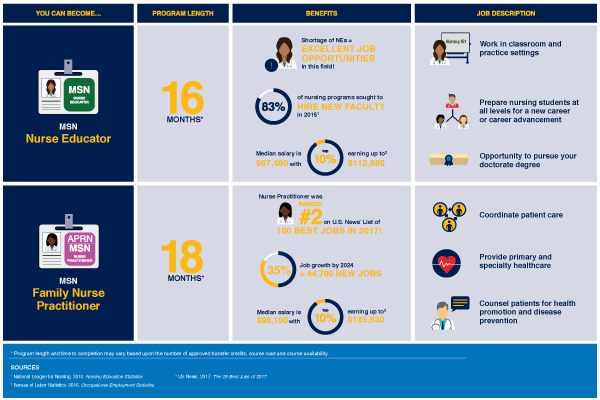 We can help you choose a nursing specialty.
Take our quiz to find out what kind of nurse you should be. Based on your responses to a handful of basic questions about your background, professional strengths, tendencies and preferences, we'll give you a starting point to begin on an educational pathway that's right for you.
No matter which pathway you choose, earning your MSN will help you unlock valuable opportunities for leadership and specialization. As a nurse educator or FNP, you'll also play a pivotal role in defining the future of healthcare.
---
Bureau of Labor Statistics (BLS), U.S. Department of Labor, Occupational Outlook Handbook. Multiple factors, including prior experience, age, geography and degree field, affect career outcomes. Herzing does not guarantee a job, promotion, salary increase or other career growth. BLS estimates do not represent entry-level wages and/or salary.