If you're looking to start an exciting and rewarding career that doesn't require years of higher education, you might want to consider becoming an Emergency Medical Technician (EMT). EMTs play a vital role in both public safety and healthcare by caring for and transporting sick and injured people during emergencies. 
The field is also growing. According to the Bureau of Labor Statistics (BLS), EMT jobs are expected to grow 5% from 2022-2032. This anticipated growth is based on age-related health emergencies and others such as car accidents, natural disasters and violence. This demand is expected in both metropolitan and rural areas. 
If you're considering a career in the field, ask yourself if you're willing to embrace the below qualities that make for a successful EMT.
Banner Image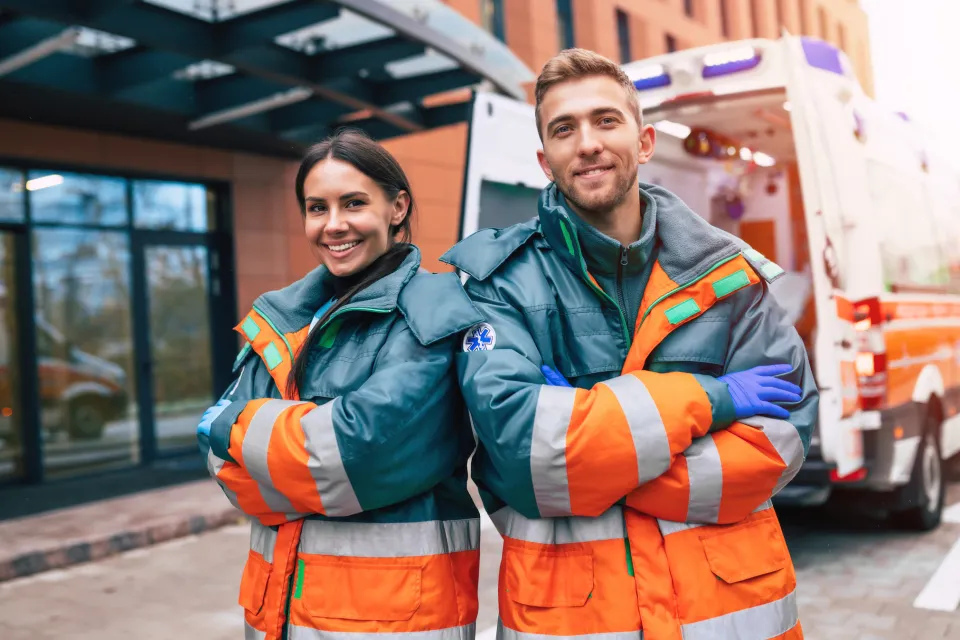 1. Communication, and ability to remain calm in stressful situations
When the word "emergency" is in the title of a position, it's clear that not everyone will be a good fit. To make quick and accurate decisions that could save lives, EMTs must be able to remain calm and level headed during emergencies. Getting wrapped up in the drama of a situation could cause the EMT to miss something important or make a mistake.
Being a strong communicator is a crucial aspect of being a successful EMT. Being able to communicate quickly and effectively in heart-racing situations is an entirely different kind of communication skill. Strong communication skills also include non-verbal communication. Staying calm and collected in front of a distressed patient will calm their nerves and de-escalate uncertain situations. EMTs are also responsible for effectively communicating with other first responders to ensure the patient is accurately assessed and treated. 
2. Flexible
If you are someone who likes having a lot of structure throughout your day, then becoming an EMT is perhaps not the best career for you. Emergencies can happen at any time, sometimes when you are the least prepared. You could also find yourself working in a challenging situation where the environment changes or is out of your control. While this can be frustrating, an EMT should be prepared to deal with any situation and adapt quickly while prioritizing patient care.
3. Confidence
You can possess all the traits of a successful EMT, but it won't matter if you lack the confidence to do the job. Believe in yourself and your ability to help others - you can do this! Your training, education and instincts will serve you well. While the road to being a successful EMT may be daunting, it is something you can (and will) do! Be confident in yourself and watch the rest fall into place.
4. Kindness
Being detached doesn't mean you have to be cold. A kind attitude will increase the quality of care you provide and bring comfort to those who need it. You'll get the most out of your career when you have compassion for your patients. Stay humble and stay kind.
5. Good interpersonal skills
While taking care of patients is your top priority as an EMT, you also need to exhibit a calm, professional attitude when you interact with others. For example, you might have to talk to an injured person through an extremely scary situation or answer questions from family members or bystanders. Emergency scenes can be chaotic, and part of your job as an EMT is to help make sure others stay safe and that they have the information they need to know. Being personable while controlling your emotional response can help others understand what's going on and ultimately deescalate the situation.
6. Team player 
During an emergency, EMTs are expected to maintain control while working closely with other first responders to help individuals and deescalate the situation. They usually respond to emergencies with at least one other EMT or emergency response professional, and they must all work together in order to save lives and reduce harm as quickly as possible. Additionally, EMTs have to communicate with an emergency dispatcher throughout the emergency and provide details on a patient's status to doctors or nurses once they arrive at the hospital. 
7. Patience
Staying patient will aid you throughout both your educational journey and career path. Give your classes the effort they deserve. Herzing offers programs that last from 4 to 16 to 20 months, providing students the chance to choose the option most convenient for their schedule. Once you are on the job, remaining patient with the pace and unpredictable nature of your schedule will make your professional experiences that much more enjoyable.
8. Positive attitude
Being an EMT is stressful and challenging, but maintaining a positive attitude is important when making decisions that could save lives. Great EMTs embrace continuous learning without becoming easily discouraged, but this doesn't mean they must always love their job or pretend that everything is 100% okay all of the time. They can have bad days, but the best EMTs deal with them appropriately to ensure they don't hinder the quality of care that they administer to patients. This includes putting patients' needs before their own, even if they are inconvenienced or troubled with other life distractions. 
9. Professionalism
Being involved in such intense situations can be emotional, but EMTs must remain professional throughout the entire process. Remind yourself that this is your job, and as stressful, draining or frustrating as it may be, your responsibility is to provide the best care possible professionally. Allow your emotions to fuel your motivation to help but detach yourself enough to allow yourself to provide the necessary care. 
10. Eagerness to learn
Even after you've completed the necessary schooling, you will continue to learn and grow through your experiences on the job. Being a lifelong learner is a common trait of great first responders. No matter your skill level, being enthusiastic about learning will take you far not only in your career but in life as well. Plus, you never know when the education bug will bite and you may return to school for new certifications, greater job opportunities or to segue into your next career path.
Take the next step with Herzing
We can help you earn the education you need to become an EMT and start an exciting new career path in healthcare.
We know you are possible!
---
* Bureau of Labor Statistics (BLS), U.S. Department of Labor, Occupational Outlook Handbook 2022. BLS estimates do not represent entry-level wages and/or salaries. Multiple factors, including prior experience, age, geography market in which you want to work and degree field, will affect career outcomes and earnings. Herzing neither represents that its graduates will earn the average salaries calculated by BLS for a particular job nor guarantees that graduation from its program will result in a job, promotion, salary increase or other career growth.
Classes Start January 8th
Learn More Today