Advance your nursing skills—and your career
Program length: 16-18 months
Transfer up to 54 approved credits
Offered at multiple campus locations
Online general education classes + core on-campus courses
Degree pathways to continue your education (BSN, MSN)
Prepare for the NCLEX-RN examination to become a licensed registered nurse
Advance Your Nursing Skills and Your Career
Elevate your skills as a Licensed Practical Nurse (LPN) license to a Registered Nurse (RN) and open the door to greater responsibility and income. Offered at the Birmingham, Alabama and Orlando, Florida campuses only, Herzing University's accredited LPN-to-RN Bridge Program allows LPNs to apply previous coursework toward an Associate Degree that prepares you to take the NCLEX-RN exam and become a registered nurse.
As a registered nurse you'll be the backbone of day-to-day operations in many healthcare settings. RNs help develop and direct treatment plans, counsel patients and family members, ensure patient comfort and serve as the key connection between doctors and patients.
Prepare for the next step in your nursing career by completing any of Herzing University RN programs. The LPN to RN Bridge Program, Associate of Science in Nursing, Associate of Applied Science in Nursing and Bachelor of Science in Nursing all prepare students to take the National Council Licensing Examination for registered nurses exam (NCLEX-RN) and become a licensed registered nurse (RN).
Classes Start September 8th
Learn More Today
An RN can perform diagnostic tests, operate certain medical equipment, consult with a physician on a course of treatment and administer medication. In addition to working in general healthcare practice, RNs also can specialize in areas such as pre-operative care, diabetes management, pediatric oncology, geriatric care, ambulatory care and dermatology.
There are many types of nursing careers that may interest you. In addition to working in general healthcare practice, RNs also can specialize in areas such as pediatric care, geriatric care, OBGYN, trauma, ER and many, many more. Take our nursing personality quiz to find out what specialty might be best for you.
Nursing career pathways: routes to furthering your nursing career
Depending on who you are and who you want to be, you may consider many different options with Herzing University:
I want to become an RN fast. The LPN to ASN program is your fastest path to earning your degree, sit for the NCLEX-RN and become a registered nurse.
LPN to BSN program. You may elect to begin working towards your bachelor's degree in nursing. This option is available at four Herzing University campuses: Brookfield, Wisconsin, Kenosha, Wisconsin, Madison, Wisconsin, and Minneapolis, Minnesota. This might be the best choice if you plan to work towards a career in nursing management or leadership.
Online RN to BSN program. After earning your ASN you may want to return to school someday to earn your BSN. The RN to BSN program can help you do so in 1 year or less.
Herzing's goal is to help you grow into the career you've always wanted and our nursing programs are designed to help you achieve it.
Curriculum
LPN to Associate in Nursing Program Curriculum
Advancing your nursing skills and training through Herzing University has multiple paths. For LPNs seeking to become Registered Nurses (RN) there are a couple of options.
Herzing University in Akron offers the LPN to AASN Bridge program which requires about 73 credits and typically takes about 16 months to complete.
Akron LPN to AASN Bridge Program
Herzing's Birmingham, Alabama, campus offers the Associate in Nursing (ASN) LPN to RN bridge program which requires about 72 credits to complete and typically takes about 16 months to complete. Your prior work, academic, military and professional training may provide additional options.
Birmingham LPN to RN - Associate in Nursing Program
Herzing University - Orlando, Florida campus offers the Associate in Nursing (ASN) "Bridge to ASN" program, which requires about 72 credits and can typically take 18 months to complete. Both ASN degree program coursework include a significant amount of clinical training and course cover topics like management and pharmacology.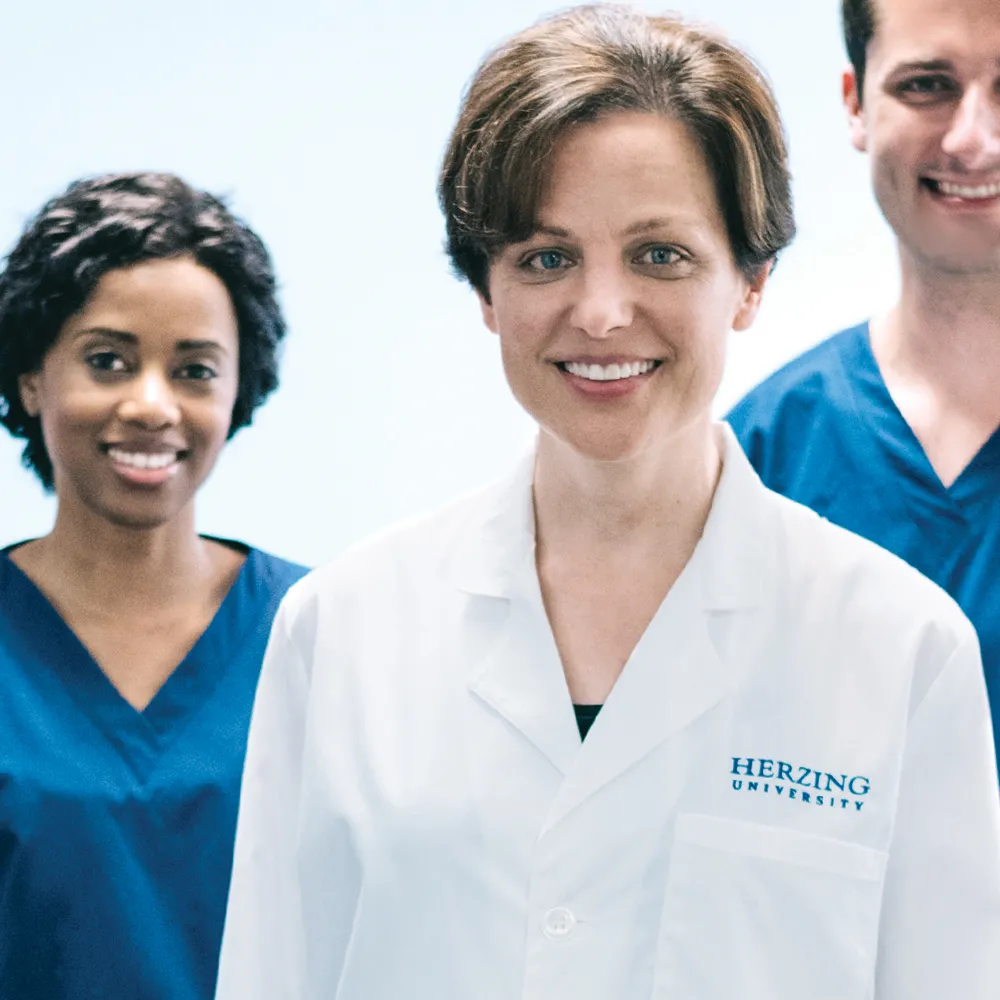 LPN to Associate in Nursing Degree Programs
Showing 1 programs for the Online campus
To learn more about this program, click the Request Info button to the right.
Ready to get started?
Contact us to request more information
Requirements
Enrollment requirements
To be considered for admission into the ASN program, you must hold a high school diploma or equivalent (Diploma, HSED or GED) and meet the following criteria based on your cumulative GPA:
Cumulative GPAi
Science Requirement
TEASii
3.50–4.00
None
None
3.00–3.49
3.00 GPA in college scienceiii
None
2.50 and higher
None
Composite TEAS of 58

i. Students with 18 or more transferable collegiate credits will be assessed on their collegiate cumulative GPA. Otherwise, the high school GPA will be used.

ii. The Test of Essential Academic Skills (TEAS) from the Assessment Technology Institute (ATI).

iii. Based on your cumulative GPA in these college science courses: Anatomy & Physiology I and II, Biology, Chemistry, and Microbiology. Two of these courses must be used to calculate science GPA. Any of these courses completed must be included in the calculation, and no others. If you do not meet this requirement, you must score a composite score of 58 or higher on the TEAS. A grade of "B" or better must be earned for transfer credit to be awarded for Anatomy & Physiology, regardless of whether it was included in the calculation.
FAQ
Frequently Asked Questions
The biggest difference between a RN diploma and an associate degree nursing program is that students in an associate degree program take college courses, and students in a RN diploma program do not. The advantage of an associate degree program is you get a head start on further education—your college course credit will transfer into an online RN to BSN program should you choose to pursue your bachelor's degree.
Both RN diploma and associate degree programs take about 2-3 years and prepare students for licensure as a registered nurse. However, students with only a diploma have much more time and energy ahead of them to earn their BSN.
With Herzing University you are never alone. It's our goal to provide all students an affordable, career-driven education. Financial aid options include:
You can find an estimate for tuition and expenses by using the Herzing University tuition wizard.
It's a question of:
What your goals are
How quickly you want to reach them
If your goal is to become an RN quickly, the best choice may be an associate's degree program since you may be able to become an RN in less than 2 years.
If your goal is to become an RN and potentially advance further by working towards a master's degree in nursing (MSN), your best option is a bachelor's degree in nursing program.
Read about the most basic differences between ADN vs. BSN and discover what's best for you.
You cannot truly complete any accredited associate degree program in nursing 100% online. There are some programs that offer all online coursework, but in any program you will need to complete a required amount of lab or clinical hours, and that cannot be completed online.
The Herzing University ASN program does offer flexibility to complete your general education classes online. Otherwise the remainder of the program must be completed on campus.
Herzing University wants to empower you to reach your educational goals. We can help you earn an associate's degree which is the first step to becoming a registered nurse. Give us a call at 800-596-0724 or request for more information to begin your new career.
ASN: Associates of Science in Nursing
ADN: Associates Degree in Nursing
AASN: Associates of Applied Science in Nursing
For the purposes of being eligible for the NCLEX exam and becoming a registered nurse, there isn't much of a difference between these types of degrees. Either way you will get an associate degree and be qualified to become an RN.
In general, higher education institutions determine the terminology to use based on the nature of their program and what they emphasize as a priority.
As a career-focused organization, Herzing University stresses the importance of real, engaging coursework to prepare you for a job in the field—so we offer an Associates of Science in Nursing (ASN) at our Birmingham and Orlando campuses, and our Ohio campus offers an Associates of Applied Science in Nursing (AASN). 
Compare ADN vs. BSN and discover the difference between the two undergraduate degree paths for nurses.
Yes. Demand remains extremely high for all registered nurses, and if you earn an associate degree, pass the NCLEX and meet the board of nursing requirements in your state, you're one of them.
Nurses with bachelor's degrees may have an advantage in earning a nursing position at a hospital (especially hospitals seeking Magnet status), but nurses are currently in such high demand many healthcare organizations are eager to hire ASN nurses.
Because nurses with a BSN have earned that next degree level and generally have the edge on the job market, they will on average earn a slightly higher salary than nurses with an ASN. However, there are always exceptions; an ASN with several years of an experience may earn a higher salary than an RN with a BSN who is just starting their career.
Registered nurses on average earn $80,010 per year ($38.47 per hour) nationwide, according to the Bureau of Labor Statistics—although estimates will vary based on your state of employment.* Find the average BSN nurse salary in your state.
Disclosures
Accreditations
Accreditations & Disclosures
* Bureau of Labor Statistics (BLS), U.S. Department of Labor, Occupational Outlook Handbook 2020. BLS estimates do not represent entry-level wages and/or salaries. Multiple factors, including prior experience, age, geography market in which you want to work and degree field, will affect career outcomes and earnings. Herzing neither represents that its graduates will earn the average salaries calculated by BLS for a particular job nor guarantees that graduation from its program will result in a job, promotion, salary increase or other career growth.