Program
Carve a rewarding career path in IT management.
A degree in technology management can help tech-savvy business-minded individuals discover a new career path offering a wide variety of IT related job opportunities across almost every type of industry and workplace.
IT Manager Ranked #3 Best Technology Jobs of 2021 by U.S. News & World Report
Leverage your existing industry skills or diploma/associate degree into a technology management program built to help you get the education needed to excel in a technology management role.
We are here to help you take your first step as a lifelong partner in learning.
With Herzing University your new career IS possible.
Classes Start October 4th
Learn More Today
Curriculum
IT management program classes & curriculum details
In addition to building a strong foundation in business management and finance, students will have the opportunity to gain valuable skills in computer networking, systems administration or software development, based upon their interests. Students wishing to gain exposure to both hardware and software skills rather than focusing on one or the other may do so through the wide variety of elective courses available in the program.
Graduates have the business credentials and technical capabilities needed to manage systems and direct network technology in today's corporate setting.
| Program | Monthsi | Credits |
| --- | --- | --- |
| Bachelor of Science in Technology Management | 36 | 122 |
i. Average number of months for students to complete program
Program availability varies by location
You may be able to finish the program in less than 3 years by transferring prior credit from technical coursework, either from Herzing or another college or university.
Required Management Core Courses
All courses, 36.00 semester credit hours, are required.
AC 107 - Accounting I 3.00
This introductory course in accounting provides the practical application of the principles of financial accounting for service and merchandising businesses. Topics include an introduction to the conceptual framework of accounting using GAAP rules established by FASB, analysis and recording of transactions in the general journal and posting to the general ledger, completion of the accounting cycle by preparing end-of-period adjusting and closing journal entries, financial statements and the post-closing trial balance, an introduction to internal controls, and the calculation of inventory and cost of goods sold using the FIFO, LIFO, and weighted average methods.
This course introduces corporate financial management and analysis. Topics include evaluating financial performance, measuring cash flow, capital budgeting, and the cost of capital.
BU 106 - Introduction to Business 3.00
This course introduces the environment of American business with an overview of various topics that serve as a foundation for further study of business. Topics include the environments in which businesses operate, the organizational structures of businesses, management functions in an enterprise, and the challenges of managing marketing, operations, information technology, finance, and human resources.
BU 204 - The Digital Firm and Business Communications 3.00
This course presents an overview of technology-based issues within a business environment. Topics include the concept of digital firms and ERP systems in the areas of marketing, operations, human resources, manufacturing, finance, social networking, and supply-chain management. Additional areas to be discussed are privacy issues, government regulations, and technology on a global scale.
BU 206 - Business Law I 3.00
This course provides a study of the American legal system and its effect on business and business organizations. Topics include an overview of the ethical issues that businesses encounter, the foundation of the American legal system, business ethics, torts, intellectual property, criminal law, cyber crimes, contracts, and sales and leases.
BU 220 - Principles of Marketing 3.00
This course provides an overview of the principles and applications of marketing in organizations. Topics include the marketing process and strategic planning, the global marketing environment, developing marketing opportunities and strategies, developing the marketing mix through product development, pricing strategies, distribution channels, promotion techniques, managing marketing through customer relationships, social responsibility, and marketing ethics.
BU 302 - Leadership and Organizational Behavior 3.00
The focus of this course is to introduce students to the basic principles of human behavior that effective managers use when managing individuals and groups in organizations. The overall goal of this course is to develop an understanding of the key issues managers need to master in order to manage the interface between people and organizations. Topics include theories relating to individual differences in abilities and attitudes, attribution, motivation, group dynamics, power and politics, leadership, conflict resolution, organizational culture, and organizational structure and design.
or BU 600 Leadership and Organizational Behavior 3.00 semester credit hours
BU 327 - Business Ethics 3.00
The focus of this course is to explore the role and importance of business ethics in the workplace. The student will develop an understanding of the concepts and principles of business ethics as they relate to employees and employers, business to business, and on a corporate level. Students will examine business ethics, employee relations, and managerial decision-making processes through discussion and analysis of cases involving ethical issues. Topics will include ethical and moral issues in the workplace, distinguishing between the law, morals, and ethics, the relationship between ethics and social responsibility, and consequences of unethical/ethical decisions.
BU 345 - Project Management 3.00
This course provides instruction in the principles and concepts of project management. Topics include project management concepts, needs identification techniques, proposed solutions preparation, the project life cycle, the project manager's responsibilities and skills, the composition of an effective project team, types of project organizations, project communication and documentation, project planning, scheduling, and control, resource planning, and cost planning and performance evaluation.
or BU 630 Project and Operations Management 3.00 semester credit hours
BU 407 - Quantitative Decision-Making 3.00
This course presents an overview of problem modeling and decision making. The class will introduce students to several quantitative models applicable to problems in a variety of functional areas of business. Students will be able to apply quantitative analysis to real-world management problems.
or BU 421 Operations Management Semester Credit Hours: 3.00 or BU 550 Research Methods and Decision -Making 3.00 semester credit hours
EC 111 - Principles of Microeconomics 3.00
This course provides an overview of economics and the economy from a microeconomics perspective. Topics include economic analysis, factors in the market system, market structure and pricing strategies, the availability of resource markets, supply and demand, and the impact of public policy on markets.
EC 121 - Principles of Macroeconomics 3.00
This course provides an overview of economics and the economy from a macroeconomics perspective. Topics include an introduction to economic concepts, the fundamentals of macroeconomics, macroeconomic theory and policy, the role of money, banking, and monetary policy, and the relationship of macroeconomics to the global economy.
Required Technical Courses
Students must complete at least 24.00 semester credit hours of technical courses. Selection or transfer of courses will be in consultation and with the approval of the student's academic advisor. Any resulting deficiency in the total of 24.00 semester credit hours required may be made up with additional technology or business courses.
Open Elective Courses
A minimum of 21.00 semester credit hours of open electives is required. A minimum of 6.00 semester credit hours must be 300- to 400-level. Note: Completion of BU 345 - Project Management or IT 346 - Information Technology Project Management eliminates either course as an additional elective (see Required Management Core Courses). Completion of BU 482 - Strategic Management will eliminate an additional elective.
Required Capstone or Internship
3.00 semester credit hours are required.
BU 491 - Capstone Project 3.00
This is an integrative course that allows students to identify a real-world problem and provide a recommended solution. Each student selects a topic or project with instructor approval and completes a paper which documents the process including the use of industry standard research methods. Students are required to make a professional oral presentation of their project analysis and recommendations.
The course is the final class in the undergraduate experience. The students will participate in an eight-week "on-the-job" experience, where they will participate as a full-time employee within an organization. Classroom topics will cover communication within the organization, organizational missions and cultures, employee etiquette, and current issues that occur in the workplace. The students will be evaluated by both faculty and the supervisor from the sponsor organization.
Required Courses in General Education
Students enrolled in this bachelor's degree must complete a minimum of 36.00 semester credit hours in general education distributed among the following disciplines. Refer to the General Education section of the catalog for specific information about courses within each discipline. 12.00 Semester Credit Hours in Communications 9.00 Semester Credit Hours in Humanities (must include 3 semester credit hours of cultural diversity) 6.00 Semester Credit Hours in Mathematics 3.00 Semester Credit Hours in Science 6.00 Semester Credit Hours in Social and Behavioral Sciences
Personal and Professional Development Courses
2.00 semester credit hours are required.
PD 121 - Professional Development I 1.00
This course is designed to introduce students to methodologies that will prepare them for academic and professional success.  Topics include but are not limited to Canvas support, student support services, e-books, university policies, resumes, self-reflection, time management, goal setting, and strategies for anxiety reduction.
PD 202 - Professional Development II 1.00
This course provides an opportunity for students to critically examine their skills and develop a plan to further their career and own financial literacy. Topics include research, job searching, developing career documents, refining interview and communication skills, and creating a personal budget.
Tuition & Cost
36 months
|

122 credits
$441 per credit
after scholarship*
You are worth it.
*When student accepts awarded scholarship.
Tuition & Cost
With Herzing University, an affordable, career-focused education in IT management is within your reach. We are always striving to make college more affordable for everyone.
Opportunities for financial aid include:
Requirements
How can I start my career in IT management?
The steps to become an IT manager include earning your education, finding your first job in the field and getting the experience you need to continue earning increased responsibility in upper-level business & technology management roles.
IT departments rely on managers with a knack for project management, excellent interpersonal skills, business acumen, and the chops to dig into the technical details and come out the other side with working solutions.
Many entry-level jobs in IT management will require a bachelor's degree. For upper-level IT management positions you may be required to hold a Master of Science (MS) or MBA in Technology Management.
Considering going back to school to begin your career in IT management? Herzing University's enrollment requirements include a high school diploma, GED or equivalent, and interviewing with a Herzing admissions advisor.
Careers
What can I do with an IT management degree?
IT management provides a versatile career path featuring many different options for graduates to put their bachelor's degree to work and thrive in their new career.
Common jobs you can get in technology management may include:
IT Project Manager
Information Systems Manager
Information Technology Director
Information Technology Manager
Data Processing Manager
Computing Services Director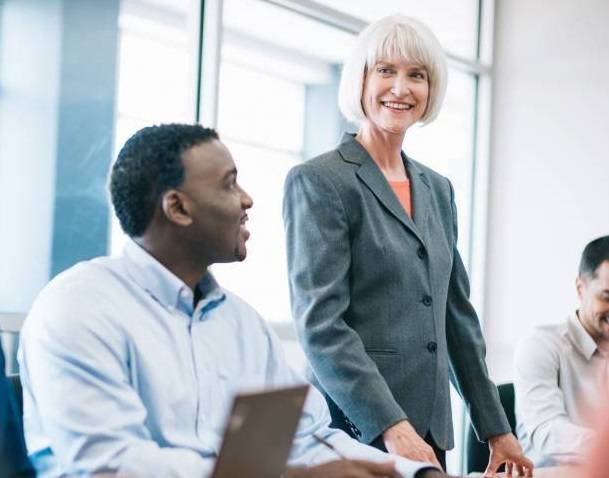 Qualifying for jobs with titles like these will most often require a bachelor's degree, appropriate experience in IT management, and sometimes a master's degree or MBA.
FAQ
Frequently Asked Questions
There are many different types of jobs you can get in information technology. The Bureau of Labor Statistics (BLS) features the following occupations in computer and information technology:
Computer and Information Research Scientists
Computer Network Architects
Computer Programmers
Computer Support Specialists or IT Support Specialists
Computer Systems Analysts
Database Administrators
Information Security Analysts
Network and Computer Systems Administrators
Software Developers
Web Developers
The BLS reports employment of all computer and information technology occupations is expected to increase 11% from 2019-2029. Now is a good time to get your foot in the door and begin working towards a career in a growing field.*
Herzing University provides many educational options to pursue the IT career path of your choosing.
The Herzing University Technology Management bachelor's degree program typically takes 3 years to complete.
However, many students with technical degrees may be able to transfer prior credit from a diploma or associate degree program and earn their degree in less than 3 years.
According to 2020 data from the Bureau of Labor Statistics (BLS), computer and information systems managers (also called IT managersi) earn an average salary of $161,730 per year ($77.76 per hour).* Keep in mind this is not an entry-level estimate for graduates just starting out in the industry – it is an average across all levels of experience, education and states in the US.
i. May also be referred to as "Information Systems Manager." The job title can vary subtly depending on the job description of each unique position. Discover the average IT management salary by state.
Information Technology (IT) is a broad and evolving career field encompassing a wide variety of tasks and core competencies. Because of this there are many types of IT degrees to choose from in addition to IT management, including:
Bachelor's degree holders may consider additional graduate and post-graduate education in IT, including master's degrees or post-master's certificates.
Herzing University's post-baccalaureate programs emphasize the business side of technology, including MBA options in data analytics and technology management, and a post-master's certificate in IT management.
Yes!
Going back to school to earn a bachelor's degree in technology management positions you to become eligible for jobs with solid average pay and an optimistic projection for growth from the Bureau of Labor Statistics (11% increase expected for computer and information systems managers from 2020-2030*). You will have an opportunity to pursue many different types of job opportunities.
Your path to a career in IT management begins by getting educated. Herzing University exists to help you build your skills and earn the education you need to pursue the career of your dreams. Apply today!
Tech-savvy business professionals can find real success in a technology management role.
Skills of an excellent IT manager include:
Are logical – like to solve problems in math or science
Are comfortable working with your hands as well as your mind
Have an aptitude for working with the latest technology
Can communicate and explain technology to non-tech professionals
Enjoy directing projects and motivating people
Think strategically, analyzing business goals and providing IT solutions
Are a leader, able to get the most out of your teams
No matter your preference, Herzing University offers technology degree programs for people seeking a career in IT or computer science.
IT managers combine project management, operational management, computer systems, networking, and people skills to successfully design, implement and maintain IT solutions for a business.
Managerial jobs in information technology feature one or both of two general roles:
Operational role. Ensure smooth operation of day-to-day projects.
Strategic role. Advance big-picture IT objectives for the business.
All IT management positions demand candidates who stay current with the latest solutions and best practices for running IT operations that are secure, efficient and innovative.
Depending on which IT courses you choose to take, you may gain foundational knowledge that may help you prepare for one or more of the following certifications*:
CompTIA Network+
CompTIA A+
CompTIA Security+
Cisco CCNA Routing and Switching
Microsoft Certified Solutions Associate (MCSA)
Oracle Certified Associate
Certified Entry-level Python Programmer
CompTIA Linux+
* Successful completion of related coursework may help you prepare for professional certifications, but most students will find they need to spend additional time studying beyond their coursework to successfully prepare for certification exams.
Technology Management Degree Programs
Showing 1 programs for the Online campus
This program of study is designed to provide students with foundation skills and knowledge in various technical areas. In addition, this program is further designed to teach the student the necessary business skills and academic knowledge for entry-level management positions in a technical environment.
Ready to get started?
Contact us to request more information
Accreditation
Accreditation & Disclosure
Herzing University is accredited by the Higher Learning Commission (hlcommission.org), an institutional accreditation agency recognized by the U.S. Department of Education.
* Bureau of Labor Statistics (BLS), U.S. Department of Labor, Occupational Outlook Handbook 2020. BLS estimates do not represent entry-level wages and/or salaries. Multiple factors, including prior experience, age, geography market in which you want to work and degree field, will affect career outcomes and earnings. Herzing neither represents that its graduates will earn the average salaries calculated by BLS for a particular job nor guarantees that graduation from its program will result in a job, promotion, salary increase or other career growth.